How To Convert WebM to MP4 or MP3 without Any Loss in Quality
There are some online processes that you have to understand in order to take on the full internet. There are also other processes that you have to understand to download and convert files on the internet. If you're looking specifically for support with how to convert WebM to MP3 or MP4 files, you've come to the right place.
What's the Difference between WebM, MP4, and MP3?
The first step to converting files is to understand what the actual difference is between a WebM file and an mp4 or mp3 file. This will help you to determine what you want to convert to, as well.
A WebM file is a high-quality video file that is used to share videos online. The actual videos, while maintaining their high quality, are really easy to playback. As a result, they're pretty great for those who have low functioning or old devices that often lag or freeze when trying to playback traditional videos.
An MP4 is similar to the WebM file, with the exception of the coding. The overall quality of an MP4 file is going to be lower than a WebM file. That being said, a WebM file will still be a smaller file size than an MP4, so you'll get higher quality and smaller size.
An MP3 file, on the other hand, is a conversion in which you are going to strip away the video aspect and save the audio. This kind of conversion uses a small file size and will load on most players and devices, since it isn't so rich with data like an MP4 file would be. If you need to convert MP4 to MP3 files for some purpose, here are five of the best MP4 to MP3 converters recommended for you!
Why Do You Need to Convert WebM to MP4 or MP3?
It's not uncommon to be asking yourself, after reading that, why you would want to convert a WebM file to anything else other than itself. After all, it appears to be the best quality file, and it is going to still give you the video file, unlike an MP3.
The most common issue with wanting to convert a WebM file to mp4 or mp3 is that you have compatibility issues, While a WebM file will offer you quality playback and high resolution, it still is only available on certain players such as KM Player or XMBC. IT also only works with a few editor programs, including Filmora Video Editor. As such, it's a great file option, but you must be okay with sticking to a few limited viewers and editors. When you are looking to share the file around, this can be a real pain, since MP4 and MP3 files are much more widely accessible on all of the traditional players, including mobile use.
The 3 Best WebM to MP4 & MP3 Converters You Can Use
There are quite a few ways in which you can take a look at the conversions itself. The best way is to use a WebM to mp4 converter that is from this list, simply because these are all professional, safe, and focused on providing you with the convenience that you're looking for. Here are the top three options for you to convert your files effectively.
This is a sophisticated video downloader and converter that is going to be right up your alley when you are looking for something that is all about full access. The 4K YouTube Video Downloader works through a variety of ways, including downloading online WebM files to MP4 or MP3 and convert local WebM files to MP4, MKV, MOV, AVI, etc. This is the general process you can expect:
Step 1. Download the Jihosoft 4K Video Downloader for desktop use.
Step 2. Copy and paste the link to the video you want to convert into Jihosoft 4K Video Downloader.
Step 3. Choose whether you are keeping it in a video file, or whether you want to focus on making it an MP3 audio file.
Step 4. Upon choosing MP4, determine the video quality that you want to use when downloading. This is particularly great when you are looking at maintaining or lessening the quality to help viewers share and download it.
Step 5. Download the video to your computer.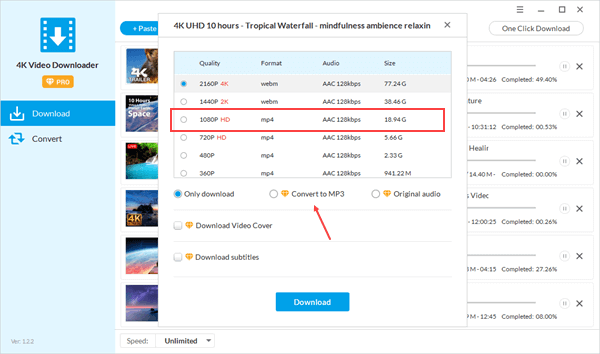 Sophisticated and simultaneously simplistic, this is a great video conversion software to help bring control into adapting your file from a WebM to MP4 or MP3 file.
More highlights of Jihosoft 4K Video Downloader:
Save videos from Facebook, YouTube, Instagram, Twitter, Reddit, etc
Cut & crop, add audio, subtitles, watermarks, filters, and more to the video
Download the entire YouTube channel and playlist with sounds and subtitles
Subscribe to YouTube channels in the program
Merge captions with video during conversion
…
2. Online Video Converter
This program works in much the same way as the one above, but this one does not use a desktop application to do so. For those that don't like working on the desktop programs, this is convenient and trustworthy. This allows you to convert the video online and then download it to your computer to work on it in the MP4 or MP3 format. You can also rely on this to convert local WebM files to MP4 (or MP3) from your computer by uploading them into the online conversion tool directly. Here are the simple steps to expect in using the online tool:
Step 1. Copy and paste the link of the video that you want to convert into the online website.
Step 2. Select the format — MP3 or MP4 — that you want to convert it to.
Step 3. Customize the settings of the file conversion, including the quality and level of detail if possible (to help with larger sizing).
Step 4. Click "Start" to begin the conversion process.
Step 5. Download the file after it has been converted
Step 6. In changing over your own local WebM files, you would need to upload it onto the website by going to the same place as step 1.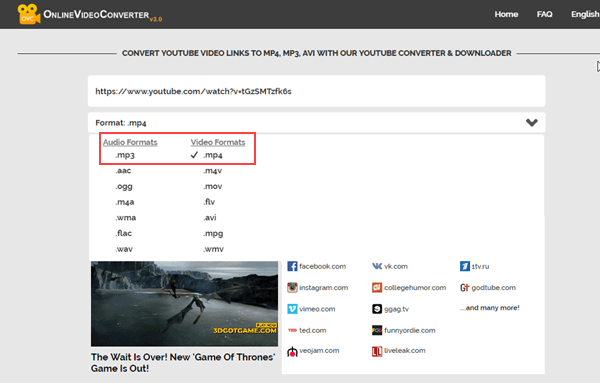 It's neat to have the option to convert only with an online converter when you are looking at something that is supposed to be convenient and focused on streamlined use.
3. Convertio
Lastly, Convertio; this an online file conversion website that will allow you to easily convert videos from WebM files to MP4 files only. For those that don't need MP3 as an option, this is great. It's important to note that the maximum file size that Convertio allows is 100 MB, so keep that in mind when planning. Like Online Video Converter, this is an online program only for convenience, and you download it to your computer.

Conclusion
Converting WebM to MP3 or MP4 files is an important process to know. Whether you want to enjoy easy sharing and editing, or strip the audio out for convenience, the conversion is the key. Choose the best conversion option for you amongst the top three recommended choices of Jihosoft 4K Video Downloader, Online Video Converter, and Convertio. The one that you choose will lead you to the convenient conversion you always dreamed of having for all of your video and audio needs.