13 Best Alternatives to Stream2watch for Online Live Sports Streaming
Stream2Watch is an online streaming platform that acts as an open-source of many live channels like MTV, HBO, ABC, Animal Planet, ESPN, CNN, Discovery Channel, EUROSPORT, FX, FOX, and others. You can watch live sports like Football, NBA, Basketball, Baseball, Hockey, Cricket, MLB, Tennis, Snooker, Fussball, etc., online using Stream2Watch. It is a perfect place for sports lovers to navigate where they can find live streaming, news, and other information about their favorite sports.
Useful tool: Jihosoft 4K Video Downloader can help you quickly download videos from YouTube, Facebook, Twitter, Instagram, TikTok, Xvideos, Pornhub, YouPorn, XNXX, Xhamster, etc. 
The interface of this website is well-organized with links to different channels from where the user can select their own choice easily. It is a spectacular platform for live streams in excellent audio and video quality. The best part of this free live sports streaming site is that all its content is legal and verified. So, you need not worry about security and safety while streaming. The website is highly compatible with Android, Sopcast, Ustream, Coolsport, iOad, and others. Just install an updated version of Flash player and enjoy unlimited and continuous streaming of TV channels.
Top 13 Stream2watch Alternatives to Watch Live Sports in 2019
If you are not satisfied with Stream2Watch and looking for similar websites with all the required features, then go through this list of 13 best alternatives to Stream2Watch. You will definitely get an ideal website as per your necessity from this list.
1. LiveTV
Live TV is a well-designed website containing links of the live broadcast of different channels of TV. Basically, it redirects the user to another video streaming website. It is mainly developed for watching different sports and games online from all over the globe. You can enjoy watching tournaments, events, and matches of your favorite games and sports here without any hassle. The website renders high performance and smooth loading of videos. You will get a completely different feeling of watching live sports online on this site.
Features of LiveTV:
It has a user-friendly and interactive interface that you can use to get all types of sports-related stuff for free.
There is no requirement of sign up or registration to this site for accessing all the features and services.
Apart from living matches and events, you can watch highlights and replays of the sports tournaments.
You can head towards this website for live scores and sports-related news as well.
It enables the user to live stream sports like Football, Ice Hockey, and Basketball.
It allows the user to select the video quality as per the data usage plan of the user.
You can enjoy watching live sports online in HD quality for free here.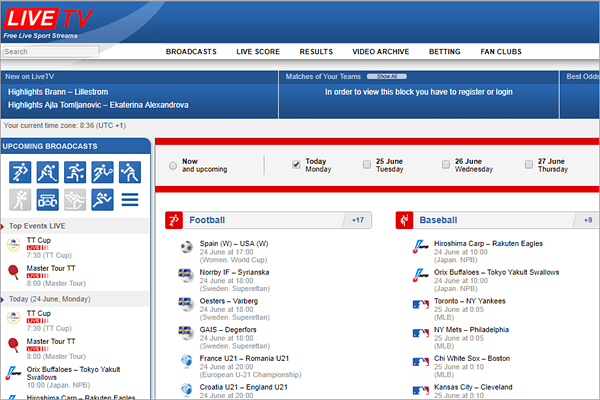 2. 12player
12player is another wonderful and free sports streaming site which you can use as an alternative to Stream2Watch. If you are fond of leagues like the Indian Premier League and Barclays Premier League, then you must go for this site. You may find some ads while browsing this site, but it will be much annoying for you as you can easily skip them. It is a wonderful site for live streaming sports matches and tournaments. However, you will not find any specific American sports on this site. Apart from this, it contains everything that you would like to stream on a sports streaming website.
Features of 12player:
The website is very easy to use with a simple and clean interface.
It is a wonderful site for live Football streaming.
You can easily check out the ongoing tournaments and leagues along with their highlights of all types of sports popular in the world from here without any hassle.
You are required to get registered at the bet365 for obtaining HD quality video on the 12player website.
3. VIPLeague
VIPLeague is an amazing alternative site to Stream2Watch in terms of features and services. You can easily obtain all videos related to sports from this website. While streaming, you may find some ads, but it will not affect you much as every website is required to display some sort of ads.
Features of VIPLeague:
You can easily access some sports TV channels from this website.
It is compatible with smartphones, tablets, and PC for free.
It is an open source sports streaming site, whose speed is dependent upon the quality if the internet connectivity of the user.
You can watch live sports like WWE, Motorsports, Hockey, Tennis, Golf, American Football, Basketball, Boxing, and many others on this website.
It does not depend on any third-party streaming channel or website for its content. It is an independent website with a free collection of sports videos and live channels.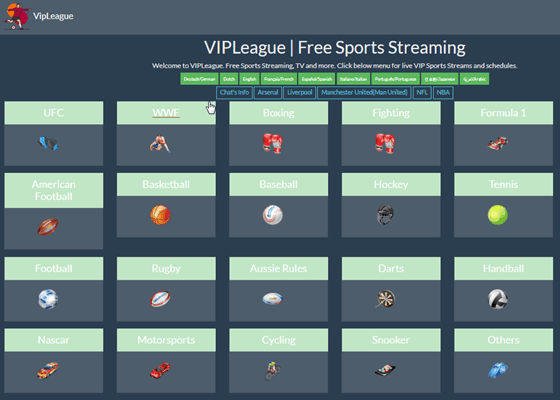 4. Sports365
If you are looking for the ultimate solution to all your sports-related demands, then you must go for Sports365. It offers live streaming of all types of sports like Football, Cricket, Basketball, WWE, MotoGP, Volleyball, etc., with all tournaments and leagues videos. You can find an individual channel for all types of sports for live broadcasts. However, to acquire full access to this site, the user needs to register themselves to the website and go through the sign-up process before browsing.
Features of Sports365:
It is a one-stop destination to all the sports and games needs.
It enables the user to interact with people sharing the same interest in sports using chatroom of the site.
It offers all its services for free of cost.
It has an interactive and user-friendly interface.
5. WiziWig
WiziWig is a popular live sports streaming website with millions of users and subscribers. You will really enjoy your experience of using this website as an alternative to Stream2Watch. You can get live videos and sports-related news of all types of sports like Cricket, Football, Basketball, Soccer, Rugby, Volleyball, Tennis, Motor race, WWE, Boxing, Handball, and many others at one place. It is also available in many languages, which makes it acceptable globally.
Features of WiziWig:
It is safe and easy to use. You will not find any malicious ads or pop-ups on this site.
The live posts streaming site is well-organized under popular, latest, genres and various types of sports and games.
You can check the highlights and replays of your favourite games here.
It is easily accessible from any part of the world.
You can check the upcoming matches, leagues, tournaments and related news on this site as well.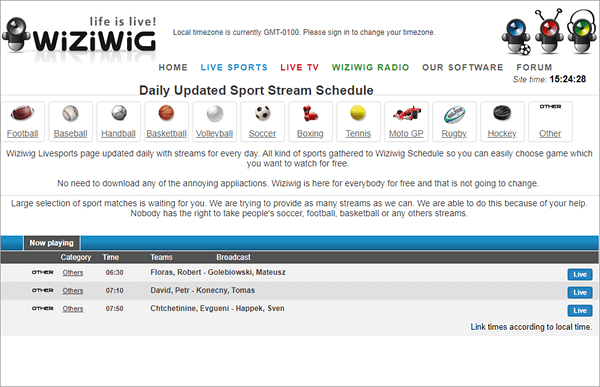 6. CricFree
CricFree provides free online service for the streaming of all types of sports like Soccer, Cricket, Boxing, Basketball, Tennis, Rugby, and others. As the name suggests, this website is specially designed for the streaming of Cricket leagues and tournaments for free. But, you can get to stream other sports events as well using this site. This Stream2watch alternative website is globally accepted, so you can stream your favourite game or sports from any corner of the world.
Features of CricFree:
The free sports streaming site comes with an interactive and user-friendly interface that can be easily accessed by anyone.
It offers over 12 categories of sports which cover all the popular sports in the world.
It supports multi-streaming of sports as well.
It offers a discussion panel where you can get to communicate with other sports lovers from all countries of the world.
You need not register yourself or sign up to the website for getting started with CricFree.
7. NewSoccer
As you can read from the name, this website is available to watch a live stream of Soccer from any part of the world. The site is straightforward with quick access options to All Matches, Premier League, La Liga, Serie A, Champions League, Bundesliga, Europa League, League 1, and Liga 1. Overall, this website is like a boon for all the Football lovers. However, you will get redirected to other Stream2watch alternative websites and channels for getting all the streams and videos related to Football.
Features of NewSoccer:
The website offers a live stream and live scores of all types of Football matches.
You can easily look for the ongoing match on its homepage.
You can watch all the matches of Barclays Premier League, UEFA Champions League, and other leagues without paying any amount.
It has an intuitive and clean user interface. It enables the user to find their favourite leagues and matches in a few seconds.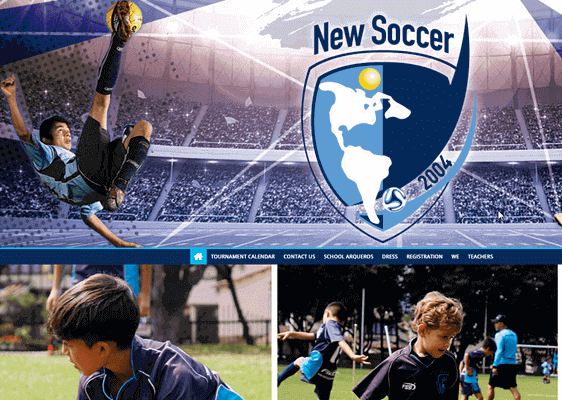 8. Atdhe
Atdhe is another live sports streaming website online which is capable to fulfill all the sports and games demands of the user. It covers all the popular and major sports and games in all countries across the world. So, no matter what you like, you will get videos and information about it here on this site. However, this Stream2watch alternative website contains the streaming links of third party websites as well.
Features of Atdhe:
It offers all its videos in high-definition picture quality for free.
It has a basic interface which is very simple to use.
You will find all the sports categories on the top of the web page.
You can stream the high-quality videos of all the sites using this website.
This website is a wonderful platform for streaming Tennis, Soccer, Baseball, Basketball, Volleyball, Moto GP, Hockey, Rugby, Handball, and others.
9. SportP2P
SportP2P is a popular website for live streaming sports like Football, Basketball, Tennis, Cricket, Motorsport, Rugby, Ice Hockey, and others. You can check the schedule of upcoming and ongoing live events on its homepage. It could be one of the best alternative sites to Stream2watch.
Features of SportP2P:
Apart from living matches, you can also watch the highlights and replays of your favourite sports on this site.
It offers all the leagues and tournaments related news and videos.
It provides a perfect platform for streaming Football matches.
It provides all its streaming services for free.
It has a simple and user-friendly interface.
You can access this website from any part of the world.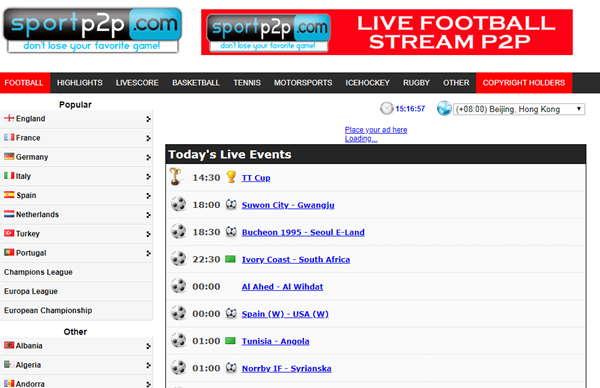 10. BatManStream
BatManStream provides a wonderful platform to stream live matches and tournaments of different categories of sports like Football, Tennis, Rugby, Basketball, Baseball, Volleyball, NFL, Racing, and many others.
Features of BatManStream:
Being one of the most accessible Stream2watch alternatives, BatManStream has a very simple and easy to use interface.
It offers live broadcast along with highlights, replays, live score and other information related to upcoming sports events.
It is featured with an advanced search engine for sports tournaments and leagues occurring in all parts of the world.
It provides HD quality videos of all types of sports with the variable video quality.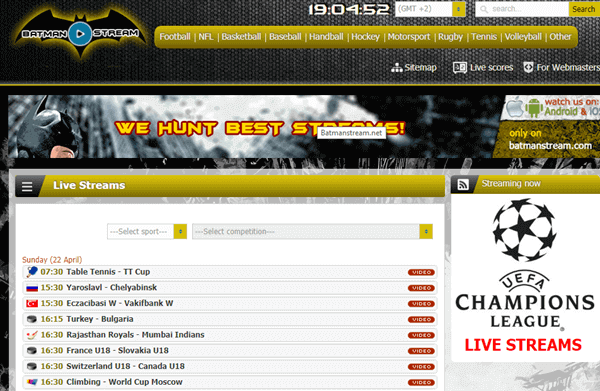 11. WizWig
Another great alternative site to Stream2watch, WizWig provides online services for streaming sports videos. It enables the user to access global sports in one place. You can watch all the sports like American Football, Football, Tennis, Rugby, Baseball, NASCAR, Formula 1, Hockey, and Baseball easily on this site. You can also stream movies and music as well here.
Features of WizWig:
You can check the news updates of sports using its WizWig Free Global News TV option.
It has a very interactive and well-organized interface for streaming all your favourite sports.
You can easily load the videos in high audio and video quality.
It enables the user to communicate with people having similar interests in sports.
12. OffsideStreams
If you are looking for high-class online sports streaming sites, then you must go for OffsideStreams. You need to pay £13.97 for accessing this website. It is an excellent place to navigate for global sports videos and news.
Features of OffsideStreams:
It is highly compatible with all the devices.
The interface is facing interactive and hassle-free without any ads or pop-ups.
You can also play matches on TV using this site.
It has a huge library of popular channels in HD picture quality.
13. SportStream
Last but not least, SportStream is also a nice alternative site to Stream2watch. It's famous for its live streaming of sports events and matches. It covers almost all types of games and sports, which include Football, Soccer, Tennis, Badminton, Basketball, Volleyball, Rugby, etc. It is trendy for its live streams of sports.
Features of SportStream:
You can easily navigate the website to obtain all the ongoing match related videos and other information like the live score.
You can check the schedule of upcoming sports tournaments and events on its homepage.
It offers high-quality audio and video serving all the sports lovers.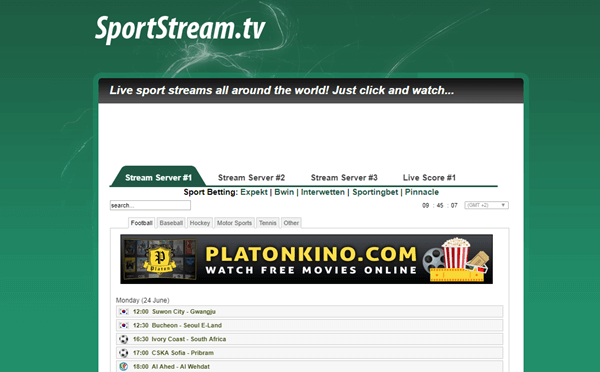 Best of All – YouTube
Being one of the most popular video streaming sites worldwide, the YouTube platform has a wide range of videos, including news, sports, music, funny, tutorials, reviews, and more. Just subscribe to the appropriate channels, such as Sports, VICE Sports, NBA Sports, CBS Sports, and you can watch your favorite sports online.
In addition, if you feel that online viewing consumes too much traffic, you can also download these videos to your computer for offline viewing using the professional YouTube video downloader. Have a problem with how to download sports videos from YouTube? Here is a detailed tutorial: 7 Best Free Methods to Download YouTube Videos in 2019
Conclusion
No matter what is your choice, your all sports demands and live stream requirement will get fulfilled by these websites listed in this article. All the live sports streaming websites are certified with a high-quality video and versatile content. You can get a handiest access to the TV using any of the sites and enjoy watching your favourite team. Some websites also offer other additional features that give a great experience of browsing sports online. If you face any problem while streaming or accessing the sites, then let us know through the comments below.