Top 5 Best Visual Effects Video Makers for 3D Modeling in 2019
Having some top-notch visual effects software packages is really a blessing for users who want to add some special effects and visuals to their photographs or videos. And what is more exciting than that is adding visual effects to 3D modeling to create virtual visuals. The 3D modeling software packages are really the best kind of software always in demand among professional photographers or videographers. Any type of 3D modeling software will always allow you to create a surface of any object you can think of. By the way, if you are a Windows user but want to use Final Cut Pro which is only compatible with iOS, then you can try some Final Cut Pro alternative for Windows we have kindly screened out for you!
There is no doubt that learning the features and working of 3D modeling software is really very complex and that's why these software packages are used by professionals only. Any user who is interested to learn about using 3D modeling software will have to be given proper learning space and time. But to reduce your workload, we will list the top 5 visual effects video makers for 3D modeling in 2019. So, let's have a look at the list below: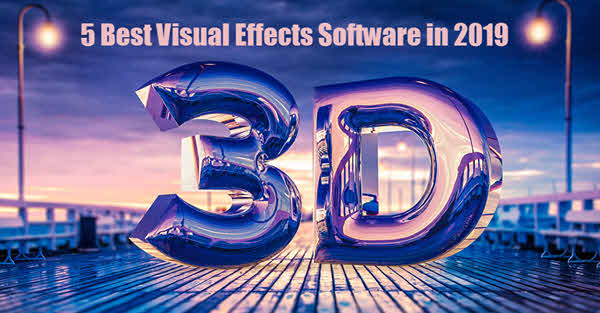 Tip: There is a practical video format conversion tool named Jihosoft Video Converter. Jihosoft Video Converter can convert video format between 3GP, AVI, FLV, MOV, MP4, M4V, MPEG, MKV, RMVB, TS, VOB, H.264, HD WMV, DivX, XviD, etc. according to your needs after you have finished making your video.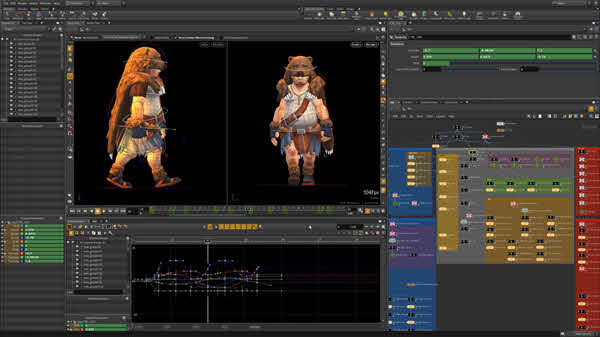 The first one of the best special effects software packages for video editing on today's list is Houdini which is trusted and used by millions of professionals from all over the world. Built and developed with a lot of new advanced features, this 3D modeling software is getting a huge response from users. The powerful editing feature of this 3D modeling software is really amazing. Though understanding the functioning of this 3D modeling tool is much harder than other 3D modeling tools, but still, we will recommend this software over others present on the list.
The main reason behind the above part is that the graphical user interface of this software is pretty enhanced and optimized which will surely provide you the best in class visual graphics for an effective 3D multi-tasking. The latest updates to this software are pushing most of the new features to users. That's why this 3D modeling program is so popular among users. Moreover, to develop the best kinds of animations and modeling projects, this software will serve you the best features in a very good manner. You can use the user guide manual videos on this software to properly understand the working of this software so that you will surely become able to sort out things in a definite manner.
The free version of Houdini is also available for users, so they can use it as a trial before upgrading this software to the premium version. The premium version is available from $6995. So, just get the free version of this 3D modeling software on your PC today and if you like the featuring of this software, then we highly recommend you to instantly upgrade it to the premium version.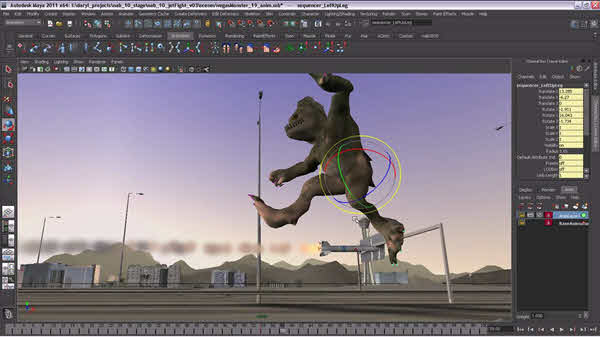 This 3D modeling visual effects software has been awarded many big awards. This 3D modeling visual effects software used in Hollywood, it becomes pretty popular among users. To meet the standard and to deliver quality stuff, developers of this software have added most of the optimized features to it. Maya provides an excellent toolkit with newly enhanced features to its users who are mainly 3D artists. Moreover, the compatibility of this 3D modeling software will match the needs of users because Maya is compatible with Windows, Linus, and MacOS as well.
That's why, to experience some real and interactive live virtual visuals, you can choose Maya as a pretty good option. Users will surely explore most of the new features when they install this software on their PC because it is not possible to list all the different features of this 3D modeling software. This artist-friendly software varies with its various premium plans according to features.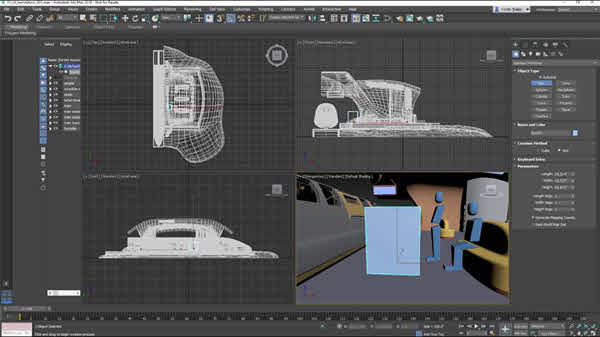 Yet another excellent visual effects video maker for all 3D graphics lovers and users. Most of the pre-designed visuals of several systems have already been present inside this software which you can directly drag on to the working space. 3Ds Max is mainly used in adding virtual effects in TV commercial ads. That's why it is really a great option which can offer you incredible editing tools and features. Developers of this software are really good for they are working hard to integrate the newly optimized and enhanced features in it. As a matter of fact, the latest version of 3Ds Max has rolled off data channel modifier feature useful in creating special visual effects very easily. The user interface of this software is another very notable feature to let users experience some good stuff.
Just install the free version of this 3D modeling software on your PC to experience some quality enhanced features. This 3D modeling software is only compatible with Windows OS, so make your selection wisely. All these numerous incredible features make 3Ds Max a completely ideal choice for users. If you are planning to purchase this software for your personal use, then just click the responding option to get this software on your PC instantly.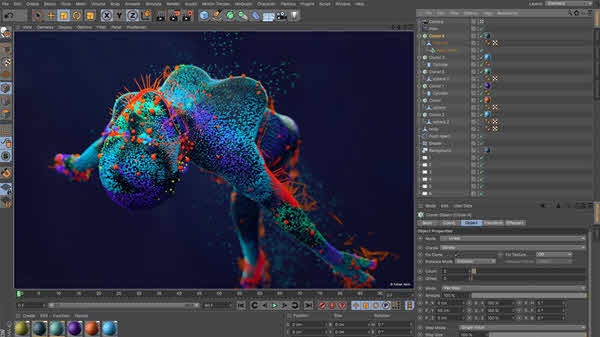 This best special effects software for 3D video editing should have been optimized to some higher extents because Cinema 4D is not a sure choice for users. This software is still offering most of the outdated features to create visual graphics in 3D, which is not really appealing to us. Though there is an in-built library present in this software where users will get 3D figures and textures to use into the main area, the rest of these features still seems to be a little outdated and all of a sudden, the sale of this software has fallen drastically. There are lots of bugs and issues present in this software and developers of this software seem not to be interested in fixing these issues.
But for beginners, Cinema 4D is still a good option because learning the functioning of these outdated features is much easier for them. And if you want to explore more hidden features of this software on your PC, you have to contact a dealer to purchase the license of running this software on your PC. You can contact via the Customer Care Support icon present inside this software. So, just click this option if you like it and then enjoy some happy 3D modeling.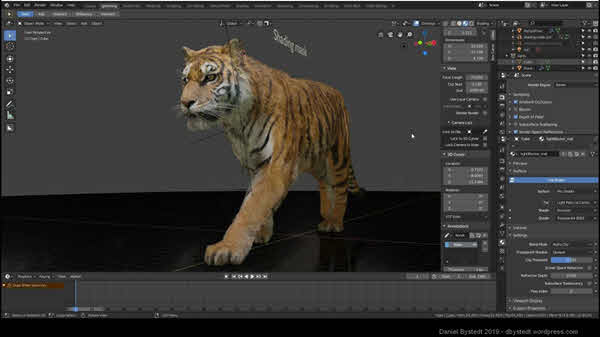 Blender is an excellent visual effects software for users and there is no doubt about this. The main features of this software include its highly optimized graphical user interface which is really a plus point for users with a moderately affordable budget. If you want to develop an Android game or any other 3D printed model with ease, then Blender should be your sure choice. You will dig out most of the newly added features of this software. The virtual effects and painting features of this software are another very good thing about it. You will get basic pre-designed figures like a cylinder, mash, sphere, and cube to drag them directly inside the editing area hassle free.
On the right side of the display screen, you will get a lot of different features and options which you can explore to further dig out the stuff contained in this software. And in case, if you are required to create 3D animation with this tool, then we strongly recommend you to use this software as it will sort out whole things more conveniently and reliably for you. Moreover, this software is compatible with Linux, Windows, and MacOS devices. So, just quickly install this software on your PC and unwrap all the hidden features which are present in the premium version of this software.
Tip: If you are an iPhone user and are looking for some special effects apps for video editing, then we can recommend you the 9 best video editing apps for iPhone.
Conclusion:
Hence, to conclude this article in one word, users can consider these 5 best visual effects software packages for 3D modeling. We have selected these software packages in accordance with different parameters and we really hope that you will like these recommendations. If we have missed any name which should have been present in this list, then quickly respond to us by commenting in the comments section. We are thankful to all our lovely subscribers for a polite reading of this article. Hopefully, we can bring more stuff to you in the future as well. Have a nice day!