Solved: How to Fix SD Card Not Formatted Error without Losing Data
Question: "Hey guys, I took a ton of pictures with my camera's SD card while on vacation. However, the SD card encountered problem when I was trying to open it on my laptop. It said that the SD card is not formatted. I was wondering whether formatting the card would lose all my pictures. Is there any way to get the pictures off the card before I force format it?"
SD Card Not Formatted Error and Fix
When you are trying to view pictures from your micro SD card, but instead of showing the photos, your computer or digital camera reminds you that "SD card is not formatted. Do you want to format it now?" Well, this message indicates that your SD card is incorrectly formatted or corrupted. Once you chose to format it, all your data will be lost without doubt, but if you don't format it, you can't access to the data neither. What should you do to fix SD card not formatted error?
Don't worry. In this tutorial, we will introduce proven solutions for SD card not formatted error and help you maximize the chance of restoring data from the problematic storage device.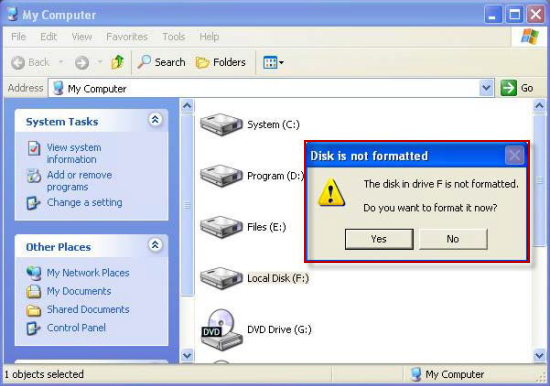 Part 1. Recover Data from SD Card with Not Formatted Error
When the SD Card not formatted warning pops up, the most important thing for most people is to rescue the data inside. For this purpose, we need the help of a professional data recovery software, which is able to access and extract the files before you format the memory card properly.
Jihosoft File Recovery Software is a professional and simple-to-use tool to help solve all sorts of data loss problems. By using it, you can easily recover deleted or formatted from pen drive, internal hard drive, external hard drive, SD card, including photos, videos, audio, documents and more files. In this case, you can also use it to restore data from the memory card with not formatted error.
Main Features of Jihosoft File Recovery:
Recover over 150 types of files.
Support internal & external hard drive, SD card, USB flash stick etc.
Provide multiple filtering options to help you find wanted files quickly.
Full preview before recovery to allow you see what you will get back.
Enable easy-to-use interface to guide any newbies to recover files conveniently.
Create an image file for your storage device as a full backup.
Want to give it a try? Please free download and install the recovery software to your Windows or Mac computer, then follow the steps below to rescue your important files.
Step 1. Run Jihosoft File Recovery and choose Recover File.
Launch the file recovery tool after installation. Click Recover File to proceed.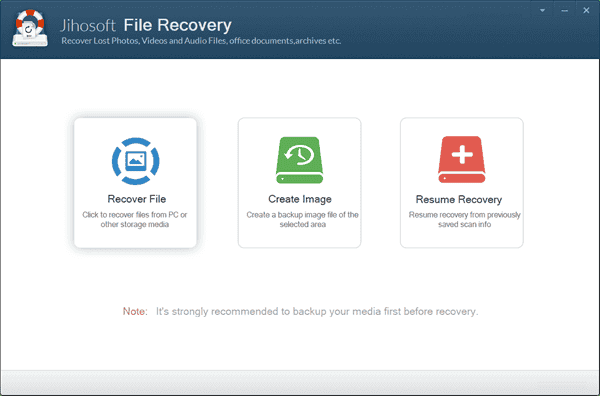 Step 2. Select Your SD Card and Scan Now.
When you see all the disks detected by the program, including internal or external hard drive and removable drives. You need to select the partition where your lost files were stored, then click Scan Now to proceed.
Tips: The Advance Scan button allows users to select specific file formats so as to find the desired files quickly.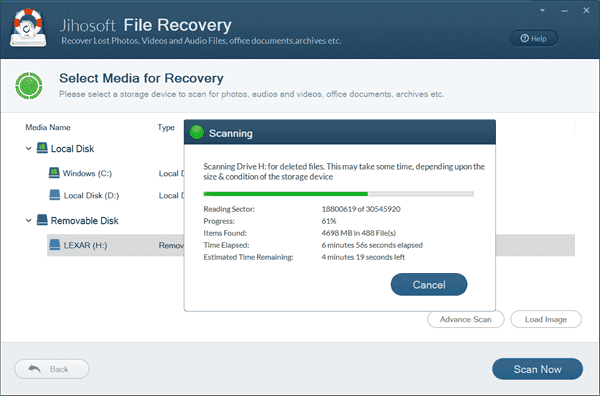 Step 3. Preview and Recover Files from Not Formatted SD.
When the scanning is finished, you can expand the file types on the left pane and view all types of data on the right. You can preview all the recoverable photos, videos, audio and other files on the program. Finally, select only the files you need and click Recover button to get the data back.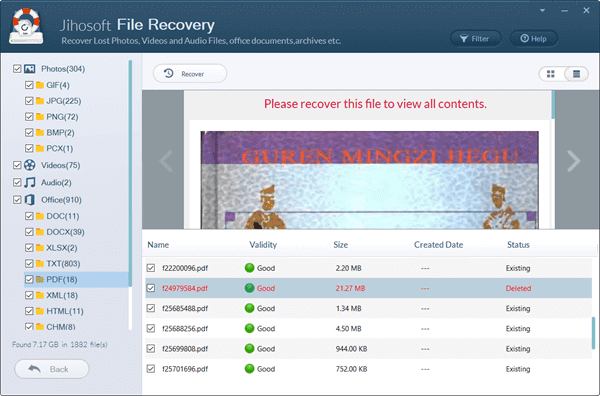 Part 2. Fix SD Card Not Formatted with CHKDSK Command
Whether you have recovered files with the tool above or not, you may try this method to fix SD card not formatted error without formatting. The utility we are going to use is Command Prompt, which has been widely used to fix common errors and problems by executing various commands in previous Windows systems.
CHKDSK is one of the useful commands for fixing errors in hard drives and removable disks, like SD card and USB drive. The command will check and fix the errors it finds on the SD card and you will restore the data and the storage space if it works.
The following steps are based on the Windows 10 OS, but the operation should be similar in Windows 7 and 8 as long as you find Command Prompt.
Step 1. Click Start menu, type "Command Prompt", then right-click on it from the result and choose Run as administrator.
Step 2. In Command Prompt, type chkdsk E: /f /r /x and hit Enter. (Replace E with the drive letter of your SD card)
Step 3. Wait the process to complete, then try to access your SD card.
If this method doesn't work and you decide to format your SD card anyway, you can try to apply the formatting by right clicking the SD card in Windows Explorer and choosing Format. However, in some cases, the SD card may refuse to be formatted in this way and you need to follow the steps in Part 3 to fix it.
Part 3. Force SD Card to Format with DISKPART Command
Just like CHKDSK, DISKPART is another common command in Windows. It will clear all data on the storage device and you need to set up the memory card again to make it working. This method should be applied only when you decide to giving up the files and just want to use the memory card normally. Nevertheless, you can still try Jihosoft File Recovery to recover files from formatted SD card, though it would be much more difficult.
Step 1. Run Command Prompt as administrator again.
Step 2. In Command Prompt, type the commands as below one by one:

diskpart
list disk
select disk # (# is the drive letter of the SD card in trouble)

Step 3. Click Start menu, type "create and format disk partitions" and open it from the result.
Step 4. Locate the disk of your SD card which is labelled as Unallocated.
Step 5. Right-click on the disk and choose New Simple Volume…
Step 6. Follow the wizard to finish the setup.
Now, you should be able to use the SD card again, but make sure to check out the tips below to avoid losing data due to the same reason.
Tips to Avoid Losing Data on SD Card:
Don't remove your SD card when your camera is on.
Always buy genuine SD cards from qualified manufacturers, like SanDisk, Kingston, Samsung, etc.
Always transfer data with Copy and Paste instead of Cut and Paste.
Bottom Line
In this article, we have learnt a series of methods to fix SD card not formatted error. We hope you have not only recovered the corrupted memory card but also the files stored on it. Don't forget to keep the simple yet useful tips in mind. If you have any questions or suggestions, please let us know in the comment.