Fix SD Card Not Formatted Error and Recover Data with Ease
Question: "Hey guys, I took a ton of pictures with my camera's SD card while on vacation. However, the SD card encountered problem when I was trying to open it on my laptop. It said that the SD card is not formatted. I was wondering whether formatting the card would lose all my pictures. Is there any way to get the pictures off the card?"
About SD Card
An SD card or Secure Digital card is an ultra small flash memory card designed to provide high-capacity memory in a small size. SD cards are used in many consumer electronic devices, such as, digital cameras, video camcorders, audio players, video game consoles, mobile phones, and even personal computers.
List of Best SD Cards: Sandisk Extreme Pro, Lexar Professional 600x, Verbatim, Premium UHS-I, PNY Pro-Elite Plus, Kingston Technology Ultimate XX, Samsung SDHC Pro
SD Card Not Formatted Error and Fix
Consider the situation when you are trying to view pictures from your micro SD card but instead of showing photos, the computer reminds you that "SD card is not formatted. Do you want to format it now?" Well, this message indicates that your SD card is incorrectly formatted or is corrupted. Once you choose to format it, all your data will lost without doubt, but if you don't format it, you can't access to the data either. What should you do to fix SD card not formatted error?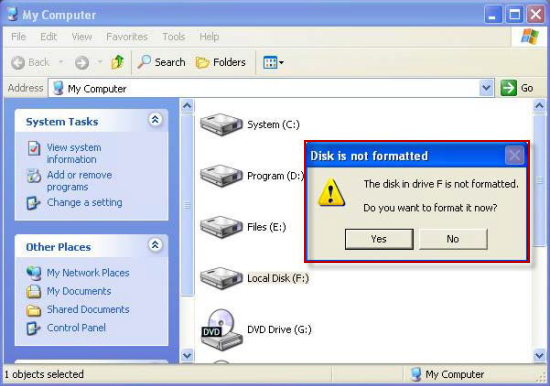 In such case, I suggest you get reliable data recovery software, for example, Jihosoft File Recovery or Jihosoft File Recovery for Mac. It will help you get data out of the SD card with ease.
Learn More about Jihosoft File Recovery (for Mac)
Jihosoft File Recovery is a professional and simple-to-use tool to help solve all sorts of data loss problems. By using it, you can easily recover deleted or formatted photos, videos, songs, and documents from hard drive, external hard drive, USB flash drive, memory cards, SD card, CF card, micro-SD card, etc.
How to Use Jihosoft File Recovery to Recover Data from SD Card Encounters Not Formatted Error
1. Free download and install the software into your Mac.
2. Plug your SD card into your computer and make sure it's been detected.
3. Start the program and scan for photos, videos, and other files on SD card.
4. Finally, click the "Recover" button to recover data from SD card.