MP4 Recovery, How to Recover Deleted/Lost MP4 Files
What is an MP4 File?
MP4 or MPEG-4 Part 14 is a digital multimedia container format which allows a combination of video, audio, subtitles and still images to be held in one single file. The official filename extension for MPEG-4 Part 14 files is .mp4, but many have other extensions, like .m4a and .m4p etc. As well as most modern container formats, MP4 file allows streaming over the Internet. It means that the content can be watched in real time as well as being saved on a hard drive.
There are all sorts of ways to enjoy MP4 video. Today, many people use their PC or Mac or other MP4 player such as iPod Touch, iPad, PSP, Kindle Fire and mobile phones etc. to play MP4 movies at any time. But dear, have you ever accidentally lost your MP4 files? What you should know is that you can recover deleted MP4 files from most storage devices.
Windows and Mac try to prevent you from deleted important files by providing the recycle bin/trash. If you didn't empty the recycle bin or trash, you can check the deleted files and restore MP4 files to their original location. However, MP4 file recovery from external hard drives, USB flash drives, SD card, CF cards, or memory sticks is a different situation. Luckily, there is another way to recover MP4 videos.
Recover Deleted MP4 Files using Jihosoft File Recovery
This is extremely an easy-to-use MP4 Data Recovery tool. By using it, you can recover lost MP4 files from any storage device with ease. If you need perform recovery on Mac, please get Jihosoft File Recover for Mac or Jihosoft Photo Recovery for Mac to help you do it.
Now we take the Mac File Recovery as example to show you the detail steps.
After that you have downloaded and installed the MP4 File Recovery software, connect your digital device like USB drive or SD card etc. to the computer.
Next you'll need to start the software. Then click on the "Refresh Drives" and select your digital device from the drive list.
And now, click the "Filter Options" button, under the "Video" tab, select MP4 and then click "OK" to refine the file type you'd like to scan and recover.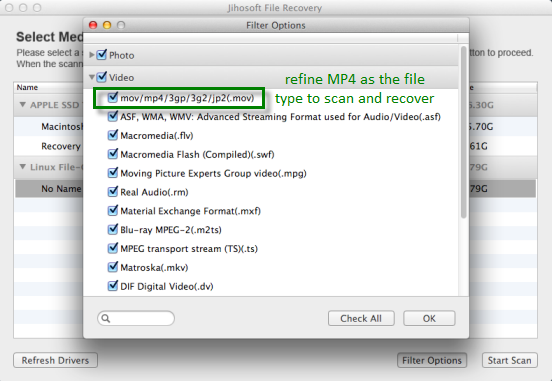 At this point, you need to click the "Start Scan" button. The software will immediately begin to scan for deleted or lost MP4 files.
After scanning, you will see all of the deleted MP4 files from your digital device. Mark the ones you need to get back and click "Recover" to restore MP4 files.