How to Recover Deleted MP4 Video Files in Windows & Mac
Question: Help! How can I retrieve an accidentally deleted video from my USB stick? It is a very important clip in MP4 format and I will need it for my class next week. It was mistakenly deleted from the USB drive connected to a PC, so there is no way to restore it from the Recycle bin, is there? I am willing to try all MP4 file recovery software for a chance. Any recommendation?
MP4 has been existing as the most popular video format for decades. When you are looking for a way to recover deleted videos, you're most likely in need of an MP4 file recovery tool. Is it even possible to undelete MP4 videos lost from a PC, external hard drive, SD card or USB flash stick? In this article, we are going to answer the question and introduce the best MP4 file recovery software for Windows and Mac computers.
Is It Possible to Restore Deleted MP4 Files on PC?
MP4, or MPEG-4 Part 14, is a digital multimedia container format which allows a combination of video, audio, subtitles and still images to be held in one single file. The official filename extension for MPEG-4 Part 14 files is .mp4, but many have other extensions, like .m4a and .m4p etc. As well as most modern container formats, MP4 file allows streaming over the Internet. It means that the content can be watched in real time as well as being saved on a hard drive.
When you deleted an MP4 video from a removable disk (like SD card, USB stick or external hard drive), the file system marked file available for occupying by new data instead of wiping it immediately. Before new data overwrite the deleted ones, it is still possible to get them back. The procedure also applies when you permanently delete (by Shift + Delete or emptying Recycle bin) a file from computer local disks.
In summary, when you find it necessary to restore MP4 files, please stop using the storage device and try to retrieve your videos as soon as possible. In addition to protecting lost data from being overwritten, the most difficult part is how to put the deleted data pieces together. Luckily, you can make use of data recovery software to do it easily.
MP4 Recovery Software Free Download
Jihosoft Photo Recovery is the best choice you are looking for, which will help you recover deleted MP4 videos from SD card, USB flash stick, external hard drive and other storage devices on Windows or Mac computer. In addition to MP4 video recovery, this software also can retrieve photos, videos and audio files in most formats.
Why Choose Jihosoft Photo Recovery
Full and free preview before recovery for all photos, videos and audio files.
High recovery rate after deletion, formatting, virus attack and more accidents.
Advanced Scan to ensure quick and accurate scanning.
Multiple filtering options to help you find the desired data quickly.
Full image backup feature in case of data loss in the future.
Download and install the free trial version of Jihosoft Photo Recovery on your Windows or Mac computer. The intuitive user interface will guide you to restore deleted MP4 files in 3 simple steps.
Step 1. Run MP4 Video Recovery Software
Run Jihosoft Photo Recovery on your Windows or Mac computer. Click Recover Photo to proceed.
Tips: Create Image and Resume Recovery are two other features worth of exploring.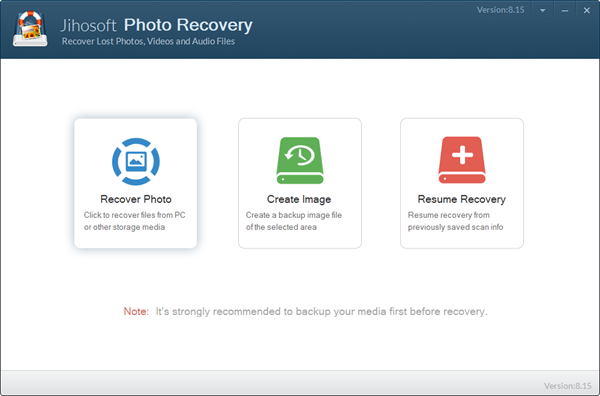 Step 2. Scan for Lost MP4 Video Files
Now you should see all the detected disks, including external hard drive and removable drives. Please select the partition where your files were lost and click Scan Now to proceed.
Tips: Click Advance Scan to choose only the wanted file formats for a quick scanning.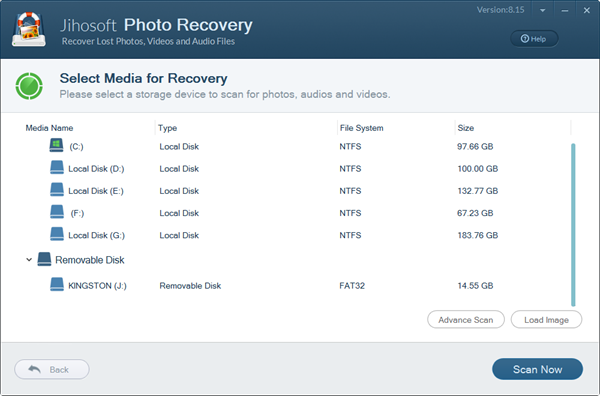 Step 3. Recover Deleted MP4 Videos
Once the scanning completes, click the file types on the left panel, then preview/play the found videos on the right. After that, select only the files that you want to recover. Finally, click Recover button to save them on your computer.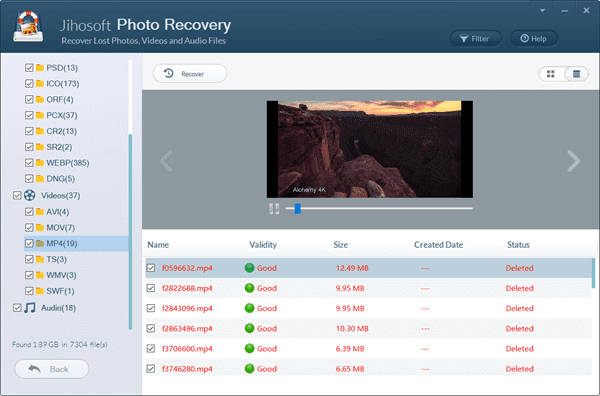 Tips: To avoid data overwriting, please save the data on a partition different from the original location. You may also want to back up SD card or USB drive to computer to avoid data loss in the future.
Bottom Line
In this article, we have learnt that it is indeed possible to get back deleted MP4 files as long as you follow the instruction above. Don't hesitate to give it a try if you just have such a need. In some cases, you may need to repair corrupted MP4 videos with tools as they could be incomplete or partially overwritten. Kindly share your experience and opinions with us in the comment.