Best Tools to Fix a Corrupted MP4 Video File
"I recorded a video by my mobile phone. It was saved in .mp4 in right way but doesn't play in my phone even in my computer. The audio is OK but the video is in green. Can I repair it? The video clip is very important and memorable for me. Thanks!"
Actually, this often happens if the MP4 file gets corrupted. You will find that its audio & video are not synchronized or sometimes you are able to hear the audio but the video is not visible. In such case, you will need MP4 Repair Tools to fix corrupted MP4 video. In this article, we will introduce several free & paid tools to repair MP4 and some other video files and make them playable again.
About MP4 Video Repair
MP4 is a digital multimedia format most commonly used to store video and audio, but can also be used to store other data such as subtitles and still images. It is popular on the Internet and supported on a range of consumer electronics devices, including digital cameras, mobile phones, iPhone, iPod, and more. MP4 provides high-quality and highly compressed digital video, but we usually experienced the corruption of our favorite or important MP4 videos due to various reasons.
Whenever there is a problem, there are solutions. This is true, at least for MP4 video repair. We can find a lot of tools for repairing corrupted videos online but not even a half of them is actually working. That's why we make the list below. However, the first thing you're suggested to keep in mind is that the chance of fixing a corrupted video is really low. Don't be disappointed and be prepared for a failure.
Tips: Many people get their MP4 videos corrupted after losing and restoring the files. To avoid worsening the situation from the first place, you're suggested to use the best video recovery software to retrieve deleted videos. The recovery program won't repair the videos which are corrupted already, but it is worth a try if you just deleted a video from your computer, SD card or external hard drive.
Unlike any other options in this article, Fix.video is an online tool for repairing corrupted videos. The whole repair process is completed on a web browser through its server. Currently, this online tool supports MP4, MOV, M4V and 3GP videos created by digital cameras, smartphones, drones and other devices.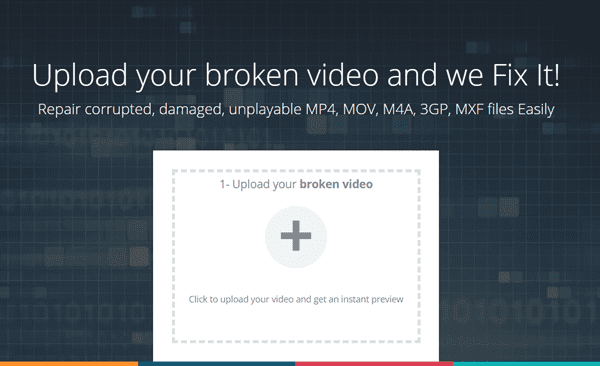 To repair an unplayable video with this tool, you will need to upload the damaged to the website, and then upload a reference video which is valid and recorded on the same device or software with the same exact settings (resolution, bitrate, fps, audio format). Just pick the last valid video file from your device and make sure the duration is at least one minute.
2. Stellar Phoenix MP4 Video Repair ($69)
It is a handy program to repair various video files, such as MP4, MOV, 3GP, 3G2, M4V, and F4V. It can help you fix corrupt/damaged MP4 files no matter if they are stored on the computer hard drive, external memory disk or other storage devices. You can preview the repaired video before you pay. Sound/movement/header/duration corruption can be resolved easily.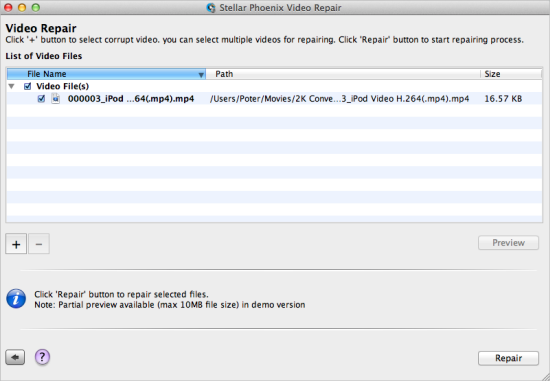 3. File Repair
File Repair is a powerful corrupted MP4 File Repair tool. It is able to extract the data from the corrupted MP4 file to a new document. Besides MP4, File Repair supports different file formats, such as, AVI, MOV, MP3, WAV, JPEG, GIF, BMP, PNG, DOC, XLS, ZIP, RAR, etc.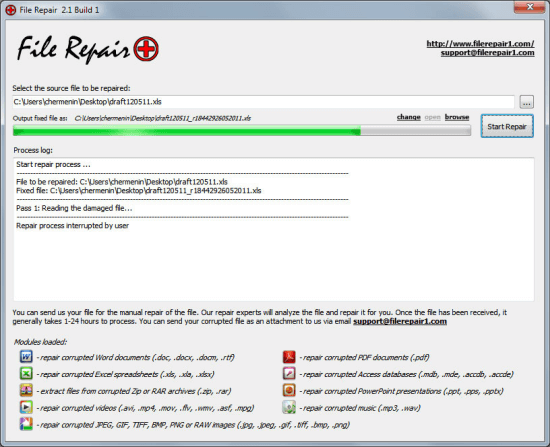 Browse through your computer to add the corrupt MP4 file you want to fix.
Click "change" to select a location for the repaired MP4 file.
Click "Start Repair" to begin repairing the corrupted MP4 file on your PC.
4. Digital Video Repair
Digital Video Repair is capable of fixing the broken parts of MP4 files. This MP4 Video Repair tool can help you repair MP4 files damaged by virus infection, application failures, system crashed, network errors, and many other reasons.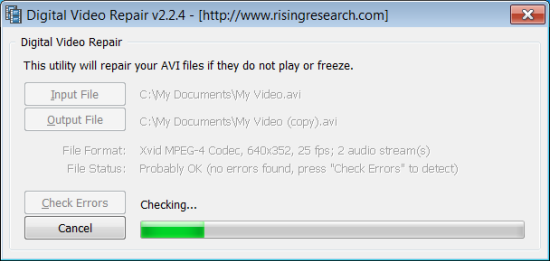 Click "Input" to locate the corrupt MP4 file on your computer and then click "Open".
Click "Output" and select a place to save the repaired MP4 video file.
Click "Check Errors" to begin the repair process and fix the corrupt MP4 video.
Bottom Line
The repair tools above work for MP4 as well as other video formats. More importantly, you will be able to preview the result and confirm whether your video can be repaired or not. Don't forget to share your experience in the comment and tell us your favorite MP4 video repair tool.