Top 5 Free Online QR Code Generators in 2019: Static or Dynamic
QR (Quick Response) codes are widely used to show people some information on a landing page, app, social channel, or collect data, like contacts. Though the applications greatly vary, the QR code is really useful for both daily life, study and business. To achieve your target with this handy mean, we have picked out the top QR code generators for you.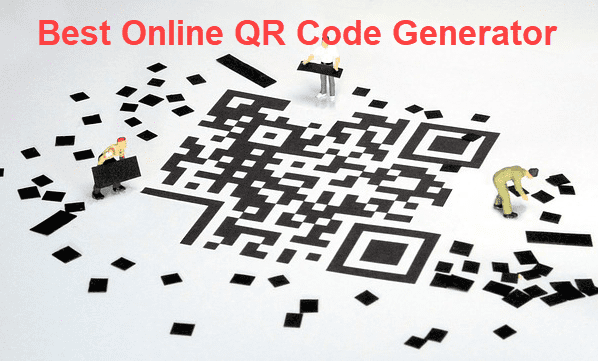 How to Define the Best QR Code Generator
The first thing that should draw your attention is to match your needs with the characteristics of QR codes. Here are 8 things you need to know about QR codes.
Generate dynamic QR codes, which allow you to edit the landing page where you want to lead your customers to, instead of reprint another QR code. Dynamic QR code is usually a premium feature for paid users.
Track the activities of the scanning, so that you could analyze the target users and optimize your marketing strategies for your service or product. This is only available for dynamic QR codes.
Design attractive QR codes, which are inviting and motivating target audience to take the first step forward.
Create the QR codes that suit your need, such as Link, V-card, email, text, call, SMS, Wi-Fi, location and PayPal. In this list of QR code generators below, there is one option supporting up to 26 types of QR codes.
Export vector formats of the QR code. Raster formats, like PNG and JPG, are fine for webpages, but the quality may decline if you need to print a large image of the QR code, in which case vector formats, such as SVG, PS or PDF, are necessary.
Support error correction, which is useful if you add a logo to the QR code, or the printed QR code is vulnerable. With error correction, people can still scan your QR code even when it is slightly damaged or dirty.
Ensure the landing page ad-free. A lot of QR code generator allow you to create QR codes free, but they may add mobile ads to the landing pages without notifying you. If you find the conversion rate super low, the ads on the landing page could be a cause.
Manage QR codes in campaigns. If you have created multiple QR codes for a campaign, how to organize and manage these QR codes easily? There are QR code generators allow you to manage QR codes for the whole campaign, so you don't have to deactivate a dozens of QR codes one by one just for ending a campaign.
Generally, it is free to generate static QR codes and a few generators can satisfy you fully. However, dynamic QR codes involve data tracking and processing, so we have to pay some money to enjoy the service. The following are the top 5 online QR code generators that can satisfy you from any aspects.
#1 ForQRCode – Best Free QR Code Generator in SVG, EPS, PNG
ForQRCode is undoubtedly the best choice if you are looking for a neat and hassle-free QR code generator. There is only one visible page on this website with 5 languages buttons on the upper right corner. Scroll down and you will find the whole workbench where you will finish all the steps to generate QR codes.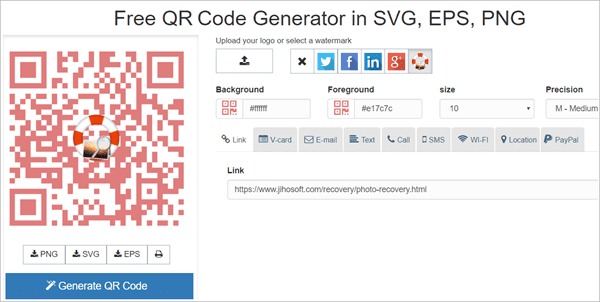 Pros:
100% free QR code generator
Link, V-card, email, text, call, SMS, Wi-Fi, location and PayPal
Adjustable background and foreground color, size and precision
Download as PNG, SVG, EPS image or print through the browser
Directly lead to the landing pages without ads
Cons:
No data tracking. Actually, even no option to register an account
Limited customization options on the form of QR codes
#2 QRzebra – Best QR Code Generator for Business
QRzebra covers almost all options mentioned above and even more, the advanced features among which are exclusive for paid users though. This online QR code generator will satisfy you in all dimensions, from the supported application scenarios, diversified customization options, to data tracking. However, users can only download the QR codes for URL for free after submitting their email. For other QR codes, you have to pay a subscription fee. To sum it up, QRzebra is the best QR code generator for business use in a long term.
#3 QRCode Monkey – Static & Dynamic Online QR Code Generator
QRCode Monkey is a combination of ForQRCode and QRzebra. You can simply create an attractive and high-resolution QR code 100% for free here, and also generate a dynamic QR code with data tracking enabled with payment.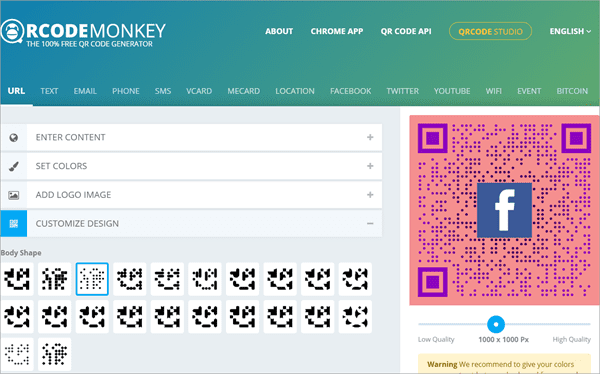 Comparing with ForQRCode, this online QR code generator adds support for many more templates and Bitcoin to receive payment. You can download high definition QR code in SVG, PDF and EPS formats. All these features for static QR codes are free for use, which explains why QRCode Monkey is favored by thousands of users. For dynamic QR codes that support scan statistics, bulk creation and editing, campaign management and more features, users must pay after a 14-day trial.
Warm tips: In case you lose important files and need to recover photos or videos from your SD card, please have a try with Jihosoft Photo Recovery – the best photo recovery software for Windows and Mac.
#4 The-QRCode-Generator – Free Dynamic QR Code Generator with Data Tracking
Isn't it perfect if a QR code generate could help us create both static and dynamic QR codes for free? Well, that's the-QRCode-Generator. Actually, this site provides only 5 types of QR codes, namely Text, URL, Contact, Phone and SMS. The form of QR codes is by default and not changeable, though users can custom the size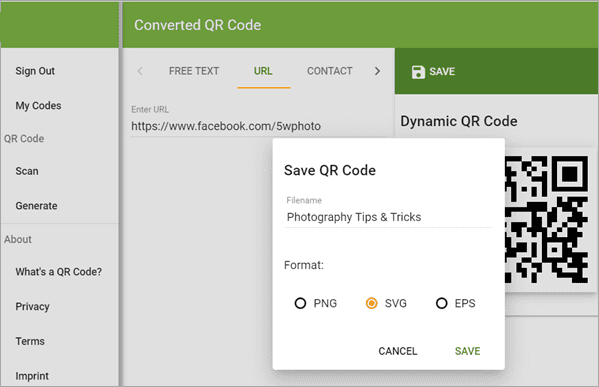 However, this QR code generate allows users to convert the static QR codes to dynamic by signing in with their Google accounts. After that, users can edit the content of the QR code anytime even after it is printed or saved as an image. The changes will be synced online automatically. The most stunning thing is that users can view the scanning activities, including the date and counting views. For more advanced statistics, you just need to enter your Google Analytics Account. In this way, this site provides all the features 100% for free.
#5 QR Stuff – Affordable Online QR Code Generator with Data Tracking
We have found a 100% free QR code generator on #4. However, the data tracking linked to Google Analytics cannot contend with the paid services like QRzebra and QRCode Monkey. If you have a high requirement on data tracking but with a limited budget, then QR Stuff is for you.
Don't get disappointed at the shabby interface of this website. QR Stuff supports up to 26 types of QR codes and multiple output types. Some of the options, like dynamic QR code and batch processing, are exclusive for subscribers, but the rate is down to $7.50/month for annual plan, which is affordable for small business owners.
Conclusion
Whether you want to create QR codes for personal use or business use, the top 5 online tools will meet your requirements. Don't forget to name your favorite one in the comment. You can also share us other excellent choices for best QR code generator online, mobile app or desktop software.