3 Ways to Recover Permanently Deleted Photos & Videos from SD Card
"Hey guys, I have a 32GB SD card for my Nikon D3100. I accidentally deleted all photos from the SD card and want to get them back. Anyone know of a program that will let me recover photos from SD card? Thanks in advance."
Even though many electronic devices are equipped with large internal memory nowadays, nobody would say NO to a Micro SD card. It means not only more available space, but also about the flexibility. However, it is common to see that people lose precious photos and videos from SD card due to various reasons.
Premise: Why is SD Card Photo Recovery & Video Recovery Possible?
A lot of photographers have wondered the answer in a panic. Let's start by figuring out where the files go after you delete them intentionally or by mistake. Are files really permanently deleted from your SD card?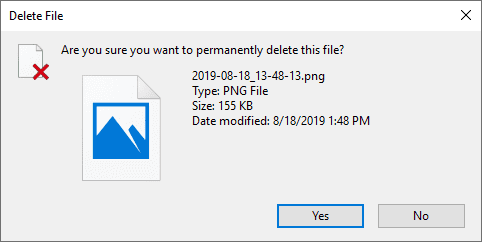 As it is widely known, when you delete a photo or video on Windows & Mac computer, the deleted file goes to the Recycle Bin or the Trash waiting for you to restore it someday in the future. However, if you delete photos or videos from an SD card, whether you perform the operation on a digital camera, mobile phone, or computer, there is no Recycle bin or similar place to store the deleted data.
Don't despair. At this stage, the files are not gone forever. They are indeed invisible by both the computer and users, but the data is still there. The file system just marks the space which is occupied by the data as available for overwriting by new ones. As long as the overwriting have not yet happened, it is possible to recover deleted photos from SD card.
Method 1. Restore Photos and Videos from SD Card without Software
If you don't want to use any third-party tool for SD card photo recovery, then CHKDSK is your best choice. CHKDSK is a frequently-used command that computer masters would try to fix errors in hard drives and removable disks. This method works for files lost from micro SD card due to a system glitch or corruption.
By applying CHKDSK with Command Prompt, the computer operating system will check for and fix the errors, such as corruption or crash. If the errors are fixed successfully, you will be able to access the files stored in the SD card again.
Steps to apply CHKDSK:
Step 1. Click Start button on your PC, type "CMD" on your keyboard, then you shall see the matched result.
Step 2. Right-click on Command Prompt, then choose Run as administrator.
Step 3. In Command Prompt, type: chkdsk H: /f /r /x and hit Enter. (Replace H with the drive letter of your SD card)
Step 4. Once the scanning and fixing is finished, try to access your SD card.
Method 2. Recover Photos with the Best SD Card Recovery Software
To recover lost, deleted or formatted photos and videos from SD card without backup, you need Jihosoft Photo Recovery, which is the best SD card photo recovery software on Windows and Mac. It will scan your SD card and undelete photos, videos and audio files.
Why Choose Jihosoft
Support SD card used for digital camera, mobile phone and all common devices.
Recover photos (JPEG/PNG/NEF/TIFF/SR2/CR2, etc.) & videos (MP4/MXF/SWF, etc.) in all formats.
High recovery rate even after deletion, formatting, virus attack and more accidents.
Full and free preview before recovery for all photos, videos and audio files.
Advanced Scan to ensure quick and accurate scanning.
Multiple filtering options to help you find the desired data quickly.
Note: To increase the chance of recovery, you should better plug the SD card out of device like digital camera, camcorder, mobile phone, etc. and stop using it at once to avoid data overwritten.
Steps to Recover Deleted Videos & Photos from SD Card
Step 1. Launch the Recovery Software
Connect your SD card to computer via a card reader, then launch the SD card photo recovery software on your Windows or Mac computer. Click Recover Photo to continue.
Tips: You can make a backup for your SD card with Create Image.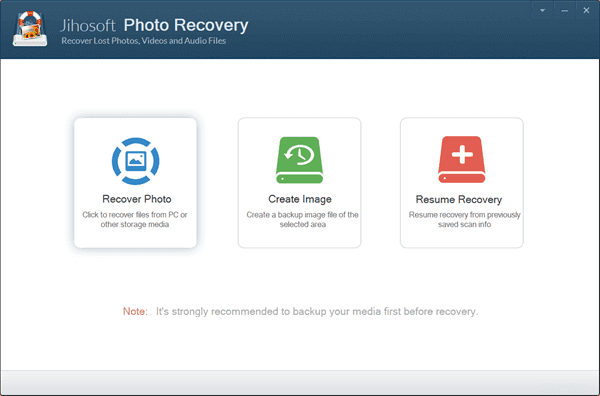 Step 2. Scan Lost Photos on SD Card
Now, select the partition of your SD card and click Scan Now to search for lost photos, videos and audios on your SD card.
Tips: You may also click Advanced Scan and choose wanted file formats for quick scanning.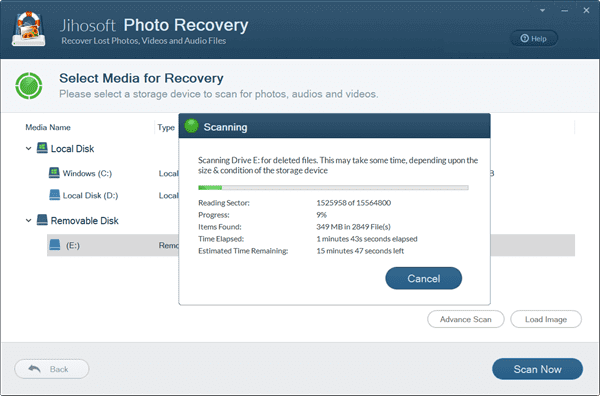 Step 3. Recover Deleted Photos from SD Card
Preview the recoverable photos and videos from scanning result and select files that you want to recover. Finally click Recover to start getting lost files back.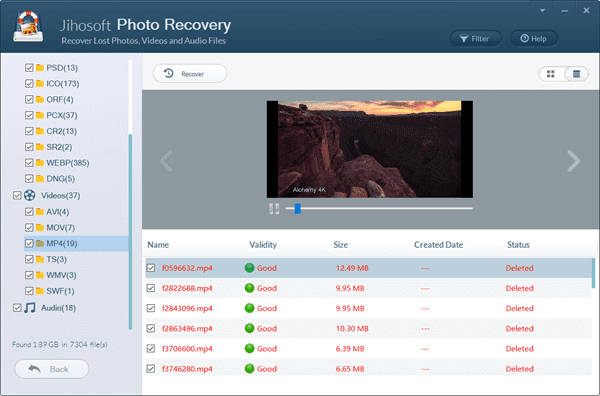 Method 3. Recover Deleted Photos and Videos from SD Card without a Computer
The method above is the best solution for undeleting SD card photos and videos. If you don't have access to a computer, however, you will need an SD card recovery mobile app. These apps are usually not as powerful as computer programs, because they require root permission in order to play the full function while it is not easy nor worthy for most people to root a device. If you have a rooted device, then you may try the steps below.
Download and install DiskDigger.
Start a basic scan.
Review the files that DiskDigger can recover.
Select the files you'd like to recover, and specify an output location.
More Tips & Suggestions
Tip 1: Jihosoft Photo Recovery can retrieve pictures from Micro SD card in various brands and types. Popular SD card such Lexar SD card, Sandisk SD card, ATP SD card, Kingston SD card, Transend SD card, PNY SD card, and card types like Micro SD card, Mini SD card, SDHC card, and MMC card are all supported.
Tip 2: Jihosoft SD Card Photo Recovery can also recover photos and videos from USB flash drive and other removable devices as well as hard drives.
Don't forget to share this tutorial to your friends if you find it useful. You can also tell us your questions or experience in the comment section below.