How to Recover Deleted Photos and Videos from Nikon Coolpix
Nikon Coolpix series is the well-known compact digital camera for taking excellent pictures. However, as well as any other digital camera, Nikon Coolpix is also prone to photo loss. On many occasions you may carelessly delete precious photos and videos on your Nikon Coolpix, as follows.
"Hello, guys. I accidentally deleted some important photos from my Nikon Coolpix P7700, need to get them back. Any help would be greatly appreciated." – from Yahoo! Answers
Fortunately, it is possible to recover photos from Nikon Coolpix with third-party software. Jihosoft Photo Recovery for Mac is one of the best data recovery tool that helps in the recovery of photos and videos from Nikon Coolpix camera with perfection. With this Nikon Coolpix Photo Recovery software, you can easily retrieve photos from Nikon Coolpix cameras like Coolpix S6300, S6400, S1200PJ, AW100, P7100, P7700, and more.
Steps to Recover Deleted Photos and Videos from Nikon Coolpix
As soon as you realize you have accidentally deleted some pictures, you should stop using the Nikon Coolpix right away to avoid data overwriting.
Step 1: Free Get Nikon Coolpix Photo Recovery
Jihosoft offers free trial version of Nikon Coolpix Photo Recovery for users to undelete photos from Nikon Coolpix. Go to its official site, free download and install one into your computer.
Step 2: Scan Nikon Coolpix Memory Card
Connect the Nikon Coolpix memory card to your home computer using a card reader. Launch the software, select Nikon Coolpix memory card for recovery and then click "Start Scan".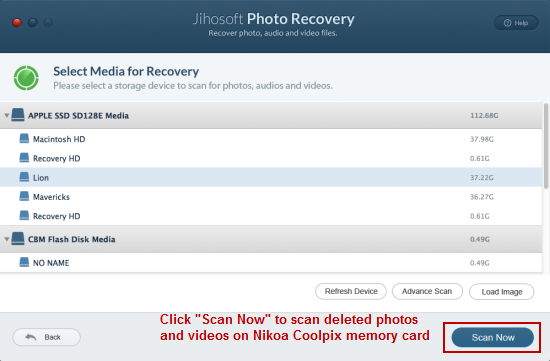 Step 3: Recover Deleted Photos from Nikon Coolpix
Once the scan has completed, preview and select the image or video files you want to recovery from. Then just click "Recover" to recover deleted photos and videos from Nikon Coolpix.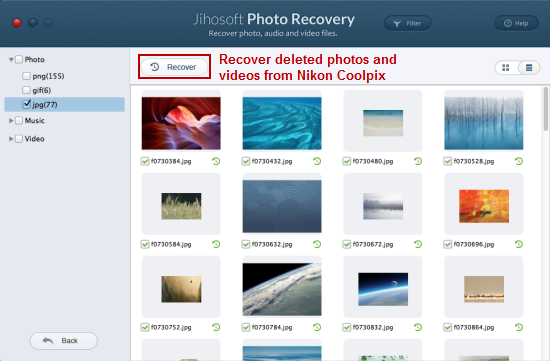 Tip: Don't save the recovered photos and videos oon your Nikon Coolpix camera or the memory card again. Find another place like your computer's hard drive for safety's sake.
Photo Recovery for Mac supports following Nikon Coolpix Series Cameras:
All Wether Series: Coolpix AW100, Coolpix AW100s.
Life Series: Coolpix L16, L18, L19, L20, L21, L22, L23, L24, L25, L26, L100, L110, L120, L310, L610, L810, L820.
Performance Series: Coolpix P50, P60, P80, P90. P100, P310, P500, P510, P5000, P5100, P6000, P7000, P7100, P7700.
Style Series: Coolpix S01, S10, S30, S50, S50c, S51, S51c, S52, S52c, S60, S70, S80, S100, S200, S210, S220, S230, S500, S510, S520, S550, S560, S570, S600, S610, S620, S630, S640, S700, S710, S800c, S1000pj, S1000pj, S1200pj, S2600, S300, S3300, S4000, S4300, S6000, S6300, S6400, S8000, S8100, S9200, S9300.