(Solved) How to Recover Deleted Photos & Videos from Nikon Coolpix
"Hello, guys. I accidentally deleted some important photos from my Nikon Coolpix P7700, need to get them back. Any help would be greatly appreciated." – from Yahoo! Answers
Nikon Coolpix series is the well-known compact digital camera for taking excellent pictures. However, as well as any other digital camera, Nikon Coolpix is also prone to photo loss. On many occasions you may carelessly delete precious photos and videos on your Nikon Coolpix and wonder if it is possible to restore deleted photos from Nikon Coolpix. Keep reading to find the answer and solution.
Is it Possible to Retrieve Photos from Nikon Coolpix?
Fortunately, it is possible to recover photos from Nikon Coolpix with third-party software. However, you need to apply Nikon Coolpix photo recovery as fast as possible, because new data could overwrite the lost ones when you keep using the device.
The Best Software for Nikon Coolpix Photo and Video Recovery
Jihosoft Photo Recovery is one of the best data recovery tools for undeleting images, videos and audio files. With this Nikon Coolpix Photo Recovery software, you can easily retrieve both RAW images in NEF/NRW format and regular JPEG/JPG pictures from Nikon Coolpix cameras, like Coolpix S6300, S6400, S1200PJ, AW100, P7100, P7700, as well as other DSLR cameras.
Why Choose Jihosoft Photo Recovery
Full and free preview before recovery for all photos, videos and audio files.
High recovery rate after deletion, formatting, virus attack and more accidents.
Advanced Scan to ensure quick and accurate scanning.
Multiple filtering options to help you find the desired data quickly.
Full image backup feature in case of data loss in the future.
Download and install the free trial version of Jihosoft Photo Recovery on your Windows or Mac computer. The intuitive user interface will guide you to restore deleted Nikon photos and videos in 3 simple steps.
Steps to Recover Deleted Photos and Videos from Nikon Coolpix
Step 1. Run the Nikon Photo Recovery Software
Run Jihosoft Photo Recovery on your Windows or Mac computer. Click Recover Photo to proceed.
Tips: Create Image and Resume Recovery are two other features worth of exploring.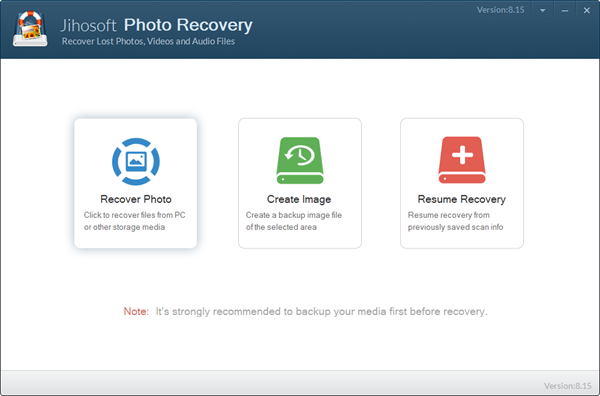 Step 2. Scan for Lost Photos and Videos
Now you should see all the detected disks, including external hard drive and removable drives. Please select the partition where your files were lost and click Scan Now to proceed.
Tips: Click Advance Scan to choose only the wanted file formats for a quick scanning.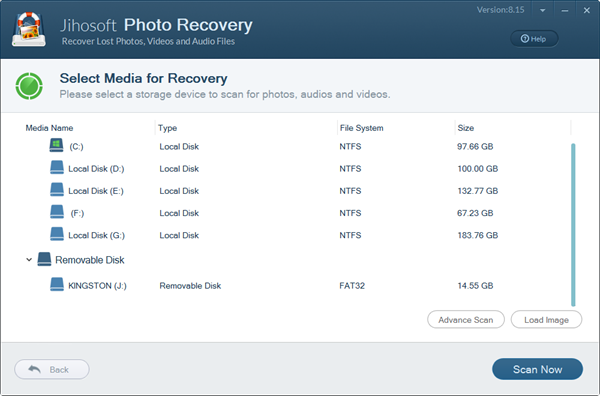 Step 3. Recover Deleted Photos from Nikon Coolpi
Once the scanning completes, click the file types on the left panel, then preview/play the found photos and videos on the right. After that, select only the files that you want to recover. Finally, click Recover button to save them on your computer.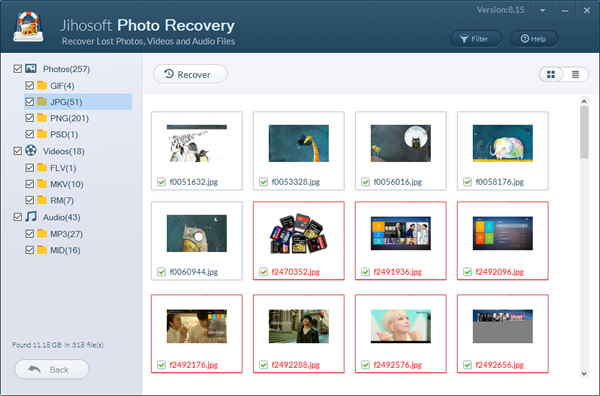 Tip: Don't save the recovered photos and videos on your Nikon Coolpix camera or the memory card again. Find another place like your computer's hard drive for safety's sake. You may also want to back up SD card or USB drive to computer to avoid data loss in the future.
Supported Nikon Coolpix Series Cameras:
A Series: Coolpix A, Coolpix A10
All Weather Series: Coolpix AW100, Coolpix AW100s.
W Series: W300
B Series: B500, B700
Life Series: Coolpix L16, L18, L19, L20, L21, L22, L23, L24, L25, L26, L100, L110, L120, L310, L610, L810, L820.
Performance Series: Coolpix P50, P60, P80, P90. P100, P310, P500, P510, P5000, P5100, P6000, P7000, P7100, P7700.
Style Series: Coolpix S01, S10, S30, S50, S50c, S51, S51c, S52, S52c, S60, S70, S80, S100, S200, S210, S220, S230, S500, S510, S520, S550, S560, S570, S600, S610, S620, S630, S640, S700, S710, S800c, S1000pj, S1000pj, S1200pj, S2600, S300, S3300, S4000, S4300, S6000, S6300, S6400, S8000, S8100, S9200, S9300.