3 Ways to Recover Unsaved/Deleted/Corrupted Word Document
Please help me! Last night, I closed a Word document without saving the changes. It was my school assignment which is supposed to be used next week. Is there any way to recover lost Docx documents?
Microsoft Word is widely used in business, education and home for information storage, presentation and sharing. It is really a painful experience if someone lost an important Word file. Wondering how to retrieve a Word doc unsaved, deleted, lost or even corrupted? Keep reading to find the solutions.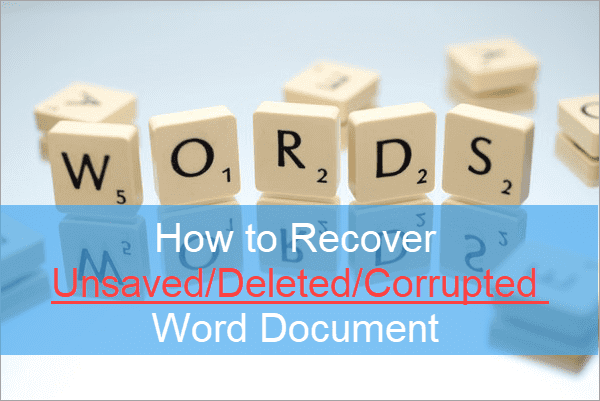 Part 1. How to Recover Unsaved Word Document
Sometimes, Microsoft Word documents may be closed accidentally because of computer faults, power interruption or human error while editing. If you close a Word document without saving changes, you can try the solutions below to recover unsaved Word document.
1. Recover unsaved Word from recent document
If you want to find the Word document saved somewhere you forget or accidently closed, please try the steps below. This method works better for the Word file you opened recently on the same computer.
Step 1. Run MS Word, then click File tab from the upper left.
Step 2. Click Open > Recent, then look through the list of documents.
Step 3. On the bottom of the list section, click Recover Unsaved Documents.
Step 4. In the popup window, check and select an unsaved file to open it.
Step 5. Save the missing document as a new file.
2. Recover unsaved Word document with AutoRecover option
It is widely known that Word automatically pops up recovery option if a document is closed with saving changes. That's because AutoRecover is enabled by default. However, if the automatic recovery pane doesn't appear, we can also recover unsaved word document manually from AutoRecover location.
Step 1. Open MS Word, click File > Options.
Step 2. In the left pane, click Save and copy the AutoRecover file location path and open it in File Explorer.
Step 3. Find and copy the unsaved document which should be ended with .asd.
Step 4. In Word, go to File > Open > Recover Unsaved Documents, then paste the .asd file.
Step 5. Open the unsaved Word document and recover it.
Tips: MS Word autosaves the opened document usually by 10 minutes if you don't save it manually. You can also specify a longer or shorter frequency for the autosave in File > Options > Save.
Part 2. How to Recover Deleted/Lost Word Document
1. Search for Word backup files to recover lost Word document
Check if you have enabled Backup for MS Word:
In MS Word, go to File > Options > Advanced, scroll down and check the Save section for the Always create backup copy box.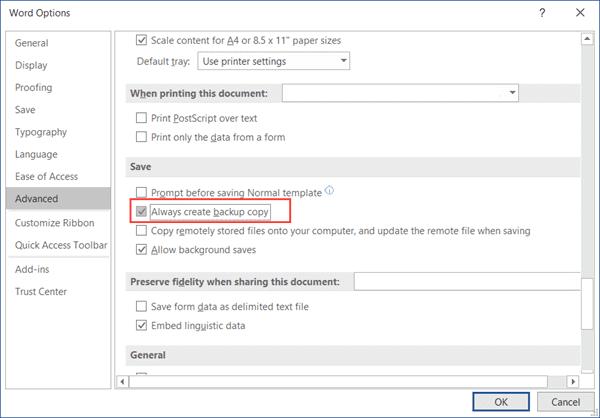 The backup copy should be saved on the location where you edit the original document, so you may check the folder even when you moved the document to a USB drive and deleted it.
Step 1. Open the folder where the original Word document was finished.
Step 2. Check for a document name as "Backup of + original file name".
Step 3. Save the backup as a new file.
2. Recover deleted Word File with software
If your important Word documents get lost due to error deleting, recycle bin emptying, mistaken formatting, or other unknown reasons, the best way is to use Jihosoft File Recovery to recover deleted Word document. It is professional Word Document Recovery software, which enables users to recover deleted Word DOC/DOCX documents from computer, external hard drive, USB drive or SD card without any difficulty.
Download File Recovery for Windows or Mac, then follow the steps below to recover deleted Excel, PDF or Word document:
Step 1. Run Word Recovery Software and choose Recover File.
Jihosoft File Recovery will launch automatically after installation. You can also run it from the desktop by double-clicking. Click Recover File to proceed.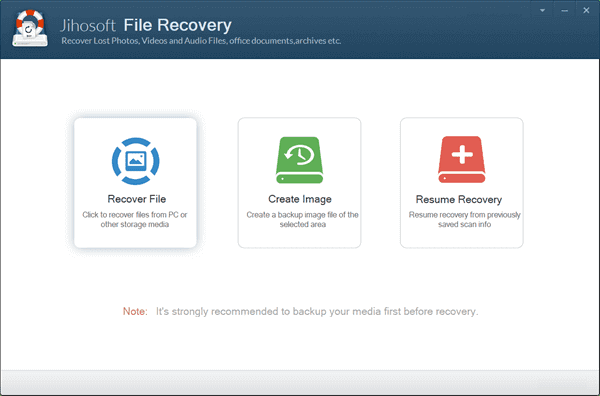 Step 2. Select a partition and Scan for deleted Word.
Now you should see all the partitions detected by the program, including local disk, hard drive as well as removable disks. You need to select the partition where your Word files were deleted, then click Advance Scan to tick only the file types you need, like DOC/DOCX. Click Scan Now to proceed.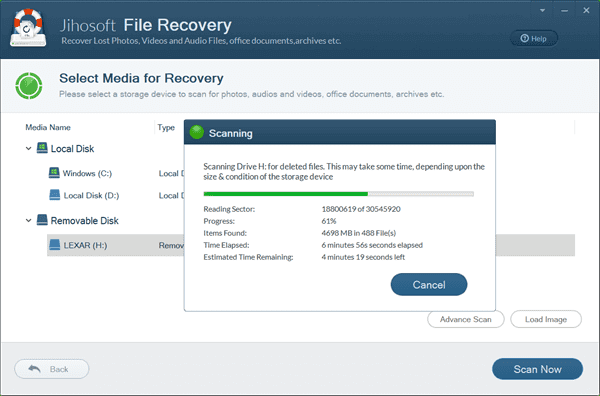 Step 3. Preview and Recover deleted Word files.
Once the scanning is finished, you can preview the found MS Word documents to check if you really need them. Tick only the data you need and click Recover button to get them out.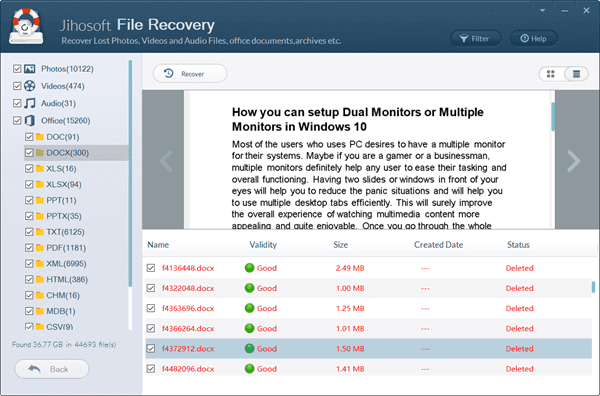 Important:
Usually, your deleted Word document is not erased immediately even if you gave the command. It still exists on the system anonymously and you can retrieve it with data recovery tool. However, you shouldn't use the drive or partition to store any new data after losing important Word document, otherwise the new data will overwrite the deleted Word doc and make it unrecoverable.
Part 3. How to Recover Corrupted Word Document
In addition to the above two cases, you may also need to recover a Word document which is corrupted due to any reasons.
1. Recover corrupted Word with built-in feature
Step 1. Open MS Word, go to File > Open > Browse.
Step 2. In the popup window, locate and select the corrupted document.
Step 3. On the bottom-right corner of the window, click the drop-down menu next to Open, then choose Open and Repair.

Step 4. If the repair works, then you can save the document as a new file. If it doesn't work, please repeat the process above but click All Word Documents and choose Recover Text from Any File.
2. How to prevent Word file corruption in the future
You may have noticed the Safely Remove Hardware icon from the bottom-right corner of the taskbar or the hidden tray. Did you even wander if it is really necessary to safely remove hardware or USB from Windows PC? The option seems to be redundant in most cases, but it is actually one of the major causes of Word file corruption. If you mistakenly removed your USB stick from computer without closing an opened Word document, you would likely lose the file or have it corrupted. Therefore, it is necessary to enable autosave and use Safely Remove Hardware to eject media.
Bottom Line
In this tutorial, we have learnt how to recover unsaved, deleted or corrupted Word documents easily. Don't forget to share this article to your friends if you find it useful. You can also leave a comment to tell us your questions or opinions.