How to Recover Deleted Files Not in Recycle Bin Windows 10
Question: Last night I deleted a PowerPoint file from my laptop and didn't realize its importance until this morning. However, when I'm trying to restore it from Recycle bin, it was there. Also, it seems there was no confirmation after I pressed Delete. Where did my deleted files go? Why are deleted files not in Recycle Bin?
In Windows and Mac computers, Recycle bin (or Trash) is undoubtedly one of the most important features. It allows users to regret after they either intentionally or mistakenly delete files from their computers. However, in some cases, people may find the photos, videos, documents or other deleted files not showing in Recycle bin of Windows 10/7 or Mac. Keep reading to know why and how to recover files deleted from Recycle bin.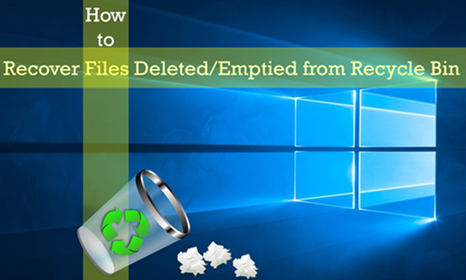 Why Deleted Files Not in Recycle Bin?
Recycle bin won't work for storing temporarily deleted data if your files were wiped in the following ways:
Manually emptied Recycle bin or deleted single files from Recycle bin
Deleted files by Shift + Delete
Set up "Don't move files to the Recycle bin"
The deleted files are too large to be recycled or the space allocated to the Recycle bin is full
Deleted files from flash drives connected to a computer
Deleted or formatted a partition through Command Prompt or Disk Management
Is It Possible to Recover Files Emptied from Recycle Bin?
When you empty the Recycle Bin or delete a file inside it, Windows won't be able to recover the files, and you might think that they are permanently gone. Actually, they are not. The files are no longer recognized by file system only because the reference table was deleted, but the data still exists as pieces until new files occupy the memory space and overwrite the deleted data.
Before the overwriting really happens, it is still possible to rebuild the reference table to make lost files appear again. To recover deleted files from recycle bin, you will need the use of a third-party software and apply Recycle bin emptied file recovery as soon as possible.
The Best Data Recovery Software after Emptying Recycle Bin
Jihosoft File Recovery is such a powerful Recycle Bin Deleted Files Recovery application. It can perform a full scan of your computer hard drive to find and list all files including documents, photos, music, video, music, zip, etc., deleted or emptied from your recycle bin for selective recovering. It is also the best software for USB flash drive file recovery and SD card data recovery.
Why Choose Jihosoft File Recovery?
Intuitive and straightforward UI, without need of technical knowledge.
Highest recovery rate and most compatible range in the industry.
Full and free preview before recovery.
Recover not only deleted files but also hidden existing data.
Three main functions: Recover File, Create Image (data backup), Resume Recovery.
Offer multiple options and designs to filter out wanted files quick.
Now, free download the best data recovery on your Windows and Mac computer, then follow the instruction below to apply Recycle bin deleted files recovery.
3 Steps to Recover Files Deleted or Emptied from Recycle Bin
Step 1. Start Recycle Bin Emptied Files Recovery
Install and run the program on your computer, then choose Recover File option.
Tips: Create Image is a great feature helping users back up their storage device as an image file which contains every sector of the space.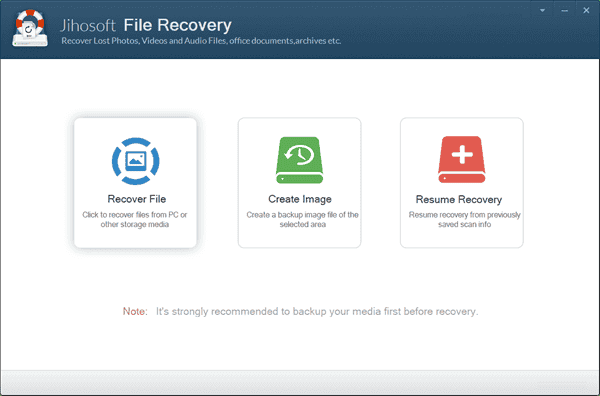 Step 2. Specify a Partition to Scan
The Recycle bin folder is located in Drive C, but the deleted files may still be in the Drive(s) where you initially deleted them. Please select a partition and click Scan Now to proceed.
Tips: Advance Scan allows users scan for wanted data by file types, for example, JPEG and PNG for photos, MP4 and MOV for videos, DOCX and PDF for documents.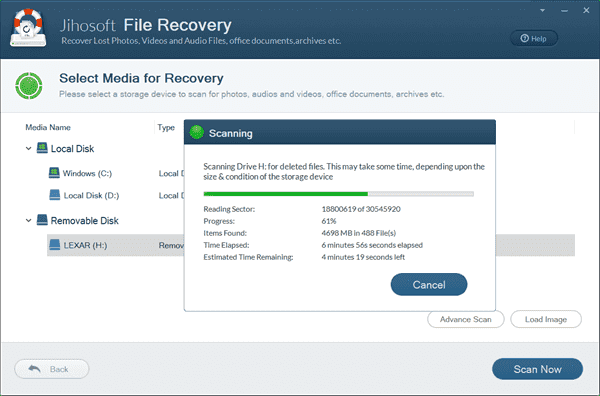 Step 3. Preview and Recover Recycle Bin Deleted Files
When the scan is done, all the recoverable files will be listed in the left panel according to types and formats. Preview the content before you click the Recover button to get out the files you need.
Tips: You can view all the files by file name, size, type, modified time, created time and detailed contents in the right panel. The Filter button on the top bar enables results filtering by file size so that you can easily find a video file large than 200MB out of hundreds of files easily. The switch button on the top-right corner can display the results by list or thumbnails.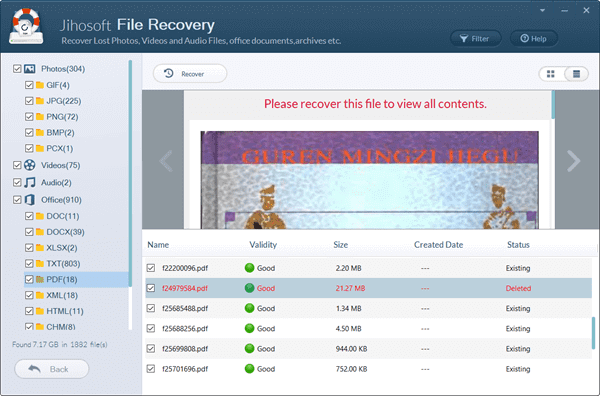 Bottom Line
Don't panic when you accidentally emptied the Recycle bin or Trash on your computer. Just stop saving or deleting data on your computer, then apply data recovery as soon as possible according to the introduction mentioned in this tutorial. Feel free to let us know your thoughts in the comment section.