How to Restore RAW Hard Drive without Losing Data
Problem: "I have a problem with my hard drive. I couldn't open my D drive, which holds most of my important data. The NTFS hard drive now recognized as "RAW". Is there any tool that can convert the RAW disk to NTFS or even if there is any software that can get back my data?
One of the horrible things hard drive users are worried about is having their storage device turned into RAW. It is easy to convert a RAW disk into NTFS, but the valuable data are at risk. In this article, we will introduce everything you need to know about RAW hard drive, including how to restore RAW hard drive to normal without formatting and how to retrieve data from ARW hard drive.
Part 1. What is a RAW Drive?
Raw, or raw disk, indicates a state of hard drive which has no file system. When a hard drive or other storage device is shown as RAW, it could be:
The file system of the drive is missing or damaged
The RAW drive has not been formatted with a file system
The current file system of the storage medium is not recognized by the computer
As there is no file system, you can't store data on the drive. If it is a hard drive new to you, just format it with a file system. If there are important files, however, you are not allowed to access the stored data on a RAW drive.
When a hard drive becomes RAW, it displays that both used and free space are 0 byte in size in Properties. If you click it in Windows Explorer, you may get error messages as follows:
"The disk in drive is not formatted. Do you want to format it now?"
 "You need to format the disk in drive before you can use it. Do you want to format it?"
 "[Drive letter]:\ is not accessible."
 "The disk image isn't initialized, contains partition that aren't recognizable, or contains volumes that haven't been assigned drive letters."

Important: Don't choose to format the hard drive directly, or you may lose all the data which has been stored on this hard drive.
Part 2. How to Fix a RAW Hard Drive without Formatting
You may find a hard drive in RAW status due to various reasons. Some cases could be fixed easily, while others require formatting. If you don't want to wipe your data directly, please try the tricks below:
Option 1. Repair RAW Hard Drive with CHKDSK Command
CHKDSK is a popular command used to fix various errors in Windows computers. It also helps to fix a RAW file system in some cases.
Click Windows Start menu and type "CMD".
Right-click on Command Prompt and choose Run as administrator.
Enter CHKDSK <drive letter>: /f command, replacing the drive letter with the appropriate character of your RAW hard drive.
You will find the scan result and further actions (if any) in the same window. After that, check if you can access the hard drive.
Option 2. Restore RAW Hard Drive by Changing Drive Letter
As indicated in one of the error messages above, the problem could occur when a hard disk is not assigned with a valid drive letter. For example, your computer already has a Drive F, but somehow your hard drive letter is changed to Drive F too, then the system will give an error message.
Step 1. Press Windows + X at the same time on your keyboard and select Disk Management.
Step 2. Right click on the Removable disk and choose Change Drive Letter and Paths…

Step 3. Click Change…, then assign an unused letter to the drive. Choose OK to apply, and then Yes to confirm.
As long as the problem was caused due to a wrong or default drive letter, you should have restored the RAW hard drive to normal.
Option 3. Undelete Files from a RAW Hard Drive with TestDisk
TestDisk is an open-source software contributed by developers from all over the world. It was designed to help users recover lost partitions, which is the major cause of RAW disk, due to viruses or wrong operations, such as deleting a partition table.
TestDisk is not listed on the top because it is really difficult to use, not even with a graphical user interface. Nevertheless, it is one of the few tools that supports RAW Hard drive recovery. Whether you're a newbie or a master of computer, do remember to check the step-by-step tutorial of TestDisk.
Part 3. How to Recover Data from Formatted RAW Hard Drive
In case the methods above failed to restore your RAW hard drive and you had to format the disk, there is a final resort to retrieve your data from RAW hard drive. Jihosoft File Recovery is the best data recovery software for Windows and Mac users to undelete photos, videos, documents and other files from computer disk, external hard drive as well as removeable disks.
Why Choose Jihosoft File Recovery?
Intuitive and straightforward UI, without need of technical knowledge.
Highest recovery rate and most compatible range in the industry.
Full and free preview before recovery.
Recover not only deleted files but also hidden existing data.
Three main functions: Recover File, Create Image (data backup), Resume Recovery.
Offer multiple options and designs to filter out wanted files quick.
Free download and install the data recovery software, and then follow the steps below to undelete files from RAW hard drive.
Step 1. Run Jihosoft File Recovery and Choose Recover File
Launch the program from your desktop, then click Recover File from the three available options (Recover File/Create Image/Resume Recovery).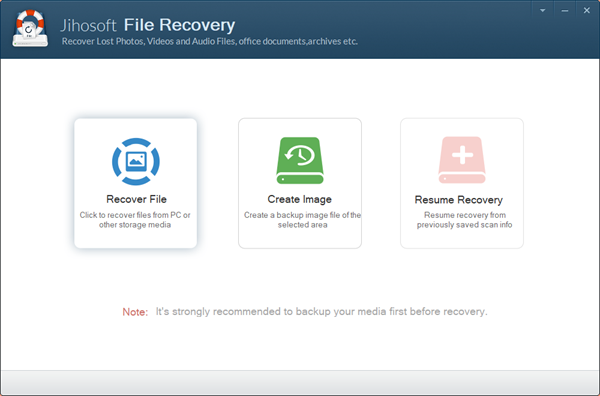 Step 2. Scan RAW Hard Drive for Deleted Files
Now you should see all the disks detected by the program. Select the disk partition where you want to retrieve data, then click Scan Now to scan for deleted files.
Tips: Advance Scan allows you to specify file types to be recovered.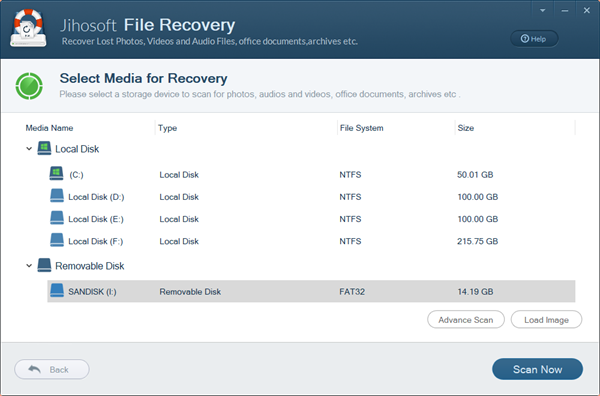 Step 3. Preview and Recover Data from RAW Hard Drive
When the scanning is finished, all recoverable files will be listed by file type. You can preview the found files and select the ones you'd like to recover. Finally click Recover get the files out.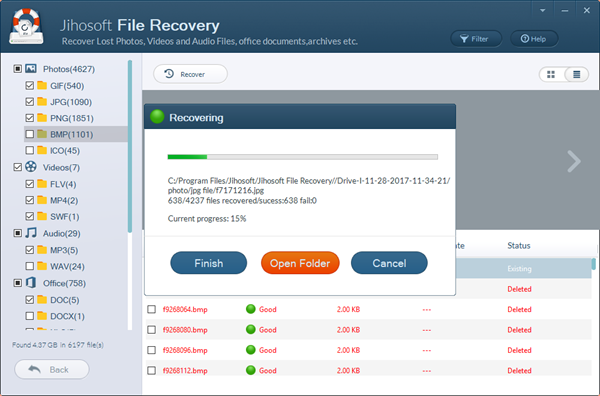 Additional Tips and Suggestions for RAW Hard Drive Recovery
Before perform data recovery from RAW hard drive, avoid adding any new data to the hard drive.
Don't save the recovered data to the original hard drive. It's better to find another safe place to save them.
After you have recovering data from the RAW hard drive, you can format this RAW disk with built-in format tool and then this hard drive can be used again.