How to Recover Deleted Files from Pen Drive in 2021
"I am unable to find any data in my pen drive…it is showing in properties that is has 3.25GB used space but not displaying any kind of data. Can anybody suggest me a way that could help me recover pen drive data? I have useful data in that pen drive."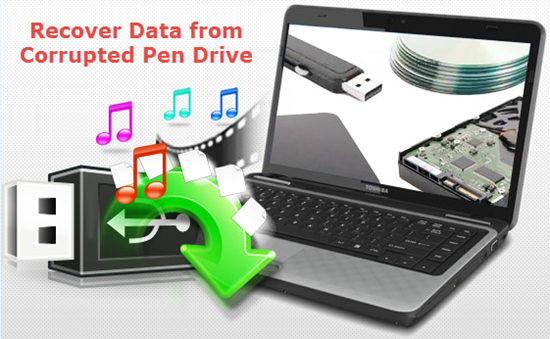 Data stored in a pen drive may suffer great danger such as accidental file deletion, format by mistake, not formatted error, software malfunction, power failure, and virus attack etc. Don't worry. The good news is that the lost files are not necessarily permanently gone. In this tutorial, you will learn different ways for retrieving files from corrupted pen drive or after deleting files from a pen drive accidentally or intentionally.
Part 1. Restore Data from Corrupted Pen Drive Using CHKDSK CMD
CHKDSK is a frequently-used command that computer masters would try to fix errors in hard drives and removable disks. By applying CHKDSK with Command Prompt, the computer operating system will check for and fix the errors, such as corruption or crash. If the errors are fixed successfully, you will be able to access the files stored in the pen drive again.
Steps to apply CHKDSK:
Step 1. Click Start button on your PC, type "CMD" on your keyboard, then you shall see the matched result.
Step 2. Right-click on Command Prompt, then choose Run as administrator.
Step 3. In Command Prompt, type: chkdsk H: /f /r /x and hit Enter. (Replace H with the drive letter of your pen drive)
Step 4. Once the scanning and fixing is finished, try to access your pen drive.
Part 2. Recover Pen Drive Data with the Best Software
What if the solution above doesn't work? That's possible if the problem is serious or the files were deleted from the storage device directly. In that case, you will need a good pen drive data recovery software to scan the device for data and rebuild the table.
Jihosoft Studio provides great data recovery solution to restore deleted files from pen drive. Its powerful Pen Drive Recovery software is built to scan for lost files and recover data including photos, videos, music, Office documents (Word, Excel, PPT, etc.), archives (ZIP, RAR, 7Z, etc.), and more files from damaged or corrupted pen drive.
Steps for Pen Drive Data Recovery
Important Note: Before retrieving data from pen drive, please make sure the lost files were not overwritten, that is, do not attempt to add any new files or make any change to the pen drive.
Step 1. Download and install Jihosoft Pen Drive Recovery app into your computer, and connect pen drive to PC.
Step 2. Run the software, and click on "Recover File", then select the pen drive from drive list.
Step 3. Click "Advanced Scan" button, and select the file types you want to recover. Then click "Scan Now".

Step 4. Preview and check your desired files and finally click "Recover" to recover pen drive data.

Not just recover pen drive data, Jihosoft File Recovery is able to recover file from hard disk drive, external hard drive, USB drive, flash drive, thumb drive, memory card, SD card, memory stick, digital camera, and more storage media.
Part 3. Back up Pen Drive and Avoid Data Loss
Pen drive is really convenient but sometimes vulnerable for storing and transferring files. To avoid losing important data, it is always necessary to make one or more backups for the storage device. With Jihosoft File Recovery, you can also create an image backup, which is a full copy of the structured data, for your pen drive, and restore all data from the backup in case of file deletion or loss in the future.
Steps to Create Image Backup with Jihosoft File Recovery
Step 1. Run Jihosoft File Recovery and choose Create Image.
Step 2. Select the partition of your pen drive, then click Create Image button.
Step 3. Specify a location to save your image backup, then wait the backup to be finished.
Steps to Restore Image Backup with Jihosoft File Recovery
Step 1. Run Jihosoft File Recovery and choose Recover File.
Step 2. Click Load Image, then locate the image backup file on your computer.
Step 3. Click Scan Now to read from the image file, then Restore the data you want.
Note: On Step 3, you could find some files marked in red on the preview screen, which are the data deleted from the storage device.
Final Words
Data loss seems to be inevitable no matter how carefully people store their files, but it is not the end of the world as long as you find and apply the correct solution. No one can guarantee a lost data is 100% recoverable, but it won't take you much time to give the solutions a try. Don't hesitate to share your experience with us in the comment.