10 Best Fonts Free Download Sites for Commercial Use in 2019
Using the right and the most appropriate fonts will surely excite the reader to read your presentation or printed work. In this perspective, you need a good collection of fonts which will make your poster or presentation eye-attractive. Besides, free fonts for commercial use will help you stay safe from a lawsuit. The combination of these requirements narrows down people's choices for the best result, and you have to browse different kinds of fonts and writing languages to pick the best. Worse, in the normal document creator tools, you won't find fonts which are impressive enough. You will find some of the average fonts which are used by other users as well. That's why people don't give a glimpse of the prints with unimpressive fonts even if the content is informative. It would definitely help if you enhance creativity by adding a fresh font to your design.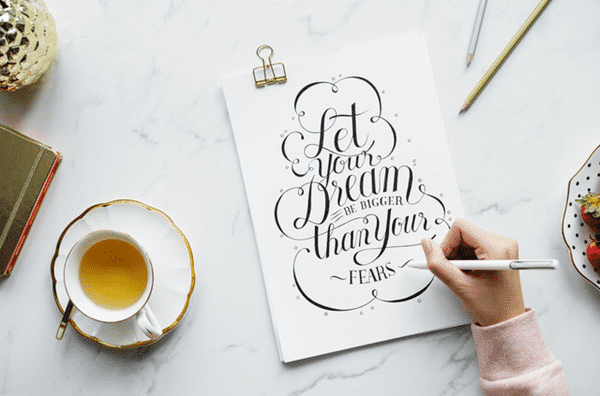 Just like alternative photo editing tools, you may need to approach an external tool or website or maybe a software which will provide you the necessary new types of fonts. That's why we will bring out 10 websites for downloading the best free fonts for commercial use.
Some of the websites reverse the copyrights, and that's why we have picked those websites free from any type of complexity. Some of the websites require to register on them, or in some cases, you can download font styles hassle-free without any registration. This is really going to be an interesting activity because picking up a satisfying font is never going to be an easy task, especially when you want to save money on it. To select the best out of them, you can browse their popularity mark along with the download option. It will make your job easier because you will get to know about the different fonts which are trending among the users. So, let's have a look at the best fonts free download sites one by one:
Font Squirrel is a resourceful website for users to get the most popular fonts suiting for professionals and home users. This website has a huge collection of font styles on its database available for all users who register themselves on this website. There is no complexity involved in the license or copyrights reservation. Users can easily search for the different font styles if they know the name by using the search box option available at the top right corner of the homepage of this website. Moreover, you can also try the fonts on the document and preview the final look. All in all, Font Squirrel is a quite good choice for all users.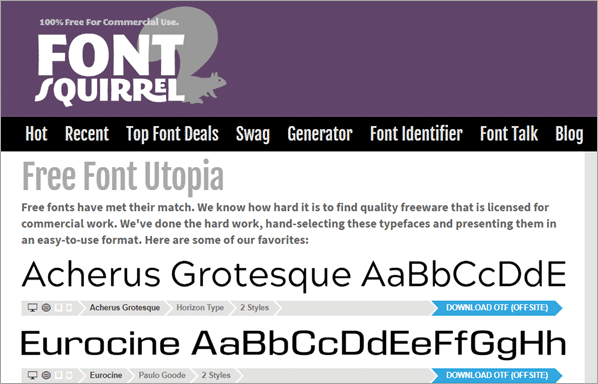 Google Fonts is another fantastic website to download the various types of fonts and styles used in the presentation documents. This website is the official website designed by the tech giant Google and there are a lot of varieties present on this website for the users for free. The fonts are available in over 135 different languages and trust us, you will like every single new font present on this website for sure. You can also add your favorite font style in your collection after signing in with your official Google account. The best part is that Google classifies the resources into various collections so that users can find the proper fonts by their roles.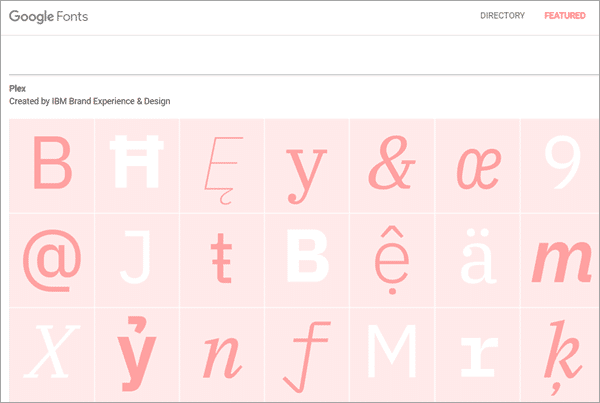 When it comes to downloading the most attractive and trending font styles, DaFont will be considered very first. The ease in which users can download different font styles is unmatchable. This website is brilliantly developed to deliver the content in a way which it is meant to be. That's why this website is our third pick in this list and we really hope that you will also like it. Users can install the fonts on Windows and Mac conveniently.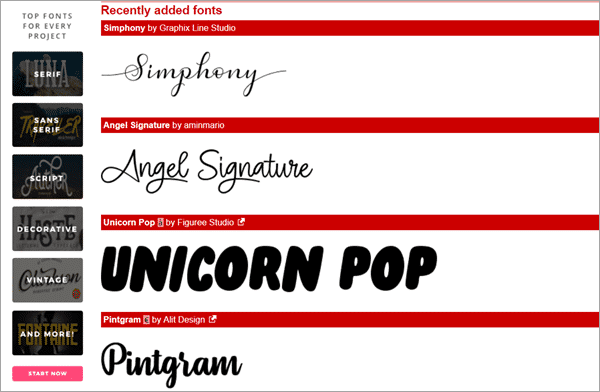 This website is another very awesome choice because users can download an unlimited number of different font styles in their device for offline usage. Over 50k different font styles are available on this website at the time of writing. Moreover, if we look at the growth and popularity of this website, then we can easily guess that thousands of different font styles will get added very soon. If you want to use some kinds of stylish fonts for commercial usage rather than for personal use, then you can browse different fonts available under the "Commercial usage fonts" section.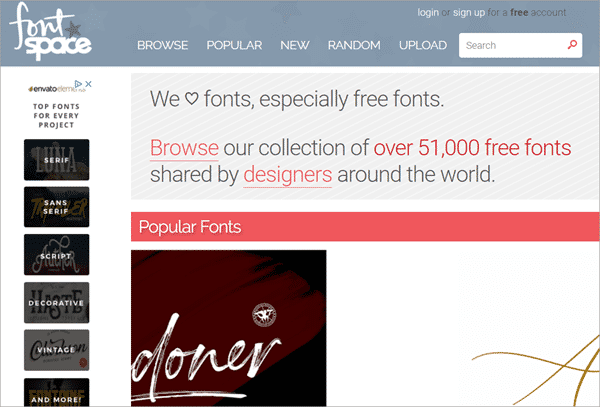 Similar to other websites present in this list, 1001 Fonts provides users with a lot of different fonts and text style files. New files are uploaded on this website very frequently which attracts more and more users towards itself. You can use fonts for commercial use hassle free. You don't require any license to use the font styles present on this website. However, to access all the available content, you need to sign in to this website by creating a free account.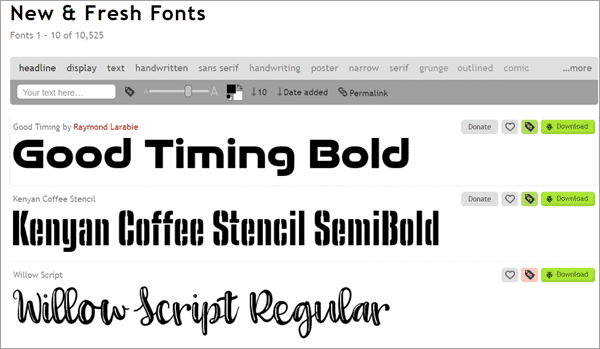 This free font downloading website probably contains the biggest collection of different fonts on its huge database. That's why you will find the popularity of this website to a very high mark than expected. Due to some bugs and slow functioning, Font Struct seems to be outdated and that is the reason why this website is placed in the sixth spot in this list. Nevertheless, one thing we can assure you about this website is that the content available on this website is not outdated. There are lots of new and stylish font styles available on this website which are really eye-attracting.
Bonus tip: Accidental data loss happens to designers every day. In case you urgently need to retrieve lost photos, videos, or other documents, don't hesitate to use Jihosoft File Recovery to get back your precious files as soon as possible.
While browsing this website, you can easily search for your favorite fonts of your choice just by applying the manual filters. You can filter the fonts by color, style, language, and many more parameters. The well maintained and updated website will surely enhance your browsing experience with these fonts. You can download the fonts in a Zip file in the file extension of your choice. The file will directly get saved in the downloads folder where it can be installed for offline usage.
The name of Font Zone really suits on this website because this website is an ultimate zone to access the most attractive and trending font styles. This is probably the only website present in this list which will allow you to use 3-D fonts for your personal use. The huge database of this website let the other users upload the new and latest font styles. The enhanced and customized features of this website are really very good and almost every user who has used this website gives a positive node to it.
This website is another ultimate place for the users where they can have all their favorite stylish fonts. Though some of the fonts which are available on this website require copyrights to be purchased, most of them are free. We are just warning you so that you will not use any license required font for commercial usage. There is a separate section of premium fonts from where users can buy premium fonts just by paying some bucks from their pocket. However, we don't recommend any purchase from this website because all those premium fonts will get freed in a very short span of time. So, just be patient and wait until the premium fonts get out of the premium fonts section.
On the homepage of this free font download website, you will find separate sections for all kinds of fonts available on this website. You can browse each and every section one by one so that you will find the stuff which you looking for. As a verified user, you can also request to the admin of this website to upload your favorite font on this website. Moreover, as like Urban Fonts, you can also make a one-time purchase to buy your preferred font style for commercial use.
Final Words
Using different fonts for personal and commercial use to create presentations is always a good activity for designers. We hope that this list can help you in a better manner as compared to other tools to create presentations. Every website is an excellent option for all users, but you can surely tell us your favorite sites in the comments section below.