How to Repair Corrupted & Broken JPEG Photos with Free Tools
"Is there any type of software that can repair corrupted JPEG photos? Recently I stupidly deleted some photos I shouldn't have. I did a photo recovery. Some of my photos were recovered, but the ones I wanted came out corrupt. How do I fix corrupt JPEG files so that I can see them perfect?"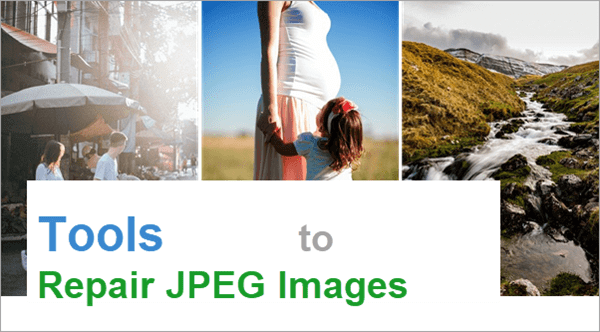 You may have accidentally deleted or lost photos from hard drive or memory card. In most cases, photos can be recovered with proper data recovery software. However, there could be a chance that when you recover a deleted JPEG picture, every though it's been 100% recovered, it has been damaged or corrupted, and you can't view it. This usually happens if some new data has previously been overwritten or that specific area of the drive/card has bad sectors. In this article, we will introduce common causes of image corruption and the top 5 free JPEG repair tools available in 2021.
Part 1. How Were JPEG Photos Corrupted?
It is important to identify how your photos were corrupted out of several possible occasions. Sometimes you can't open the images with any photo viewer, while in other cases, you can only open a half of the images with the other half illegible or blank. Hence, the content below may guide you how to choose a corrupted JPEG file repair software.
1. JPEG images corrupted during transfer
File transfer between different storage devices could be interrupted easily by various factors. That's why many people find the destination folder empty or only a few files successfully transferred. If you started the transfer with cut and paste, then it would be almost impossible to recover photos or files lost. If you did it with copy and paste but deleted the original copy later, then there is still a chance to restore JPEG photos and videos with Jihosoft Photo Recovery, or the top free data recovery software.
2. JPEG photos corrupted after recovery
If the files cannot play normally after recovery, then they might have been corrupted due to data overwriting or reformatting. That's when you really need a proper JPEG repair tool.
3. JPEG photos only display a half
This is a common case that a lot of people have encountered. When you open a corrupted picture with a photo viewer, only the first half is normal. It could happen after data recovery or due to a fake memory card. In this case, you can also try the tools below to repair broken JPEG.
There are many free & paid JPEG repair tools available to repair corrupted JPEG photos and make them viewable. Even the paid ones usually allow free preview for the repair result, so you may try several options listed below to see if any one works.
Part 2. Top 5 JPEG Repair Tools (Windows & Online)
1. Stellar JPEG Repair (Free Demo)
Stellar Phoenix JPEG Repair is a powerful tool to help you repair damaged or corrupt JPEG/JPG photographs. In addition, it supports extracting and repairing thumbnails of the selected .jpg files. You can preview the repaired JPG photos before you decide to take them back. JPG files which were completely unreadable can be opened by any popular image viewers after the repair.
2. File Repair (Free)
File Repair is fast and stable, no ads and no beg screens. It is perfect for repairing damaged or corrupted JPEG files, which can scan corrupted JPEG files and fix an impressive number of errors. It is very simple-to-use, with just 2 buttons: load and repair. However, you cannot load multiple JPEG files at once. Besides, no drag and drop files are allowed.
3. VG JPEG-Repair (Free)
VG JPEG-Repair is a German utility that helps to repair broken images in a JPEG format. It is very easy to install and simple to use, which works to solve if the JPEG file can't be opened, corrupted head, corrupted data, and invalid structure. Not that this tool is supported only on Windows Operating System.
4. RS File Repair (Free)
RS File Repair can repair damaged, corrupted and incomplete files and digital pictures. It supports fixing digital images in popular formats including JPG, JPEG, TIFF, TIF, and PNG etc. It can make your JPEG files viewable once again by analyzing the damage, fix corrupted file structures and returning the files back to original specifications.
5. Pixrecovery Online (Free Demo)
Pixrecovery is an online tool which allows users to upload damaged image files (JPEG/JPG/GIF/TIFF/BMP/PNG/RAW) to its web server for repair. Once the picture is repaired, which usually takes a few minutes, free and paid options to download recovered file will appear on the screen, and you can save the repaired image to your computer. The whole process is done through a web browser, so you don't have to download or install any additional apps.
Verdict
It is really hard to repair corrupted JPEG files, so you're not suggested to expect too much. Please evaluate the severity of the damaged images, then try the tools above to fix your photos. If none of the options works, there is almost no chance elsewhere. Don't forget to let us know if any software repaired your JPEG files.