Free Tools to Repair Corrupted JPEG Photos and Images
"Is there any type of software that can repair corrupted JPEG photos? Recently I stupidly deleted some photos I shouldn't have. I did a photo recovery. Some of my photos were recovered, but the ones I wanted came out corrupt. How do I fix corrupt JPEG files so that I can see them perfect?"
You may have accidentally deleted or lost photos from hard drive or memory card. In most cases, photos can be recovered with proper data recovery software. However, there could be a chance that when you recover a deleted JPEG picture, every though it's been 100% recovered, it has been damaged or corrupted, and you can't view it. This usually happens if some new data has previously been overwritten or that specific area of the drive/card has bad sectors.
Don't panic. Either way, you can fix corrupt JPEG files. There are several free JPEG repair tools available to repair corrupted JPEG photos and make them viewable. Read on to find out.
Stellar JPEG Repair ($39)
It is a powerful tool to help you repair damaged or corrupt JPEG/JPG photographs. In addition, it supports extracting and repairing thumbnails of the selected .jpg files. You can preview the repaired JPG photos before you decide to take them back. JPG files which were completely unreadable can be opened by any popular image viewers after the repair.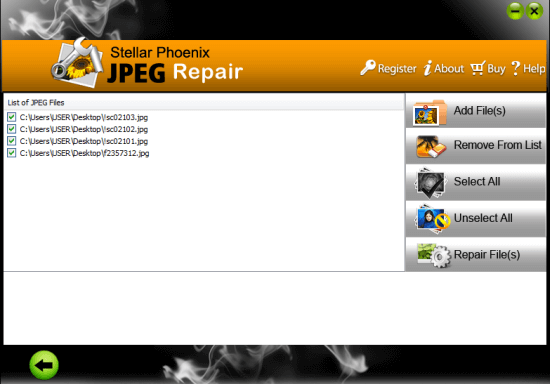 File Repair (Free)
File Repair is fast and stable, no ads and no beg screens. It is perfect for repairing damaged or corrupted JPEG files, which can scan corrupted JPEG files and fix an impressive number of errors. It is very simple-to-use, with just 2 buttons: load and repair. However, you cannot load multiple JPEG files at once. Besides, no drag and drop files are allowed.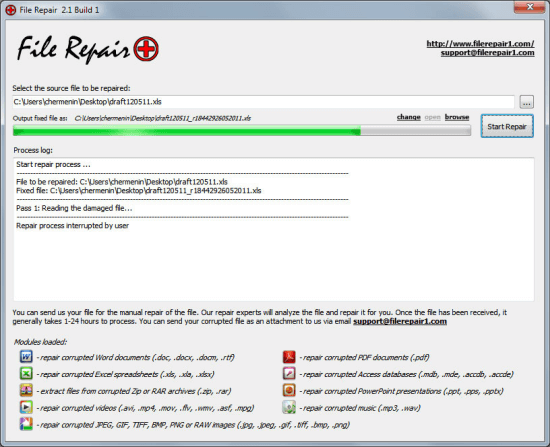 VG JPEG-Repair (Free)
VG JPEG-Repair is a German utility that helps to repair broken images in a JPEG format. It is very easy to install and simple to use, which works to solve if the JPEG file can't be opened, corrupted head, corrupted data, and invalid structure. Not that this tool is supported only on Windows Operating System.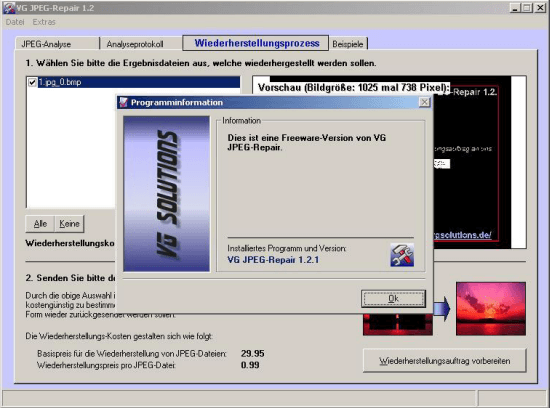 RS File Repair (Free)
RS File Repair can repair damaged, corrupted and incomplete files and digital pictures. It supports fixing digital images in popular formats including JPG, JPEG, TIFF, TIF, and PNG etc. It can make your JPEG files viewable once again by analyzing the damage, fix corrupted file structures and returning the files back to original specifications.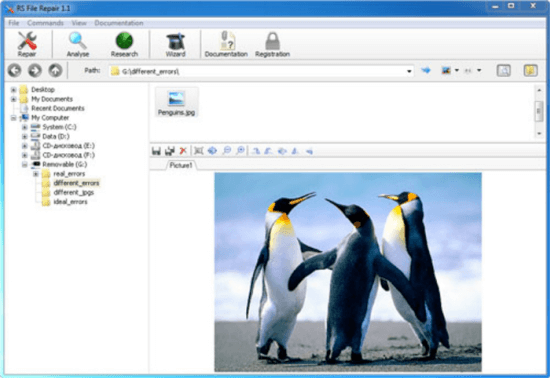 Note that corrupted JPEG file repair is completely different from deleted photo recovery. Please click here to know more about how to recover deleted JPEG images.