6 Methods to Fix 100% Disk Usage in Windows 11/10
100% disk usage could significantly slow down computer performance. The issue usually happens in outdated computers or those with dozens of apps running at the same time. However, sometimes people may open only a single application on their computer, but the disk usage is abnormally high. As a result, anyway, the Windows 10 computer must be very slow and running multiple applications efficiently will not be possible.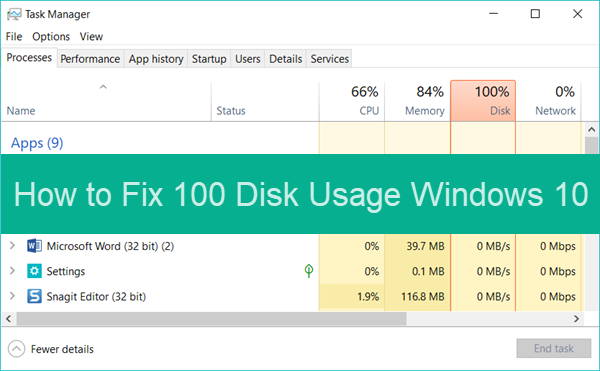 So, if your computer is only running a few small applications, how can it use maximum disk capacity? This problem has been plaguing a lot of Windows 11/10 users; hence, we have delved a little further into the issue and found several solutions. If you have been facing this problem recently, please proceed with the article to know how you can fix 100 disk usage problem in Windows 11 or Windows 10.
Before heading to the causes and solutions of Windows 100% disk usage problem, you should be prepared that it is very easy to encounter critical problems when the computer is at 100% disk usage. Therefore, please always back up your important data. In case you lose precious files, like documents and photos, don't hesitate to retrieve them with a file recovery software.
What Causes Windows 11/10 at 100% Disk Usage
Large applications, such as Google Chrome and Skype, have often been blamed for the high usage of disk space in Windows PC.
Similarly, some system features that was meant for facilitating users turn out to be laying burden on Windows OS.
Besides, malware could also be responsible for the 100% disk usage issue.
The main idea behind fixing the disk space problem is to identify the root cause of the problem correctly, that is, the application which is eating up your memory so that we can delete or disable it.
If you are using an SSD drive on your computer, the first thing is checking SSD health and take actions if necessary. Additionally, there are several more ways in which we can fix Windows 10 100% disk usage error and ensure the computer runs smoothly. Even if you are not currently facing this problem, the chances are that it may happen to you sometime in the future. Therefore, it is beneficial for you to be equipped with the knowledge.
Method 1. Fix 100 Disk Usage by Disabling Prediction Service Chrome
Open Google Chrome, then go to the three-dot menu > Settings.
Scroll down to find and click Advanced option.
Under Privacy and security, uncheck Use a prediction service to load pages more quickly option.

The option is for preloading pages when you are searching on Chrome so that you will get smooth experience. However, on some Windows 10 computer, the feature may cause 100% or high disk usage. The option may have a different name and location on different versions of Chrome, but should be easy to find according to its function.
Method 2. Fix Windows 10 100% Disk Usage Caused by Skype
Skype is another application that takes up a lot of disk space when in use, especially if it is automatically launched when you turn on Windows 10 computer. If you don't want to completely uninstall Skype, please try the following trick to see if the 100% disk usage issue can be fixed.
Open Windows 10 File Explorer, type "SKYPESERVER.EXE" in the search box and hit Enter.
Right-click on the found SKYPESERVER.EXE file, then select Properties.
Open Security tab, select ALL APPLICATION PACKAGES, then click on Edit button.
On the box below, find Write and check the box under Allow, then tap Apply > OK.

Once the change is made, you will notice a reduction in the usage of your Disk Space. If Skype is not responsible for it, then you may need to use some other method.
Method 3. Fix 100 Disk Usage Windows 10 by Disabling Windows Search
Windows search feature is always running in the background, which can sometimes use up a lot of disk space when other apps are also running in the system. Usually, most people do not use this feature, preferring instead to use some other cloud service, this feature is redundant and unnecessary to most people. Hence, they would actually benefit from disabling this feature altogether to get more use out of their PC.
Here is how you can go about disabling this feature so that it stops running in the background of your computer:
Press the CTRL key and the R key at the same time, and you will find that the Run application dialogue box will open.
Type in services.msc and then press the Enter key.
Scroll through the list and look for Windows Search and then right-click on that option.
Select the Properties option and then, click on the General tab then scroll through the list until you find the Startup option.

Change the setting to Disabled.
Click Apply > OK to save the change.
Now, you have successfully disabled the Windows Search feature which may otherwise create problems for your computer and keep it from being able to run smoothly.
Method 4. Fix 100 Disk Usage Windows 10 by Disabling Windows Tips & Tricks
Windows has a tips and tricks feature which sends you notifications in different ways in which you can enhance your experience with your computer. Ironically, some users have reported that when this feature is enabled, it does tend to cause problems for many, and hence you may want to disable this feature by following the steps listed below:
Click Windows 10 Start menu, then go to Settings > System.
Select Notifications and actions tab.
Scroll down to find and turn off Get tips, tricks and suggestions as you use Windows.

Method 5. Fix 100 Disk Usage Windows 10 by Performing Disk Check
If all else fails, then you can perform a disk check to see whether everything on your disk is running smoothly with the help of Windows PowerShell.
Press the Windows key and the X key at the same time.
A pop-up menu will appear on the left, select Windows PowerShell (admin).
Click Yes on User Account Control window that appears.
Now, type in the command chkdsk.exe /f /r and then hit the Enter key.
Press the Y key to confirm the disk check-up when the machine restarts.
The next time your computer restarts, the disk check command will be performed, after which the issue will hopefully be resolved.
Method 6. Fix 100 Disk Usage by Disabling Index in File Explorer
Open File Explorer in your computer, find and right-click on a disk drive, then choose Properties. In the pop-up window, you will find an option named "Allow files on this drive to have contents indexed in addition to file properties" on the bottom.
This option enables the search engine of Windows OS to look inside the files and index the contents. Only with this option enabled, can you find a document by searching for a keyword inside through Windows search box. Without indexing the contents, you could only search for the file properties itself, like the name or the date it was created, but nothing inside.
However, to index some drives can take up a lot of computer capacity. Therefore, you may uncheck the above-mentioned box and see if the problem is solved or not.
Final Thoughts
After reading this article, you should know what to do whenever you run into the problem of 100% disk usage on Windows 11/10. If your computer is just running slow without high disk usage, here are more tips and tricks to speed up Windows 10. Anyway, share your experience and tips & tricks with us to help more people.