How to Fix Private Mode Not Working on Samsung & iPhone
Many Samsung S6 and S7 users get "Failed to enable private mode" message when trying to turn on private mode. The problem usually occurs after people conduct changes to the mobile phone, such as system update, rooting, flashing custom recovery or installing framework. It would be a shame if we could no longer to use the feature to protect private files from being peered. Or worse, we may have to recover lost data of Samsung which were in Private mode. In this tutorial, we are going to seek for solutions to fix Private mode not working problem on Samsung as well as solutions to fix Safari private browsing not working issue on iOS.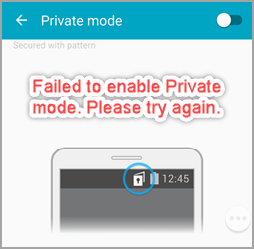 Possible Causes of Private Mode Not Working
It would be easier to fix the problem if we know the exact cause. As we have mentioned in the beginning, the problem is usually the result of recent changes on Samsung mobile device, which includes but not limited to:
Rooting
Installing TWRP, custom ROM or framework
Restore a TWRP backup on custom ROM
System update, especially to Android Nougat, Oreo and newer
Please recall if you have ever done such modifications to your Samsung phone recently. For most cases, the problem may disappear after reversing the phone to original status. If it is caused due to system update or other factors, however, you may try following methods to fix it. Anyway, back up existing phone data first.
Important: In case you mistakenly deleted photos or videos from your computer or SD card, don't hesitate to try Jihosoft Photo Recovery to get them back as soon as possible.
Method 1. Restart Your Samsung when Can't Access Private Mode
Press power button, and then choose either Restart directly, or Power off and then power on after several minutes. A simple restart can fix many problems on electronic devices and won't take too much time. If you are lucky enough, this could solve the problem for you. Once you are able to turn on Private mode again, it is suggested to transfer or back up the files elsewhere as soon as possible.
Method 2. Force Stop Private Mode App and Clear Cache
Occasionally, the Private mode app itself doesn't work properly. The following steps may help the app work normally.
Step 1. Go to Settings > Application manager > System apps.
Step 2. Scroll down to find and open Private mode.
Step 3. Tap FORCE STOP, then confirm the operation when a window pops up.
Step 4. Tap Storage > CLEAR CACHE.
Step 5. Try turning on Private mode again.

Note: Clearing cache won't wipe the files in Private mode.
Method 3. Change Screen Resolution If Failed to Enable Private Mode
Since Samsung Galaxy S7/edge, which runs on Android 7.0 Nougat, Samsung provides multiple screen resolutions. According to the tests of some Samsung S7 users, Private mode works again after changing screen resolution to WQHD. The relation between them is not clear, but you may have a try.
Step 1. Go to Settings, scroll down to Display.
Step 2. Tap on Screen resolution. There are 3 options: HD (1280×720), FHD (1920×1080), or WQHD (2560×1440).
Step 3. Select WQHD. If WQHD is already selected, then choose another option (and apply) first, and then switch back.
Step 4. Tap on Apply in the top right corner.

Method 4. Factory Reset Samsung to Fix Private Mode Not Working
Factory reset could be the last resort if the above methods fail to fix your problem to access Private mode. A factory reset will return a device to the status when it was delivered from factory, thus wipe potential issues that may cause Private mode not working error.
It is easy to reset a mobile phone to factory status. However, you have to face the hassle to set up your phone from scratch after that. Besides backup, you should also be careful of factory reset lock, which may ask you to log in to your Google or Samsung account before using the device.
Bonus Tips: Fix Safari Private Browsing Not Working on iOS
A lot of people come here to find a solution for private browsing not working problem in Safari, which could happen on iPhone and iPad. When it appears, you will be returned with "No results for xxx" or the private mode is not available on Safari. Don't worry. You may try the following tips one by one to solve Safari private browsing not working on iOS 15.
Go to Settings > Screen Time. Check if Content & Privacy Restrictions are enabled, in which case private mode is not available in Safari.
Close all tabs in Safari, restart your iPad/iPhone, then turn on Private mode and check if the problem is solved.
Restore your device to factory settings after backing up your iPhone or iPad.
Please leave a comment below in case none of the above methods work for you. There are too many possible issues that may cause the problem, but we can discuss here and get as many solutions as possible.