How to Recover Deleted Contacts from Samsung Galaxy S4
Samsung Galaxy S4 was among the top rated smartphones at the time of its launch, and now the most successful and widely adopted devices around the world. Most users may rely heavily on Samsung S4 to store data and important personal and business contact information. If all of your phone contacts have been erased or lost, there can be disastrous effects.
"Hello, I'm new here for help. Yesterday I mistakenly pressed the deleting button om my Samsung S4, and all contacts were gone. Is there any way I can restore contacts on Galaxy S4?"
If you have ever had to perform a factory reset, or root your Galaxy S4, you may run into such trouble of losing your contact list. If this is the case, don't worry, there are several options for recovering contacts from Galaxy S4.
Option 1: Recover Galaxy S4 Contacts from Gmail
Provided that you have logged into your Google account before you deleted/lost all the contacts. Google will automatically store your contacts in your Gmail account. You can retrieve S4 lost contacts by simply syncing your Gmail with your phone.
Option 2: Galaxy S4 Contacts Backup and Restore
Use Contacts Backup and Restore application to help you get away from the contacts loss trouble on your Galaxy S4. If you have previously performed a backup, all contacts that was on the phone can be stored on your computer or other safe place like mail, cloud, etc. and can be added back to your S4's memory.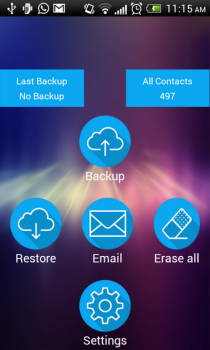 Option 3: Samsung Galaxy S4 Contacts Recovery
Supposed that you have never made a backup, how to get back lost contacts? Download a data recovery program to scan your S4's memory for lost contacts. Jihosoft Android Phone Recovery is really a genius one that can recover contacts from Samsung Galaxy S4. Free download its free trial version and follow the step-by-step guide to get back all lost contacts.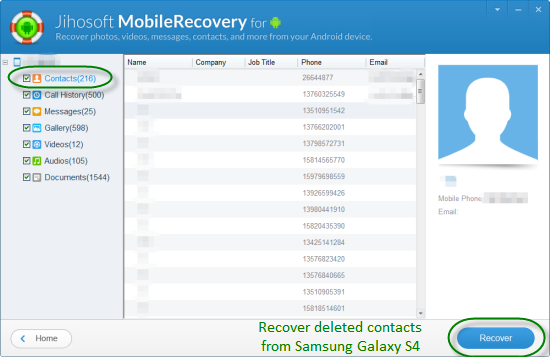 Important Note:
In order to successfully run this software to retrieve lost contacts from Samsung S4, you need enable USB debugging on the device first.
In order to get the greatest chance to get back lost contacts, you'd better stop use your Samsung S4 since the contact loss.
Apart from contacts, this program allows you recover messages, call logs, photos and videos from Samsung Galaxy S4. Also, the program supports other Samsung devices like Galaxy S3/S5/S6/S7/S8, Note 2/3/4/5/7, etc.