Jihosoft ISO Maker Free User Guide
1
Part One: How to Create Image File of Disk & Partition
Jihosoft ISO Maker Free can help to backup your logical drives and Windows partitions to image files.
1. Once you have this free utility installed, launch it and click "Byte Backup".
2. From the detected drive list, select the disk or partition that you want to create a backup image file.
3. Hit "Create Image", input the file name and select a save location, the program will take sector by sector image of the selected region immediately.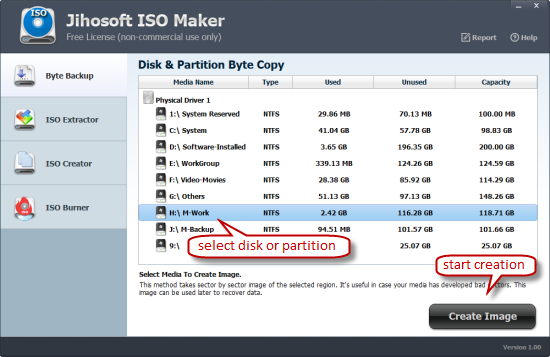 2
Part Two: How to Extract Contents from ISO Image File
This free ISO Extractor enables you to load ISO file and extract contents from that ISO file without burning ISO file to disc.
1. Select the "ISO Extractor" option on the left hand side menu to get started.
2. Click "Load ISO" to open an ISO file, and then select files and folders you want to extract from that ISO file.
3. Hit "Extract ISO", choose the destination directories, and then the extraction begins promptly.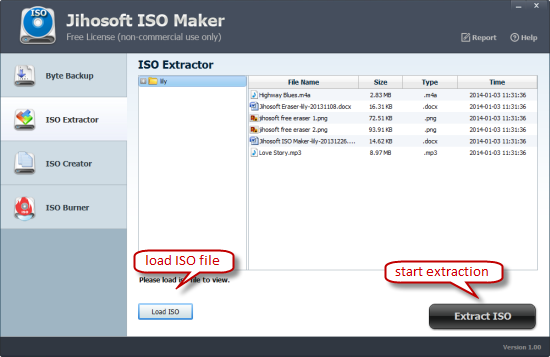 3
Part Three: How to Create ISO File from Files & Folders
Using this free ISO Maker, you can create ISO images from any files and folders including documents, programs, or multimedia files.
1. Run Jihosoft ISO Maker Free and click on the "ISO Creator" button on toolbar.
2. Click the "Add Files" or "Add Folder" button to import target objects into this free ISO Creator.
3. Pick up a backup type: ISO9660 Joliet, ISO9660, or UDF ISO.
4. Hit "Create ISO", choose a path and name for the ISO file, the program will create ISO image.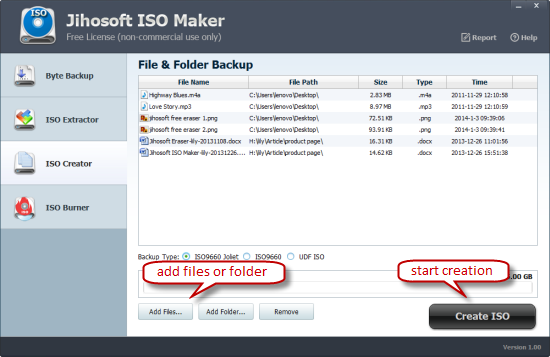 4
Part Four: How to Burn ISO Image File to a DVD Disc
Jihosoft Free ISO Burner lets you easily burn files, folder, or ISO files to a DVD disc without any difficulties.
1. Insert a writable DVD disc into your DVD drive. Make sure the disc is blank one, or you will need to erase previous data first.
2. Launch ISO Burner and select the "ISO Burner" option on the main window.
3. Click the "Add files" or "Add Folder" button to import target files or folder that you want to burn.
4. Hit "Burn ISO", the program will automatically burn the selected objects into the blank DVD disc.