Big File Sharing: How to Send Big Files via Email
Can anyone give me a suggestion on how to transfer big files? I need to send a file which is more than 100MB via Gmail. But when I tried to attach the file, I was hint "the file you are trying to send exceeds the 25MB attachment limit."
Due to security reasons, all email server providers have a strict limit on the maximum email file size that one can send/receive. No matter you are using Gmail, Yahoo mail, Hotmail, Outlook.com, AOL, etc, if you send an email which exceeds the specific email size limit, you will get an error message. Of course, you can upgrade your email account to a paid one to increase the maximum limit with some free email address providers, but what if file size is too large?
Here in this article, we will show you a totally free way to send big files via email. Jihosoft Free Big File Splitter can help you split a large file into smaller pieces according to your needs with no cost, so you can easily copy the files onto CD/DVD disks or send via email. Afterward, it allows you to rejoin/merge the split files into a whole one which is the same as the original file. Follow the steps below to see how it works:
1. Get it run on your Mac. Import the source file that you want to split.
2. Choose to split by size or split by count. For example, if you need each of the split file 5MB, simply input 5 into the corresponding blank.
3. Click "Split" to begin. When it is finished, you will see the source file be split into several pieces.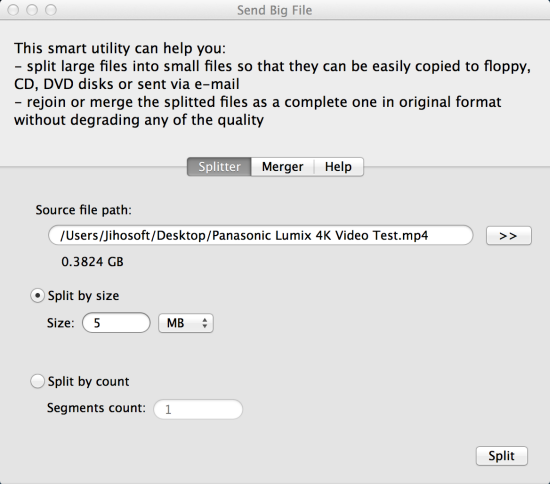 Now log into your email account, attach the split files to your email (if one email can't contain all the files, send them separately), and you will be able to send the big files. After one has received the split files, download the same tool and rejoin them as the original one following these steps:
1. Go into the "Merger" tab. Click "Add" to import all the split files he received.
2. Click "Merge" to rejoin them.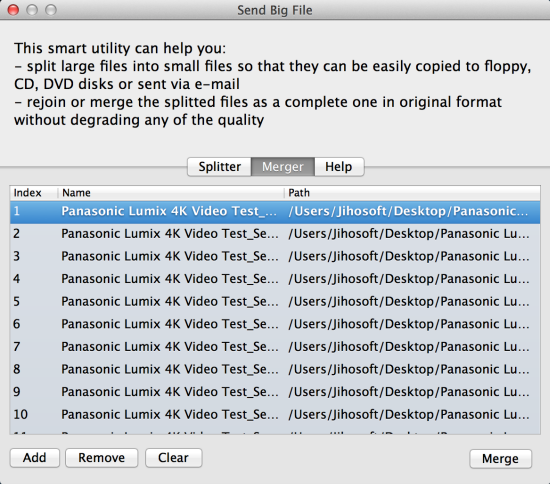 Tips: besides sending big files via email, this tool also works when you need to upload and share large files online. Helps you fix file size limitations under all situations.