Free Big File Splitter – Split and Rejoin File of Any Size or Type
Jihosoft Big File Splitter is a free software for splitting files and joining them. It is a handy and lightweight program that lets you split any large file into a set of chunks as well as to join the split parts to recreate the original file whenever needed. Read on to know more about the Large File Splitter.
Key Features
– Split any file, no limit to file size or file type.
– Work fast in both splitting and joining tasks.
– Secure split and join file, no data missing.
– Free and clean, no registration required.
– Straight-forward user interface, easy to use.
The Free Big File Splitter is really helpful to:
1)Email big file. Most mail service providers place a limit on the size of attachment. If you want to email someone a file that is larger than the maximum size, you can split the file into pieces smaller than the limit and email the individual pieces.
2)Upload and distribute large file over the Internet. Online file delivery services, file hosting site, and cloud storage services also have restriction on file size. It might be smart to send/receive, upload/download smaller parts than handle the entire large file in one go.
3)Archive large file to CD, DVD, and removable disks. A file in large size can be split into smaller parts which then can be burned to CD's, DVD's, copied to USB sticks or even floppy disks.
How to Split and Merge Files with Free Big File Splitter
This free program consists of two main functions: File Splitter and File Joiner. Its users interface is really simple and straight-forward with the minimal required options. See below to get an idea of how thE Big File Splitter works.
Download and Installation:
Jihosoft Big File Splitter is available as a freeware. You can use the link provided here to download Free Big File Splitter easily. After downloading, double-click on the setup file to run the installation wizard. Complete the installation process and use this tool for either splitting large files or restoring files back.
Part 1: How to Split Large File into Pieces
1.Run Free Big File Splitter. Click on the "Add File" option to import the large file you need to split.
2.Then customize the size of the chunk in which you want to split the file. You can optionally choose to delete the source file after splitting.
3.Select the destination folder where you want to store the split chunks. Also, you can save them in the same location where the original file is kept.
4.Once you are done, just click on the "Split" option and the file will be splitted into smaller parts quickly.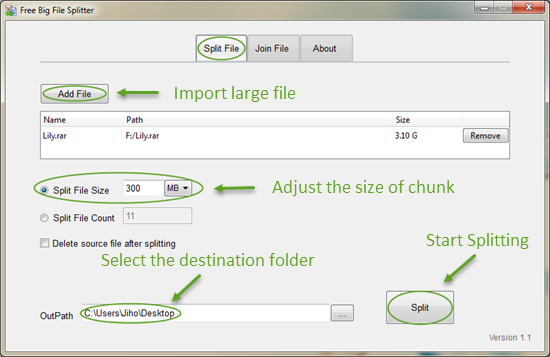 Part 2: How to Join Split Chunks Together
1.Switch to "Join File" tab. Click on the "Add Folder" option to select the folder containing the split chunks and it will automatically locate all the chunks.
2.Check the split parts and click on the "Join" option. The smaller chunks will be joined into a single file without any any data missing.