Burn ISO to DVD Disc with Jihosoft Free ISO Burner Software
There may be a time when you have an ISO image file and need to burn ISO to DVD for use in a computer or other device. Burning ISO image to DVD is a fairly straightforward process and here we show you how to do it using Jihosoft Free ISO Burner. It is a freeware application that will let you burn an ISO image file to a DVD disc within several simple steps.
Step 1: Insert a blank DVD disc into your DVD drive or DVD writer.
Step 2: Download Jihosoft ISO Burner free. Install and start the program.
Step 3: Select the "ISO Burner" option on the main window.
Step 4: Click "Add Files" button to import the ISO file you want to burn.
Step 5: Select the backup type and click "Burn ISO" to start the ISO to DVD burning.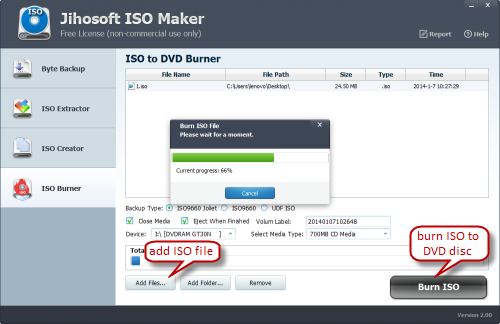 Note:
1. Make sure that your computer actually has a DVD drive and the DVD disc has enough space to fit your ISO image file.
2. Depending on how large the ISO file is, the ISO burning process could take from several seconds, to several minutes, to complete.
3. If you select the "Eject When Finished" option, after burning is complete, the disc will be automatically ejected from the drive.
Important: Erase Media (For Read-Write (RW) media type, erase it first before burning starts.)
Steps on How to Erase DVD-RW in Windows:
1. Insert the DVD-RW into the DVD drive. Then open the Start menu and go to Computer.
2. In the Computer window, right-click on the DVD-RW icon and select "Erase this disc" option.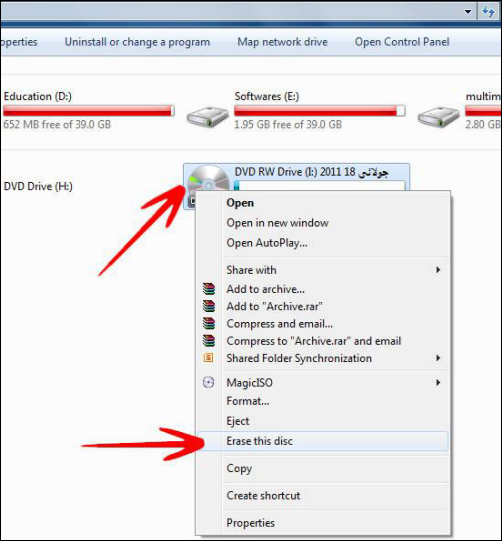 3. In the pop-up Erase Disc wizard, click "Next", the erasing process will start and after a few minutes all data on the disc will be erased.