How to Repair Corrupted AVI Videos that Won't Play
Users may face the problem when something goes wrong and data are corrupted or damaged, AVI videos are not an exception. In fact, it is quite possible to encounter a broken AVI file when it doesn't play on any media player software like Windows Media Player or VLC Media Player.
"Hi, I recover AVI files from formatted SD card but some of them are corrupted. When I am trying to play those AVI videos it shows the message "File can't be played". Any help would be appreciated."
Don't worry. If you are dealing with a corrupted AVI video and need to play it, you can use AVI Video Repair tool. In fact, corrupted AVI videos can be easily repaired when you use the right software.
AVI Repair Solution – Digital Video Repair
Digital Video Repair is a very small and simple utility that allows you fix damaged AVI files. By using it, you can repair partly damaged or corrupted AVI files in these cases:
– AVI file can't be played after performing data recovery
– AVI video has no picture or no sound or frozen when playing
– AVI file have not completely copied from CD, DVD or other source
– AVI file have not completely downloaded from the Internet like BitTorrent etc.
– AVI file that you have saved on your hard disk or SD card become corrupt due to virus or malware attack
Carry out the below steps to repair corrupted AVI video files:
Step 1: Download, install and launch Digital Video Repair software on your system.
Step 2: Click "Input File" to load AVI file and DVR immediately reveals the status of the file.
Step 3: Press the "Repair" button and DVR will check the file and repair it. The program will make another copy of the AVI file and place it in the same directory.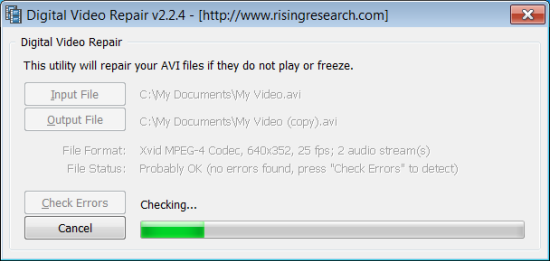 There are more freeware solutions available online when you are in need to repair corrupted AVI video files. Following are another 2 free tools which help you do AVI file repair.
1 . DivFix++, program designed to repair broken AVI file streams by rebuilding index part of file. This is very useful when trying to preview AVI movies which have no index part.
2. ASF-AVI-RM-WMV Repair, program that can repair video files that can't be played with video player. It supports fix AVI, Divx, Xvid, RM, RMVB, ASF, WMV, WMA, etc.