How to Wipe a Hard Drive Free in Windows
"Hello, I would like to completely wipe the hard drive of my Lenovo ThinkPad as I plan to donate it. I'm wondering if there was any free option online."
Why you'll need to erase hard drive?
If you have decided to donate or sell you old computer, it is extremely important to make sure your computer's hard drive is completely free of data. Simply deleting all the files and documents or formatting it doesn't actually erase the data from a hard drive. The system will only remove the directory reference to the data so it's no long visible or accessible. But the data is still there and a file recovery program can easily recover the deleted information.
How to wipe a hard drive for free?
To make sure your hard drive doesn't contain sensitive documents or information before you give it away or sell it, you will want to use a more secure method of erasing your data. In this article, we'll show you one. Jihosoft Hard Drive Eraser is a free program that ensures your data is completely erased and unrecoverable. It uses military-grade wiping technology to overwrite your personal data multiple times and make the ability to retrieve information from the drive impossible.
Simple steps to wipe a hard drive:
1. Download and install the Free Eraser to wipe hard drive free in Windows.
2. Run this freeware and select "Drive & partition" mode on the main interface.
3. Select the drive that you want erase and then click "Start deletion".
4. Choose the method of deletion and the program will run erasing promptly. (The software will ask you for confirmation. Make sure you backup important files and click "Yes". )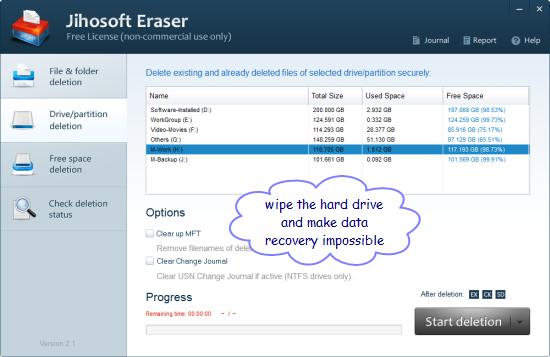 After completely erasing a hard drive, you can be confident that whatever information was on the drive now gone for good. You can now sell or give the hard drive away.
Alert: Backup important data you want to keep before doing erase
To wipe a hard drive means to completely erase the drive of all information. Jihosoft Free Eraser is so good that there will be no way to get anything on the drive back. You don't want to lose data important, do you? So, we suggest you to backup any important files before wiping your hard drive.