Free ISO Creator to Create ISO Image File from Files and Folders
Creating an ISO image file is incredibly useful. It is a fantastic way to backup your important files and folders, and actually quite easy with the right tool. In this article, we will show you 4 free tools available that enables you create backup ISO image from files and folders located on your local disk. Download a free ISO Creator to make ISO image for you right now.
AnyToISO
AnyToISO is a free ISO image creator that provides an easy way to make ISO image from files and folders in your computer.
1. Download and install AnyToISO software on your computer.
2. Perform a right click on a file or folder and select Create "Media.iso" option.
3. Press the "Make ISO" button in AnyToISO window.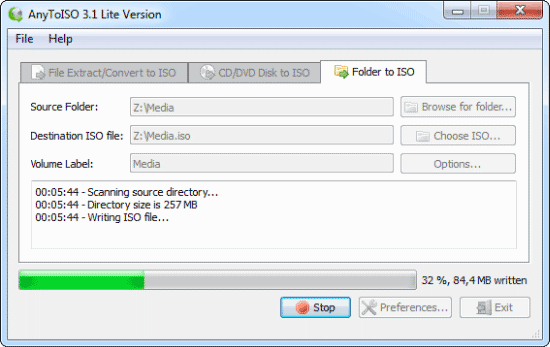 Free ISO Creator
With this ISO Creator free software, you can easily create an ISO image from any files and folders you want.
1. Start Free ISO Creator, click "options" to choose the file system.
2. Click "Add File(s)" button to add files or folders to the list.
3. Select the path to save created ISO image file, then click "Convert".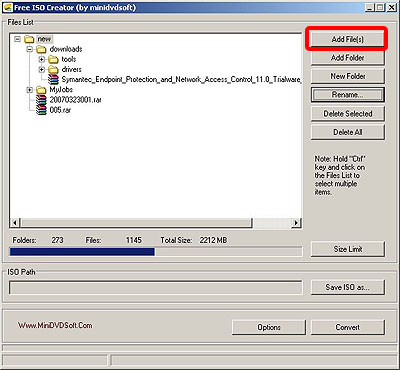 All Free ISO Creator
All Free ISO Creator helps create ISO image from files of various types, including photos, videos, audios, software applications, etc.
1. Run All Free ISO Creator. First enter the filename for the ISO image.
2. Choose the file system to use, then click "Add File(s)" to select the files or folders.
3. Finally click "Next" to start the creation of ISO image file.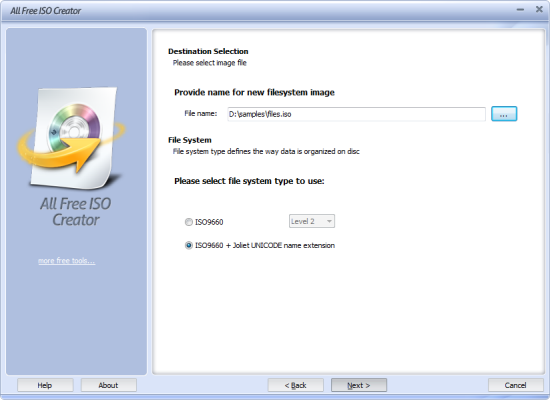 Jihosoft ISO Maker Free
Jihosoft ISO Maker Free is an excellent fully functional tool to create ISO image for permanent data backup from your important files and folders.
1. Run this free ISO Maker and click on the "ISO Creator" on the main window.
2. Click "Add Files" or "Add Folder" to select the data you want included in the ISO image .
3. Select the file system. Choose a name and location for the ISO file and hit the "Create ISO".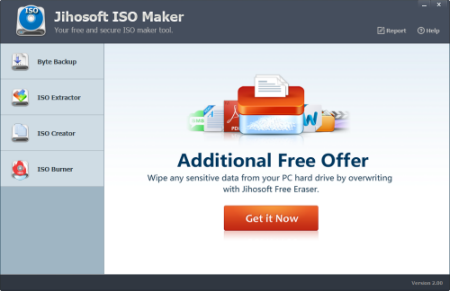 All these ISO image maker software are totally free for personal use. I really like Jihosoft ISO Maker free because of its simplicity and powerful functions. Apart from being an ISO maker, it is also an ISO extractor and ISO burner. Besides, it supports taking sector by sector image of selected disk or partition. This free ISO Maker comes with a really intuitive and easy to understand interface. Just click on the icon for operation that you want to perform, and the program will show you options for that.