How to Fix iMessage "Waiting for Activation" Error on iPhone
If you work with iPhone, you may face the problem of "Waiting for activation" error in iMessage several times. There are instances after iMessage works perfectly for a while that you suddenly receive such message and lose control of the app. You will find plenty of tricks from other articles and videos, but some of them doesn't work, which may result in your confusion. In this article, we will list some available solutions to fix iMessage waiting for activation error on iPhone running iOS 11/12 or earlier.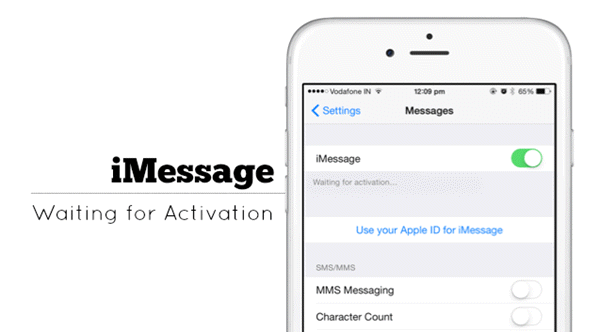 Bonus tips: If you accidentally erased important iMessages from iPhone or iPad, you can always use Jihosoft iPhone Data Recovery to easily recover deleted iMessages from iOS device even without backup.
Before You Fix the iMessage Waiting for Activation Error
Firstly, you need to perform certain tasks before proceeding to fix iMessage waiting for activation error.
Navigate to Settings > Messages > Send & Receive and check if your phone number and mail address used on iMessage are somehow missed (you need a valid phone number to finish activation). Also make sure your iCloud account is working normally.
Then verify whether the Date & Time in General settings are correct. Choose Set Automatically option and ensure that the Time Zone is correct. The date and time on your iPhone should be correct, or it will affect iMessage's working.
Establish connectivity with an active mobile network. It is advisable to disable Wi-Fi because of possible clashes with iMessage activation. Of course, first make sure you have enough cellular data before following this step.
The iMessage activation will take up to 24 hours at most. If the iMessage is still not enabled within 12 hours, you should follow the little guide below or contact with Apple Support.
It is to be noted that the iMessage delivers activation as an international SMS. Hence, enable either International SMS or contact your provider to request for the required permissions.
How to Fix iMessage "Waiting for Activation" Error on iPhone
Solution #1. Verify Internet Connection
To work with iMessage and FaceTime, a stable and working Internet connectivity is required. To check your network connection, you can turn off both Wi-Fi and Cellular Data option in Settings or Contral Panel to deactivate the connectivity. After that, perform a reboot and activate Wi-Fi/Cellular again, then open a website on Safari to see. If you are failed to connect network, or it is still not working, reset network settings on Settings > General > Reset > Reset Network Settings. The reset operation will delete all the currently available network settings and the potential cashes between your iPhone and the Internet.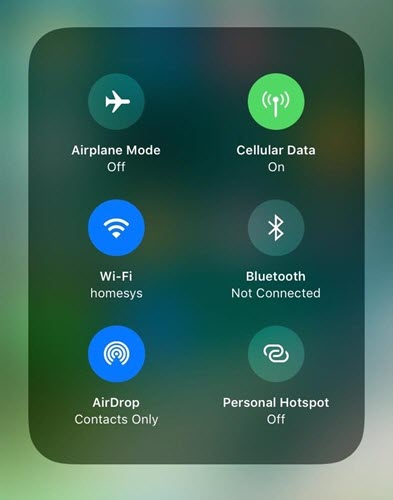 Solution #2. Contact Your Carrier
The second solution is to make sure that your mobile carrier provides support for iMessage. You can contact the support team to check if there is any limiting condition imposed for iMessage, like block or filters on text messages.
Solution #3. Turn Off iMessage and Hard Reset Your Device
Step 1: Navigate to Settings > Messages and deactivate iMessage.
Step 2: The next step is to reboot your iOS device by holding the Power Key and Home buttons continuously for about 10 seconds.
Step 3: Press volume down and Home buttons to perform a hard reset of iPhone 7 and iPhone 7 Plus.
Step 4: For iPhone 8 and later series: press and release Volume Up, then press and release Volume Down, finally hold the Power Key for 10s.
Step 5: Activate iMessage when your device restarts.
Solution #4. Update Your iPhone's Carrier Settings
Step 1: Ensure that the Wi-Fi or mobile data is enabled on your iPhone.
Step 2: Press About and you will view an option to update if there is any new software bit available. You will view the version of the carrier settings next to the option Carrier. The carrier setting for your new carrier will be automatically downloaded when you automatically insert a new SIM card.
Solution #5. Sign out and then Back in Your Apple ID
In some cases, you just need to sign out of your Apple ID and login again.
Step 1: Navigate to Settings > Message and select the Send & Receive option.
Step 2: Tap on your Apple ID and press Sign Out button. Later you can restart your iPhone or just wait for a few seconds.
Step 3. Then again sign in your Apple ID and try to reactivate iMessage.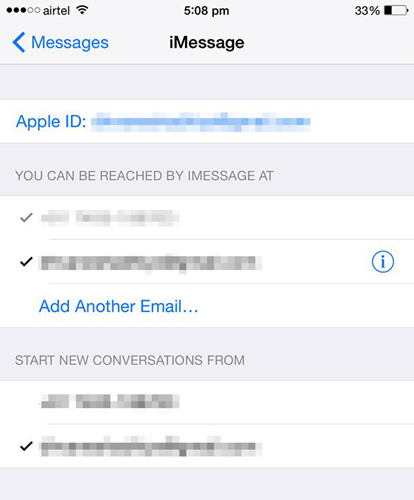 Solution 6: If Nothing Works
The best way of fixing any system error in activating iMessage is to update your iPhone to the latest iOS version, if all the above resolution and fixes fails to solve the problem. To initiate an update, navigate to Settings > General > Software Update, or you can restore the iPhone with iTunes if the update is not available.
The important point to note is that, if you don't want to lose any data, a backup of the data should be captured before proceeding to restore the phone. If you experience problem with iMessage "Waiting for Activation" even after the software update or restoration, contact the Apple support team directly.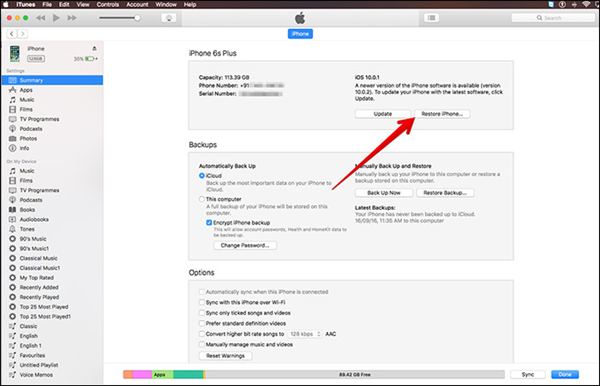 Watch out how to fix iMessage Not Working issue on your iPhone:
Apple has designed iMessage in such a way to provide a seamless experience. It is to be noted that activation and deactivation of iMessage may not work smoothly and properly for all users. You should try the above-mentioned methods and check whether the issue gets resolved or not. Please try the above methods and let us know the feedback. If you find any other method, please let us know because we are constantly on the search to find new ways to resolve iMessage Waiting for Activation error.
Conclusion
Apple iMessage is a cool feature but often you will find difficulty to resolve issues associated with it. The iMessage Waiting for Activation error is tricky to resolve. We hope the above solutions will help in your quest to resolve iMessage Waiting for Activation error on your iOS device such as iPhone. The above methods are applicable to all generations of iPhone. However, there will be minor changes in steps between each iOS version. With little effort, you can resolve the issues effectively. If you have any problem or suggestion, welcome to leave a comment below.
Related Articles