How to Fix "iTunes Could not Connect to this iPhone/iPad" Error
The Apple iTunes enables you to manage iOS devices such as iPhone, iPad and much more. You can use iTunes to create, update songs and playlists including the ability to manage device data. It can also capture backup and restore data from the iOS devices. However, you may face errors or bugs such as "iTunes could not connect to this iPhone/iPad, the value is missing" that sort of commonly happen to most iPhone users. Luckily, you can easily fix this bug by following some few simple steps. In this article, we will tell you about the different steps to fix errors that prevent iTunes connecting iPhone/iPad.

If you accidentally lost important data from iPhone like messages, contacts, notes, and call logs, you can always use Jihosoft iPhone Data Recovery to easily recover lost/deleted data from iOS device even without any backup.
Method 1: Upgrade iTunes to Latest Version
One of the main reason for this bug may be that you haven't updated the iTunes for a quite long time. If you are running an older version of iTunes, you should update to the latest version to get fix for some errors.
Step 1: Open iTunes on your Computer and Click on Help > Check for Updates on the menu bar.
Step 2: It then will initiate the Apple Software Update program and contact with the Apple server, later providing a list of the latest iTunes version available for download. Click on "Instal 1 item" on the pop-up windows.
Step 3: The system will automatically install the new version after the completion of the downloading process.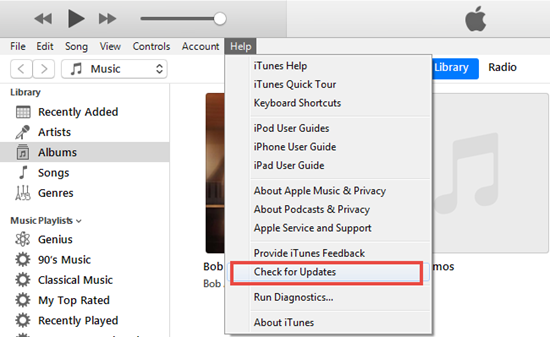 After the installation, launch iTunes and again connect your iPhone or iPad. If no error message is shown and iTunes works normally, then you can assume that the iTunes upgrade has resolved the "value missing" problem.
Method 2: Uninstall iTunes Entirely and then Reinstall It
If the issue is still not resolved even after updating iTunes, or it fails to update, then you can try to uninstall and then reinstall iTunes on your computer. It is advisable to uninstall all the Apple components related to iTunes completely, or else you can't succeed in the later reinstalllation. So, let's go through further detailed steps here.
1. Go to the Control Panel > Programs > Uninstall a Program on your Windows PC, and follow the uninstalling instruction. You also need to uninstall other related programs published by Apple Inc., including QuickTime, Apple Support software, and Bonjour in the same way. And you should restart your PC after the uninstallation.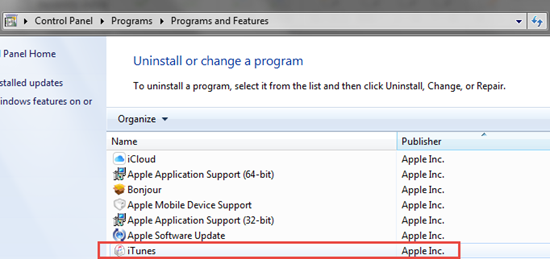 2. Then redownload iTunes from apple.com and install the latest version. It's advisable to download iTunes directly from the official Apple website rather than any other third party, since it's safer and clean from malware or viruses that do harm to your computer.
3. After finishing the installation, you will be prompted to install all others related that you previously uninstalled. Do as it asks and then check with your iTunes.
If you reinstalled iTunes works normailly and doesn't display the message "iTunes could not connect this iPhone, the value is missing", then your problem is fixed; or else you can check on the last solution for this error.
Method 3: Put iPhone into DFU Mode (iOS 12 or iPhone XS/X/7/8/6s)
If the two methods above can't help you, then the error may occur in your iPhone. To solve such issue, you can try on DFU mode, which help fix most issue on iOS device.
Step 1: First of all, connect your iPhone to your PC and run iTunes.
Step 2: Turn-off your iPhone/iPad.
Step 3: After turning-off your iPhone, hold the power button for 3-4 seconds; don't release it, and also hold the Volume Down button (home button for iPhone SE/6S & earlier) along with power key together for 10 seconds
Step 4: After pressing both keys for 10 seconds, release the power key and hold home key for another 5 seconds. If you see the option of "Connect to iTunes", then you have to start the whole process again and if the screen of your iPhone remains black, then it means that you have successfully entered in the DFU mode. iTunes in PC will automatically detect the iPhone in a recovery mode.

After iTunes recognizes your iPhone, you can click on "OK" to restore iPhone and completely fix the "iTunes could not connect with this iPhone" problem. Just remember, that restore iPhone by DFU mode will completely wipe out all data on your phone, so youd better have an iTunes backup availble on your computer, or you sync the device with iCloud before you start the steps. It's also recommended to back up your iPhone regularly in case of accidents.
Conclusion
Like any other gadgets, the iOS devices are also prone to errors. If you view the error message "iTunes could not connect to this iPhone/iPad. the value is missing", you should perform any one of the above-mentioned steps to resolve the issue. It is essential to resolve the error so that you can work with the device without interruption. We have explained the steps required to resolve the problem in this article. Please share with us if you have questions or any other method to resolve the error.