Jihosoft Launches 4K Video downloader for Mac to Global Markets
May 7th, 2020, Jihosoft, a leading software development company, today officially published the Mac version of its flagship product 4K video downloader to meet the demanding of its million users for downloading YouTube videos on Mac computers.
As early as a year ago, Jihosoft Studio has mastered the core algorithm of video download and developed the 4K Video Downloader for Windows to help users download videos from YouTube and other sites through parsing links. After continuous innovation and iteration, the product has been gradually improved. Once released, it has recognized by many users and now enjoys a high reputation worldwide. Jihosoft 4K Video Downloader for Mac continues the powerful algorithm of the Windows version and is cross-tested to be impeccable in terms of performance and design.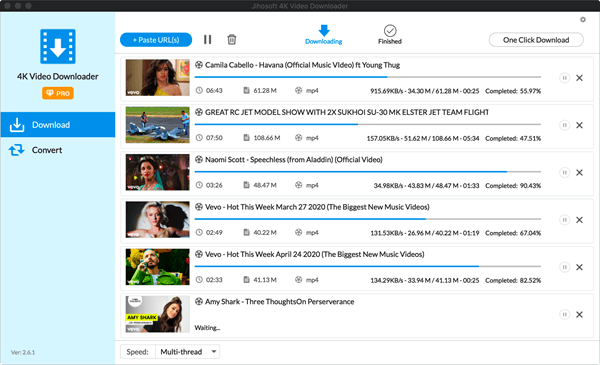 Highlights of Jihosoft 4K Video Downloader for Mac
The Mac version has the same functions as the Windows version. With Jihosoft 4K Video Downloader for Mac, users can quickly download videos from YouTube, FB, Twitter, IG, Vimeo, Dailymotion, Twitch, SoundCloud and other websites, or convert videos to MP3 or M4A audio. It supports batch download, allowing multiple videos to be downloaded at the same time, or save the entire YouTube channel or playlist through a single link. Its unique one-click download mode can intelligently handle multiple download tasks and save users a lot of time.
More importantly, this free YouTube video downloader supports several resolutions and can download 720P, 1080P, 2K, 4K, and even 8K Ultra HD resolution videos in original quality. In addition, while downloading YouTube videos, it also provides subtitle and cover download functions, and supports the direct conversion of the downloaded videos to MP4, MOV, MKV, AVI, and other formats
Pricing and Availability
Jihosoft 4K Video Downloader is designed for personal and non-commercial computer users and is suitable for most Windows and Mac operating systems. The downloader is 100% safe, free of ads and malicious viruses, and can be downloaded, upgraded, installed and uninstalled for free. It has a free version and a professional version: the free version allows users to download and convert 5 videos for free per day, with a speed limit of 1Mbps. The professional version has no restrictions, users can download unlimited videos and enjoys all the advanced features.
About Jihosoft Studio
Jihosoft Studio has been committed to software research and development for five years and has made great achievements in the field of data recovery and multimedia software; its company is located in Shenzhen, Guangdong, while its business has spread all over the world. Its popular products are Jihosoft 4K Video Downloader, iPhone Data Recovery, iTunes Backup Unlocker, Android Data Recovery, Photo Recovery, WhatsMate, Mobile Privacy Eraser, Video Converter, HD Converter, PDF Password Remover, etc. By following Jihosoft, your tech life will become easier!
Contact Information
Contact: Ellen, Sales & Marketing
Tel: (86)-755-26644877
Email: market@jihosoft.com
Website: https://www.jihosoft.com