How to Transfer Photos and Videos from iPhone to Android
Transferring photos and videos from one iPhone to another or from one Android to another is really easy and quick. However, to share images between two devices that running different platforms – say, from iPhone to Android can be a bit trickier. Not worry. In this article you will find three simple and practical ways to transfer photos and videos from iPhone to Android.
Method 1: Drag and Drop
The most regular and easiest way to send iPhone photos and videos to Android is to simply drag them from iPhone's photo folder to Android's image folder. To complete the transfer, you will need a PC and the USB cables for both your iPhone and Android.
1. Connect your iPhone to PC via USB cable. Do the same for your Android device.
2. When connected successfully, open "Computer", you will be able to see both of them under "Portable Device". Open them in a new window.
3. On the iPhone's storage, you will find your images and videos in the "DCIM" folder, drag and drop them to your Android image folder.
Note: By drag-and-drop, you only can transfer photos and videos saved in your iPhone's Camera Roll. Images and movies transferred to your iPhone via iTunes cannot be transferred.
Method 2: Via Google+
Also, you can have your photos and videos transferred from iPhone 4/4S/5/5S/6 to your Android phone, like Samsung Galaxy S6/S6 Edge, HTC One M9, LG G4, Sony Xperia Z3, etc. with Google + app. Just follow the steps below:
1. On your iPhone, download the Google+ app from the APP Store. Install and run the app and sign in with your Google account.
2. On the "Back up your photos" page, tap "Turn on Auto Backup". Then tap "Yes" in the pop-up, your existing photos and videos in the Cameral Roll will begin uploading to Google+.
3. Finally, sign in to the Google+ app on your Android phone. You will find your iPhone photos and videos in the "Photos" section or "Auto Backup" folder for Android.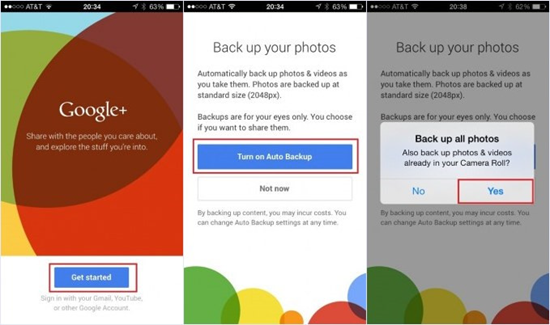 Note: Uploading photos and videos to the Google+ cloud consumes a lot of data. Make sure your iPhone and Android connected to network via Wi-Fi during the transfer.
Method 3: Using Jihosoft Phone Transfer
Alternatively, with phone transfer software, you can transfer pictures and videos from iPhone to Android with ease. Here Jihosoft Phone Transfer is recommended. It can help you move photos and videos from iPhone 4/4S/5/5S to any Android phone, including Samsung Galaxy S4/S5/S6/A8, HTC One M7/M8/M9, LG G3/G4, Sony Xperia Z2/Z3, etc in one-click.
1. Install the iPhone to Android Photo Transfer tool on your PC, and run it.
2. Connect both your iPhone and Android phone to your PC via USB cables. (Make sure the iPhone connected as "Source" and Android as "Destination".)
3. Choose "Photos" and "Videos" in the source phone panel, then click "Start Copy" to move photos and videos from iPhone to Android.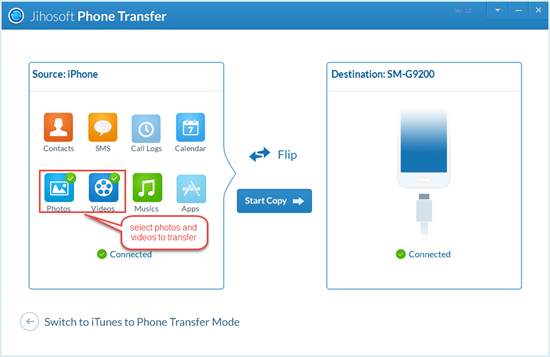 Note: Not only photos and videos, with this mobile phone transfer tool, you can also transfer music from iPhone to Android, as well as contacts, SMS messages, calendars and other data.