How to Recover Deleted Data from Panasonic P2 Card
"Hey, accidentally formatted a P2 card full of footage. Didn't record anything else and flipped the record protection switch. Can I get that footage back somehow? Can someone recommend me a good program for recovering data from P2 card? Any help would be appreciated."
I happened to see this question while reading forums online. Actually, I have also lost some vital videos from a Panasonic P2 card due to accidental deletion. Luckily, one of my friends recommends a way to help me get rid of the problem. Here, I'd like to make an introduction of P2 card and share solution for P2 card data recovery. Read on to find out.
What is P2 Card?
P2, short form for Professional Plug-In, is a professional digital recording solid-state memory storage media format introduced by Panasonic, and especially tailored to electronic news-gathering applications. It features tapeless recording of DV, DVCPRO, DVCPRO25, DVCPRO50, DVCPRO-HD, or AVC-Intra streams on a solid-state flash memory. P2 cards offer comparable recording capacity to tape-based media, and disc-based media, but with the added advantage of no moving parts.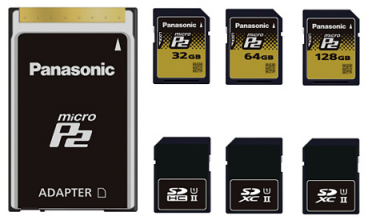 Panasonic is currently shipping a wide range of camcorders that support the P2 format:
Handheld Models: AG-HPX170, AG-HPX171, AG-HVX200, AG-HVX200 HD, AG-HPX250
Shoulder Mount Models: AG-HPX300/HPX301, AG-HPX370/371, AG-HPX500/HPX555, AJ-HPX2000/HPX2100, AJ-HPX2700, AJ-HPX3000, AJ-HPX3700
How to Recover Panasonic P2 Card Data
Don't panic when lost vital photos, videos and audios from Panasonic P2 card due to accidental deletion of formatting. As a matter of fact, the files are not completely erased from the P2 card. All you need is to stop writing anything else and get a data recovery tool. I used Jihosoft Photo Recovery for Mac. This professional P2 Card Recovery tool is capable to recover photos and videos from P2 card with high quality.
Steps to Recover Data from P2 Card on Mac
1. Download the free trial version of P2 Card Recovery, install and run it.
2. Connect your Panasonic P2 card to the Mac.
3. From the drive list, select the P2 card and click "Start Scan" to search for lost data.
4. After scanning, all files found will be listed. Mark the ones you need to get back and click "Recover" to recover photos, videos, and audios from Panasonic P2 card.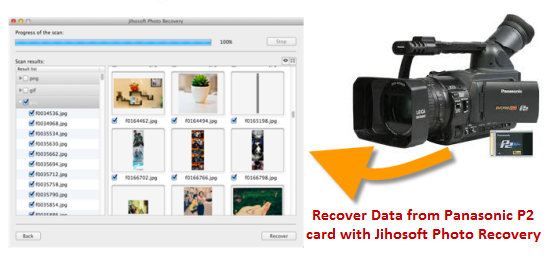 Tips: If you are a Windows user, you can try Jihosoft Photo Recovery here to perform P2 card data recovery.