How to Recover Deleted Photos and Videos from Panasonic Lumix Digital Cameras
If you are looking for the best digital & point cameras, you can't miss Panasonic Lumix, which offers a lineup of digital point & shoot cameras in great diversity. The Lumix DMC-TS series are waterproof, shockproof, and dustproof. The DMC-TZ cameras are compact point and shoot 10x zoom cameras with image stabilization. While the DMC-ZS cameras distinguish from others by offering high-grade still shooting and HD video functions, etc.
You can easily point & shoot every great moment in your life with Panasonic's best Lumix cameras. However, the beautiful moments you record can also easily lose from your camera due to accidental deletion, camera storage card formatting or corruption. To avoid unnecessary losses, a camera photo recovery is indispensable.
Jihosoft offers a safe and reliable Photo Recovery application for users to get back your lost photos and video in time. The program will dig deep and recover deleted/lost photos video from Panasonic Lumix point & shoot digital cameras built-in memory and expandable SD/SDHC/SDXC memory card.
How to Recover Panasonic Lumix Deleted/Lost Photos and Video
Step one: Connect the storage card to the computer.
If your lost photos are recorded on your Lumix build-in memory, directly connect your camera to the computer with a USB cable. If the photos are recorded on the SD memory card, take the card out of the camera and connect it to the computer via a card reader. When connected, the camera build-in memory or sd memory card will shown as a removable drive letter on your computer.
Step two: Select storage media to scan.
Launch Jihosoft Photo Recovery for Mac, and the storage card you have connected to computer will shown on the recovery software's main pane, select it and hit right-bottom "Filter Options" button.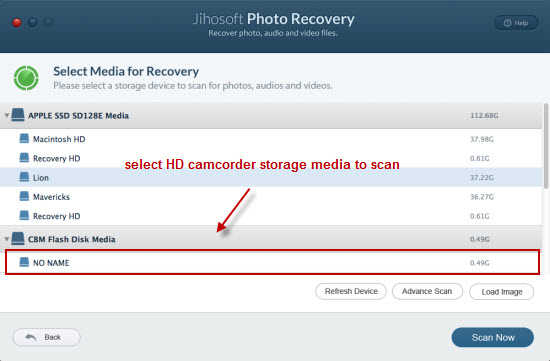 Step three: Define file formats to scan and recover.
Click "Photo", "audio" and "video" respective drop-down list to select your desired photo, audio and video file formats to recovery from Panasonic Lumix cameras. Then hit "Start Scan" to begin the lost file scanning process.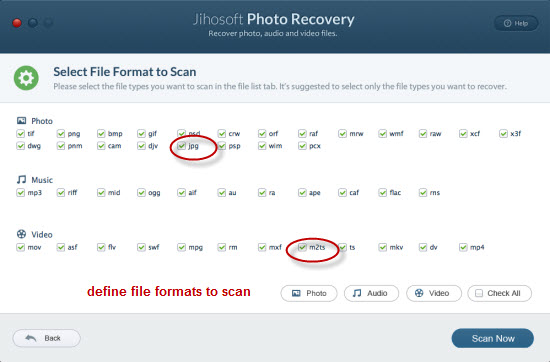 Step four: Recover deleted/lost photos video from Panasonic Lumix.
When the scan is finished, all the recoverable files with file formats will be listed in the left pane. You can click the files and view them with details in the right pane by thumbnail or list. Select the ones you wish to recover and hit "Recovery" button on right-bottom.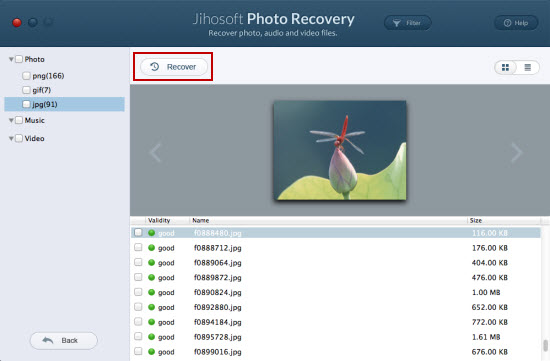 Tips: you can recover deleted photos from Panasonic Lumix DMC-TS20, Lumix DMC-TS25, Lumix DMC-TS5D, Lumix DMC-LX7K, Lumix DSC-ZS19, Lumix DSC-ZS20, Lumix DMC-ZS25, Lumix DMC-FZ60, Lumix DMC-FZ200, Lumix DMC-GH3K, Lumix DMC-FH25K, Lumix DMC-TS5D, Lumix SZ1, Lumix DMC-SZ3, and more.