How to Convert XAVC to MPEG-1/MPEG-2/MPEG-4
XAVC is the newest compression codec released by Sony to keep up with new technology in video and film production. It is geared toward 4k production and can still be found useful for 2k production. More and more manufacturers have already make plans for support the XAVC format and workflow.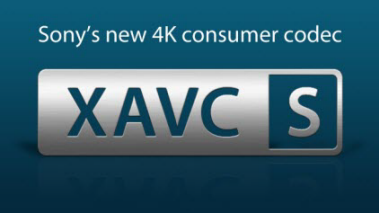 Why Convert XAVC Files to MPEG-1/MPEG-2/MPEG-4
The MPEG-1 standard is published as ISO. MPEG-2 is designed as the format of movies and other programs which are distributed in DVD and similar discs. It is the core of most digital television and DVD formats. While MPEG-4 has improved coding efficiency over MPEG-2. It is used by codec such as Nero Digital, DivX, QuickTime, and by high-definition video media like Blu-ray Disc. By converting Sony XAVC to MPEG, you can easily burn XAVC to DVD and enjoy the captured footage on TV with DVD players.
Method to Convert XAVC to MPEG on Windows & Mac
Jihosoft offers a perfect solution for users to convert XAVC files. Video Converter works as an excellent XAVC converter, allows you to turn Sony XAVC footage into all sorts of popular video formats without decreasing the original file quality. Supported output format include MPEG-1, MPEG-2, MPEG-4, AVI, MOV, MP4, FLV, MKV, WMV, 3GP, ASF, and more.
Four steps to finish the conversion easily:
1. Attach the Sony camera to your computer via the USB port. Move the video clips you recorded to desktop.
2. Initiate the converter and import the XAVC files you wish to convert into it. (For Mac users, please select the Video Converter for Mac.)
3. Select MPEG-1, MPEG-2 or MPEG-4 as the desired output profile. You can further customize the output video's parameters such as resolution and frame rate.
4. Begin the conversion by clicking the Start button on the bottom right.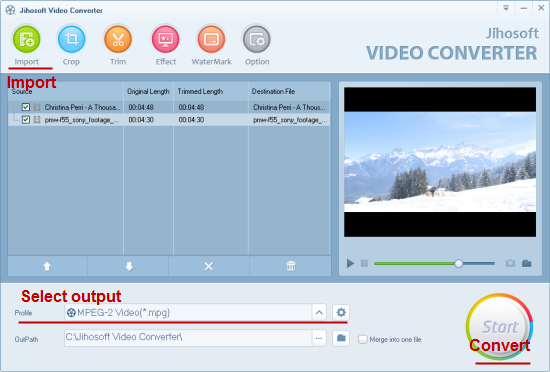 When the XAVC to MPEG conversion is completed, you can preview the converted files from the output path. The only difference between the free trial and full version of this program lies in the watermark on the output. You can download one to have a try.