How to Free Up Storage on Your iPhone to Install iOS 8
iOS 8 is here and you're preparing to update your iPhone, iPad or iPod touch, but what a pity, you don't have enough memory needed to install iOS 8. Besides, some other factors may also lead to the failure of upgrading. Take it easy! Read our guide to find out how to best prepare your iPhone for the new iOS 8, and what to do if you are running out of space.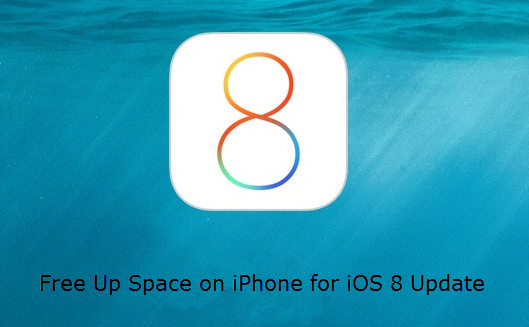 1. Check iOS 8 Compatible Devices
The new iOS 8 won't be able to run on every Apple device. Make sure, firstly, whether your iPhone is fully compatible with iOS 8 or not. Please check the full list of iOS 8 compatible devices below:
iPhone: iPhone 4S, iPhone 5, iPhone 5S, iPhone 5C, iPhone 6, iPhone 6 Plus.
iPad: iPad 2, iPad with Retina display, the new iPad, iPad Air, iPad Air 2, iPad mini, iPad mini with Retina display, iPad mini 3.
iPod touch: iPod touch 5G
2. Update to iOS 7.1.2 First
Generally, iOS devices are required to be running the most up-to-date available form of the system in order to download the new one. So make sure you're packing 7.1.2 before upgrading to iOS 8. You can check it under Settings > General > Software Update.
3. Back Up Your iPhone or iPad
Make sure you've backed up your iPhone before upgrading to the new iOS 8. It is unlikely, but there's great risk that you may lose important contacts, messages, photos, videos, notes, calendar. Backup iPhone through iTunes is highly recommended, and with Free iPhone Backup Extractor, you can export data from iTunes backup to computer in readable way.
Suffer from data loss when upgrade to iOS 8? Don't Miss This: Recover Lost Data from iPhone after iOS 8 Update.
4. Free Up Space on Your iPhone
If iOS 8 works with your iPhone but you receive an error message saying this update cannot be installed because it requires at least 5.8 GB of storage, you may need to free up space on your iPhone. Before you begin deleting anything, go to Settings > General > Usage > to see exactly how much space you've used up and find out what's using the most space.
To free up space on iPhone for iOS 8 update, here's what to do:
1)Delete Unused Apps. Scroll through every app on your iPhone and if you rarely use it , get rid of it. Delete your completed games should free up much space to install iOS 8.
2)Delete All Messages. Note that your iPhone is safely backed up, you should delete all of your SMS, MMS, and iMessages. You can later retrieve text messages by restoring iPhone from iTunes, or use the iPhone Backup Extractor tool method above to extract and view them on your computer.
3)Clean Out Camera Roll. Photos and videos usually take much space on your iPhone. If you backed your photos and videos in iTunes or iCloud, you can remove them from your camera roll and make room for iOS 8 update.
4)Clean Up Junk files. There are many junk files, like crash log files, download temp files, photo and video cache, app cache, app cookies, and app temp files. You can remove junk files to free up storage on iPhone to install iOS 8.
That's it! You should now have updated your iPhone to iOS 8 and enjoyed the new features. If you find any of the above particularly effective, or if you have other ideas to free up space on iPhone, we're really appreciate it if you would comment below and share with others.