How to Factory Reset iPhone with or without iTunes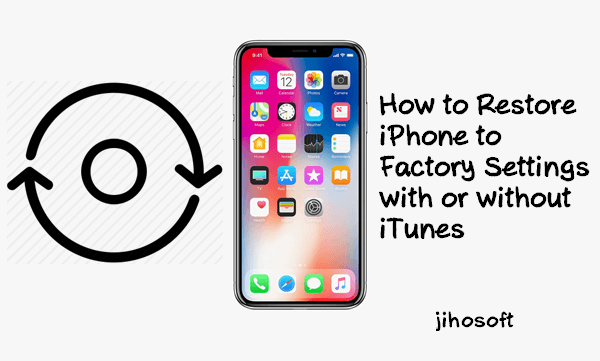 Factory settings can help troubleshoot issues on the iPhone. iPhone users may want to restore their iPhones to factory settings for different reasons. When it comes to factory resetting an iPhone, you may think of the iTunes. In fact, apart from iTunes, there are some other ways you can use to restore iPhone to factory settings. You can read on this article to learn more about how to restore iPhone to factory settings, when should you do so, how to backup data, as well as how to recover data after factory settings.
When Should You Restore iPhone to Factory Settings
Restoring an iPhone refers to restore your iPhone to factory settings. It will erase everything on your iPhone, including photos, contacts, apps, settings, the OS and firmware, etc. Restoring an iPhone is completely different from resetting an iPhone. When resetting an iPhone, you can choose to reset all the settings, erase all content and settings, or reset network settings, keyboard dictionary, home screen layout, or location & privacy settings. iPhone users reset their devices to solve some simple problems. While for restoring an iPhone, there are several reasons.
Your iPhone is out of work due to iOS update failure, software problems, or hardware issues. And these issues cannot be solved by shutting down the iPhone.
You are selling your iPhone or giving it away to someone. Restoring your iPhone to factory settings helps erase all your private data from the device.
The data on your iPhone is overloaded, and this makes your iPhone run less efficiently.
When you forget the iPhone passcode, there is no choice but to factory reset iPhone.
Back Up Your iPhone Data Before You Factory Reset iPhone
If you have access to your Apple device, it is wise to back your data up before commencing with a factory reset. Remember that a factory reset erases all your data. There are two methods you can use to back up your iPhone: iCloud or iTunes.
Using iTunes
Before using iTunes to restore your iPhone, you need to have the "Find My iPhone" feature disabled on your iPhone. Go to Settings app on iPhone > tap on [your name] > iCloud > Find My iPhone, and turn it off . Now you can start with the restoring.
Step 1: Connect your device to your computer via a charging cable.
Step 2: Open iTunes and wait for it to detect your device.
Step 3: Click on the device icon in the top left corner of the iTunes page, and then the "Summary" option in the left sidebar.
Step 4: Click on the "Back Up Now" button under Manually Back Up and Restore section. Then click the "Done" button.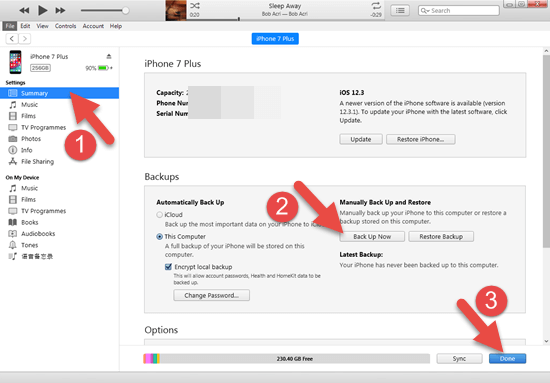 Using iCloud
Step 1: Go to Settings > [your name] > iCloud > iCloud Backup.
Step 2: If iCloud Backup isn't enabled, turn it on by tapping on the switch.
Step 3: Before backing up, check when the iCloud backed your data up. You should be able to find this information under the "Back Up Now" option.
Step 4: If you hadn't backed your device up before or you're unsatisfied with the last backup, tap on the "Back Up Now" button to create a new one.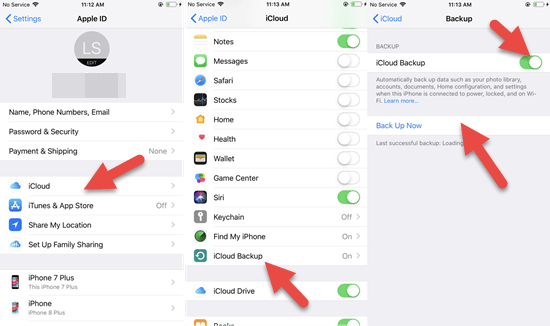 How to Restore iPhone to Factory Settings with or without iTunes
Since you have backed up your iPhone data, it is time to get started with the factory resetting the iPhone. You can use iTunes to restore an iPhone, and you can also factory reset an iPhone without iTunes. The specific methods will be described below, and these methods will work for an iPhone Xs, Xs Max, XR, X, 8, 7, 6s, 6 or 5s.
1. How to Factory Reset iPhone with iTunes
Connect your phone and open iTunes.
Once iTunes has detected your phone, click on the summary section under Settings.
From here, click on the "Restore iPhone" button. This will initiate a pop-up dialog. Click on the "Restore" button to confirm the option.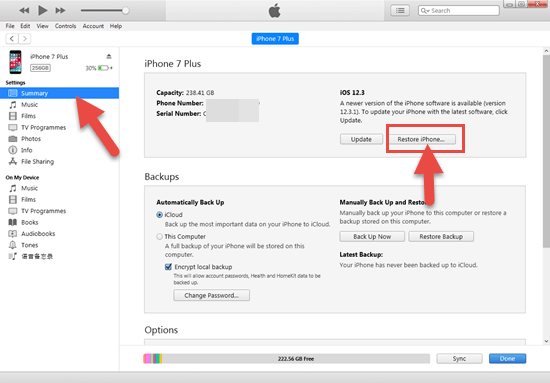 This method will work with locked iPhones. You need to remember that restoring iPhone to factory settings will erase all your data from your device. The data includes apps, message history, contacts, etc. You can use iTunes to create and encrypt your backups before you proceed with restoring your iPhone as mentioned in part 1. What I also propose is that you update your iPhone's software (if your software isn't already up to date).
2. How to Factory Reset iPhone without iTunes
Using iCloud
This way is suitable for the lost or stolen iPhones, and it only works for users who have "Find My iPhone" enabled for their devices. The beauty of this method is that you can factory reset your iPhone and erase your data remotely. Before using this method, you had better try to locate your iPhone and play a sound on it, as you are allowed to use Find My iPhone to do either after factory resetting your device.
Open up a web browser (such as Edge or Chrome) then navigate it to the iCloud.com. Sign in using your Apple ID and password.
Click on Find My Phone and select "All Devices".
The phone you need to reset should be listed on this screen. Select it, then click on "Erase iPhone". This should factory reset your iPhone remotely and remove all your data from it.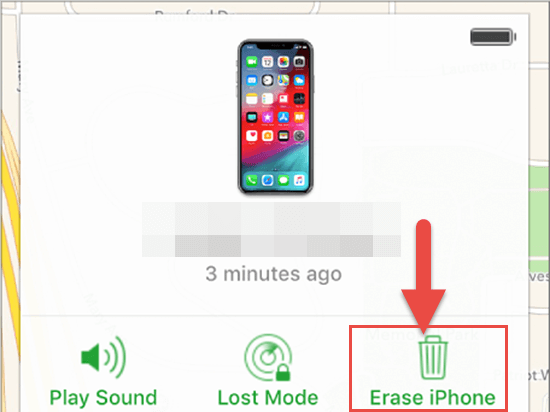 Using Settings
This method requires you to have a passcode and to be logged in on your iPhone. It's also useful for users who do not want to use iTunes to erase their data.
Step 1: Open the iPhone settings app then select "General".
Step 2: Scroll down to the bottom and select "Reset".
Step 3: This will then give you another screen with reset options. Select "Erase All Content and Settings".
Step 4: There will pop up a dialog box asking if you want to update your iCloud backup before erasing. If you have the latest backup, you can tap on the "Erase Now" option; if not, the "Backup Then Erase" option.
Step 5: Enter the passcode of your device if asked. Then tap on the "Erase iPhone" to confirm the operation.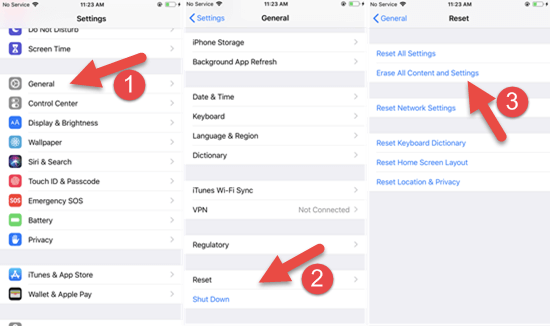 This method will delete all media and data and reset all settings on your iPhone.
How to Recover iPhone Data after Factory Setting
After the factory settings, your iPhone will turn back to a brand new one. You can restore your iPhone from iTunes or iCloud backup. Or you can also appeal to a third party data recovery tool if you have no backup or the backup is corrupted.
Restore iPhone Data from iCloud backup
Reboot your iPhone, operate following the prompts on the screen until you arrive in the Apps & Data page.
Tap on "Restore from iCloud Backup", and then enter your iCloud account.
Select a backup from a list of available backup archives.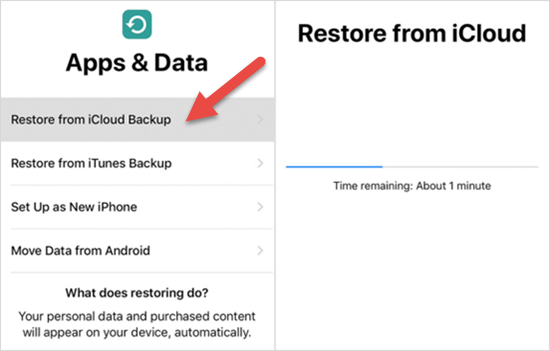 When you are using this method to restore iPhone data, please make sure your device is connected to a stable Wi-Fi and wait for the progress bar to be finished. The time this progress takes depends on the size of your backup file and the speed of your network.
Recover iPhone Data from iTunes backup
Step 1: Open iTunes on the computer, and connect your iPhone to it.
Step 2: Hit the iPhone icon, and then the "Summary" option under Settings.
Step 3: Select the "Restore Backup" button on the right of the Backups section.
Step 4: Choose the iTunes backup you want from the pop-up dialog box, and hit "Restore" Button.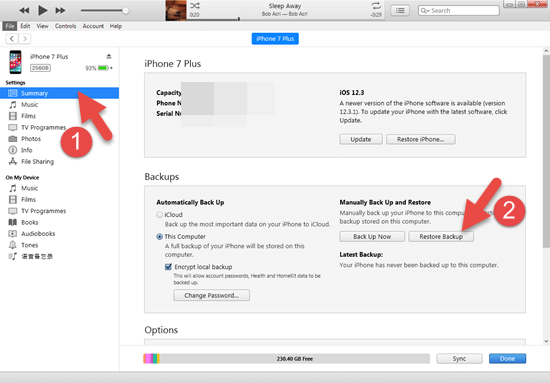 Recover iPhone Deleted/Lost Data with iPhone Data Recovery
If you have no backup or your backup is corrupted, you can get back your data with a third-party recovery tool like Jihosoft iPhone Data Recovery. This tool is applicable for various data loss scenarios, including factory settings, iOS upgrade or jailbreak failure, accidental deletion, and many more. It offers 3 options for data recovery- recovery from iOS device, from iTunes backup and iCloud backup. Let's see how to restore your iPhone data without backup now.
Connect your iPhone to the computer, launch this program, and click on the "Start Scan" button.
Wait until the scanning progress is over. All the data on your iPhone will be sorted out by category.
Preview the data, check the box near those you want to recover, and click the "Recover" button to save them to your computer.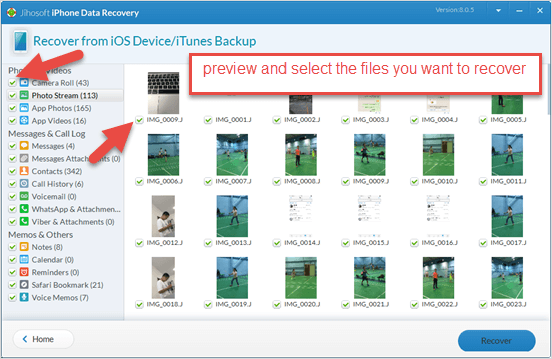 Final Word
Whether you are going to factory reset your iPhone, it is always a good habit of backing up your iPhone data. In this article, we've introduced some straightforward ways to factory reset your iPhone. Each method is also catered to every circumstance imaginable, and you're not required to install third party software that isn't approved by Apple. We hope you ultimately find the solution you've been looking for. As for data recovery after factory settings, you can manage it from iTunes or iCloud backup. When you have no available backup, you can also turn to the third-party recovery software – Jihosoft iPhone Data Recovery. If you need any help or want to point out any blind spots on our end, please do not hesitate to comment below.