How to Permanently Delete iCloud Account with/without Password iOS 12/11
An iCloud account is for Apple's cloud storage that iPhone users can use to store a variety of data on the iPhone, such as photos, contacts, documents, and so on. If you have more than one Apple device, you can enjoy the data synchronization service when logging in your Apple devices with the same iCloud account.
Because of this powerful data synchronization feature, it is crucial to avoid sharing the same iCloud account with others. If you intend to sell your Apple device or give it away to your family or friends, it is advisable to delete or remove iCloud account from iPhone and other Apple devices. For some iPhone users, they may forget the passwords to their iCloud account. Read this article and learn more about how to delete iCloud account permanently with or without a password (iOS 12 and iOS 11 supported).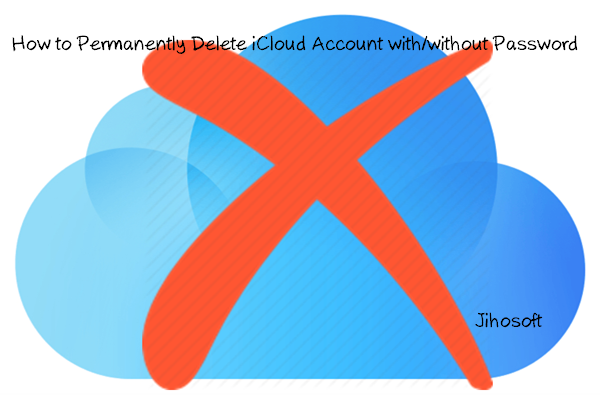 How to Backup Data Before Deleting iCloud Account
Deleting an iCloud account is worth pondering. When the iCloud account is deleted, all your photos, videos, and documents stored in iCloud will be permanently wiped out, and you cannot access other services, including Apple Pay, iCloud Keychain, Find iPhone, Game Center, etc. The app data of third-party apps stored in the iCloud account will also be lost. Thus, it is necessary for you to back up the important data before deleting the iCloud account.
You may wonder back up the data using iTunes. It is a good choice, but it is not that flexible and friendly. As iTunes doesn't allow the user to preview and backup the data selectively. Jihosoft iPhone Data Recovery is a decent choice for this purpose. You can preview your data, and selectively save them to your computer with it from your iPhone, iTunes backup, or iCloud backup. You can also use this tool to recover the lost data. The following steps will tell you how to back up the data with Jihosoft iPhone Data Recovery.
Step 1: Connect your iPhone to Computer
Open Jihosoft iPhone Data Recovery on the computer and connect your iPhone to the computer via USB cable.
Step 2: Scan files on iPhone
Click the "Start Scan" button, and the program will begin to scan the existing and lost data in your iPhone automatically.
Step 3: Preview and Select the Data you want to backup
When the scanning is over, the program will show you all the existing and lost files on your iPhone. Preview the files and select the items you want. Click the "Recover" button to save data to your computer.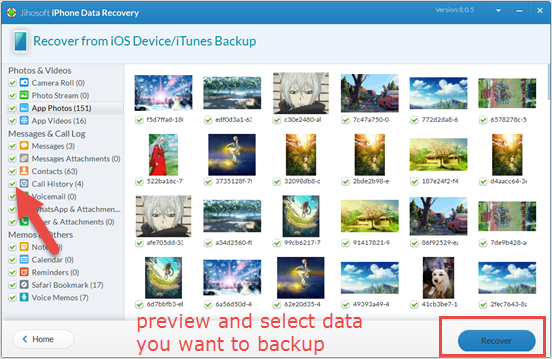 After backing up the data you need, you can feel free to get started with deleting your iCloud account. In fact, you cannot delete an iCloud account completely. However, you can take some actions to inactivate an iCloud account on your iPhone, iPad, Mac, and Windows computer.
How to Delete iCloud Account on iPhone/iPad
Go to the Settings on your iPhone or iPad, tap on [your name].
Click on the iCloud. Switch off the toggle beside each app, for example, contacts, calendars, reminders, etc.
Return to the previous page and scroll down to "Sign Out". Tap on it and input the password to turn off Find My iPhone.
Tap on "Sign Out" once more to confirm the deletion.
You may think the second step seems redundant. Actually, this is to keep iCloud away from syncing of your information anymore, so that the data in your device synced with your iCloud account will be untouched.
How to Permanently Delete iCloud Account without Password on iPhone
It is not allowed to delete an iCloud account without a password. This is another form of protection for your iCloud account— nobody is allowed to delete your iCloud arbitrarily. Nevertheless, in iOS 7 or earlier iOS versions, it can be done. Here are the steps to do so.
Step 1: Open the Settings app on iPhone, scroll down to iCloud and tap on it.
Step 2: When you are asked for the password, enter any numbers you like, and click "Done" on the top right corner.
Step 3: A small window will prop up saying "User name or password is incorrect". Tao on "OK" and click "Cancel" to head back to the iCloud page.
Step 4: Tap on Account again, erase the description and press "Done".
delete-icloud-account-without-password.png
Step 5: You will be redirected to the main iCloud page without the password option. Also, the "Find My iPhone" function is turned off.
Step 6: Scroll down, tap on "Delete" and tap on "Delete" again to confirm this operation.
Only the iOS 7 and earlier iOS versions support this operation. For later iOS versions, it is not workable. Actually, if you indeed forget the password to your iCloud account, you can reset it in two ways.
The first one is to go to the iCloud website, click the "Forgot Apple ID or Password" link and follow the instructions on the web page to recover the password. The second one is go to the Settings app on iPhone > [your name] > Password & Security. Then tap on Change Password and follow the directions to reset the password.
How to Remove iCloud on Mac
If you own a Mac, all you need to do is to sign out of the iCloud on Mac. Now, follow the simple steps below.
Click on the Apple menu on Mac and hit "System Preferences".
Navigate to "iCloud" icon in the bottom left corner and click on it.
Select "Sign Out"in the bottom of the left pane, and then click "Delete from Mac" button.
Choose to keep or delete Contacts, Calendars, Reminders, Keychain password, and Notes on your Ma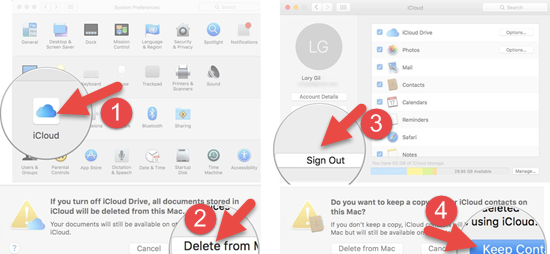 How to Remove iCloud from Windows Computers
If you want to permanently remove iCloud from a Windows computer, it is easy to finish it.
Step 1: Open your Windows PC. Go to "Start" > Control Panel > Uninstall a Program.
Step 2: Find iCloud in the right pane. Select it and hit the "Change" option.
Step 3: Check the box to Remove, click the "Next" button, and click "Yes" to confirm the deletion.
Step 4: When the process is over, click the "Finish " button and restart your system.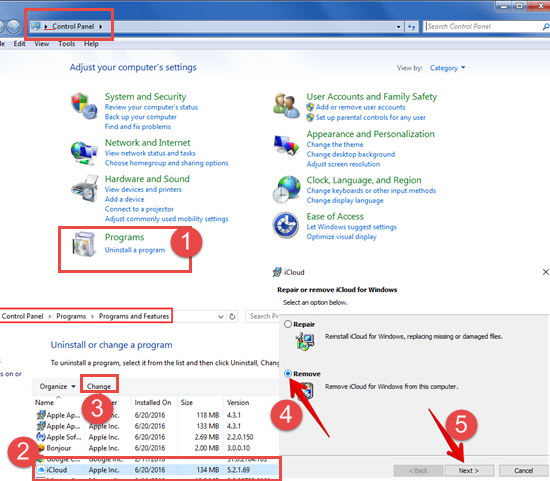 By doing this, your iCloud account gets explicitly removed from your Windows computer.
Bottom Line:
In this article, you have learned how to delete iCloud account permanently with or without a password. iPhone users need to delete their iCloud accounts permanently for different reasons. Before deleting your iCloud account, you should back up the essential data associated with the iCloud account to keep them untouched. Then remove iCloud account from your iPhone, iPad, Mac and other iOS devices, as well as Windows computer using the above steps. It is not that hard. If you have any queries or suggestions, please leave them on the comment section.