10 Best Pets Apps Matching My Talking Tom for iPhone/iPad in 2019
As an iOS user, what will you do with your iPhone or iPad when you feel bored? To play a virtual pet game can be one of great choices. It makes you experience raising a pet. The pet game in iPhone and iPad, for example, My Talking Tom, has strong playability and give a great sense of reality to the players. Apart from My Talking Tom, are there any other funny virtual pets games? This article picks out 10 best virtual pet apps matching My Talking Tom for iOS users and offers their link.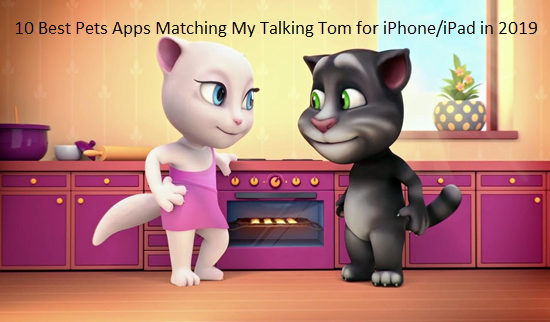 Bonus Tip: It is really unpleasant when you delete or lost the precious photos and videos of your virtual pets accidentally. Don't be so frustrated. Jihosoft iPhone Data Recovery will help you get those photos and videos back.
1. Tiny Sheep
Tiny sheep is one of the most adorable and delight virtual pet games ever made for iOS device. Admirable hand painted graphics and amusing play will get you hooked. In this game, you become a sheep farmer who has a flock of sheep.
You need to build a barn for the sheep to sleep in, water the grass regularly to ensure the sheep have enough food and shave wool from the sheep timely to exchange money. Playing this game is definitely not just taping the screen automatically again and again. The day, weather and price of wool are dynamic in this game. The sheep keep roaming around so you need to keep an eye on them. You are able to collect the rare sheep and trade them with other players.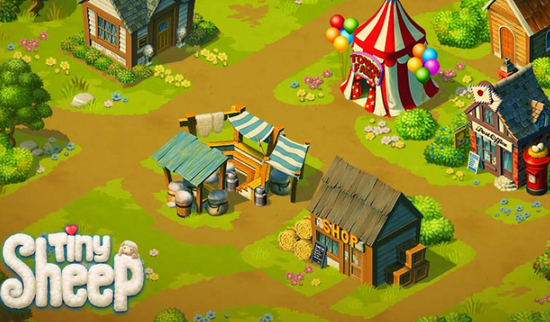 Download: Tiny Sheep
2. My Boo
My Boo is one of the best pet apps for iPhone and iPad. Little boo in this game brings you endless fun just like a real pet. When adopt a boo, you decide a unique name for him and offer proper care to him which will make him more intelligent. Feed him with delicious food, bath him and dress him up with beautiful clothes and accessories in his closet. Sometimes the medication is also needed when he falls ill. Remember to decorate his house with dozens of awesome posters, rugs, wallpaper and flooring.
Besides the interaction with your boo, you can also play more 20 super fun mini games with him. You are allowed to earn coins to buy more items and food for the boo through these mini games.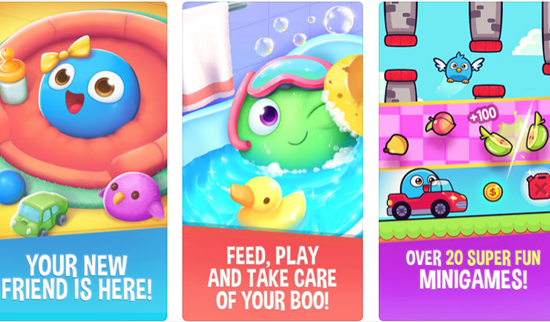 Download: My Boo
3. Pet City
When open this virtual pet app, you will plunge into an exciting digital world where loads of cute animals come to you. You can collect a variety of new and lovely animals and interact with them. You can also explore up to four different environments to care for and play mini games with your pets. Playing with your pets will help you get many great rewards for your pet shop, such as new pests, play sets, accessories and so on.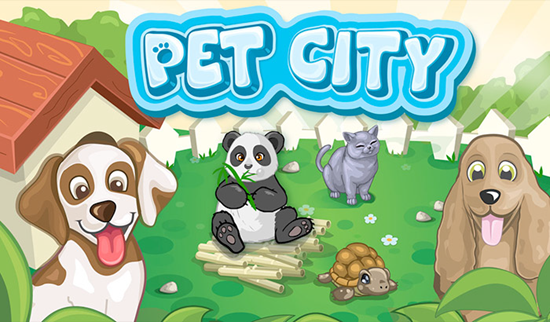 Download: Pet City
4. My Talking Angela
It is another awesome virtual pet app developed by the creators of My Talking Tom. A sweet and beautiful cat girl will accompany you in this game.
It makes you feel great when you adopt a baby kitten and cultivate her into a fashionable superstar. But it is not an easy task. Apart from feeding and bathing her, you need to make the cat girl look charming with beautiful dress and shoes, cute hairstyle and impeccable makeup.
And of course, it is not enough to be a superstar if the cat girl only possesses beauty. She also needs talent and skill. There is a fabulous dance studio for her to practice dancing. In this play, you can enjoy lots of cool music and dance like ballet, K-pop, disco, etc. Furthermore, various mini games here bring more joy to you.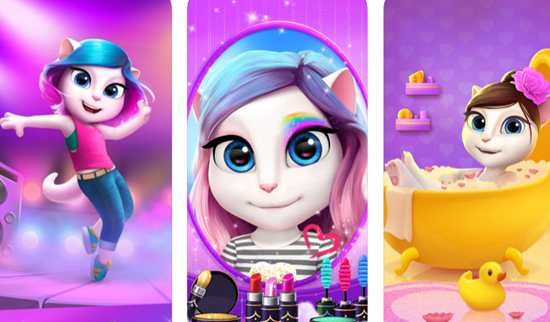 Download: My Talking Angela
5. Talking Ginger 2
If you are fond of cats, Talking Ginger 2 is a great virtual pet app for your choice. Ginger is a naughty but lovely kitten. He keeps your company and also invites you to celebrate his birthday party with him.
The kitten has lovely voice and will repeat your words in that voice when you speak to him. When you cuddle, tickle and poke Ginger, he will react in different funny ways. At this time, don't forget to record these happy moments and share them with your friends.
Ginger likes playing games and eating yummy snacks so never leave him alone with empty stomach. Free snacks can be earned within the game. And you can unlock more than 50 different jigsaw puzzle images if you keep playing with Ginger.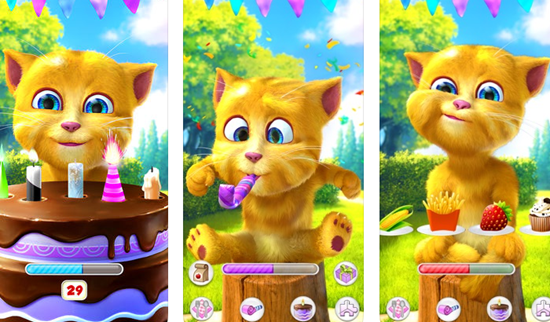 Download: Talking Ginger 2
6. My Derp
This pet game is challenging and may be a little hard to get going. But it is really funny. The Derp in this game is not as smart and lovely as the pets in other games. Your main task is to protect Derp and ensure he survive in various unexpected accidents. You need feed him, take him to a shower and get him out of danger. Playing the box mini game will bring you coins with which you can buy food, medical supplies and other necessities to help the Derp survive. When the Derp gets into adulthood, several secret shapes can be unlocked.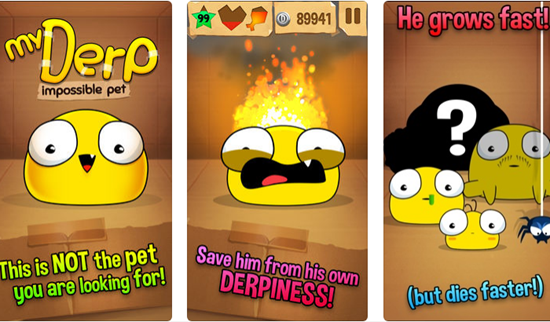 Download: My Derp
7. My Talking Hank
If you love puppy, My Talking Hank is a pet game you should never miss. Hank is a photo fancier and looks forward to his adventure on the tropical islands of Hawaii. This adventure cannot be started without you. Set off with Hank to Hawaii and help him collect the photos of wild animals living there. During the adventure, You can take care of him as a real pet-take him to the toilet, swing him to sleep and bathe him. And he will make you laugh with loads of funny behaviors.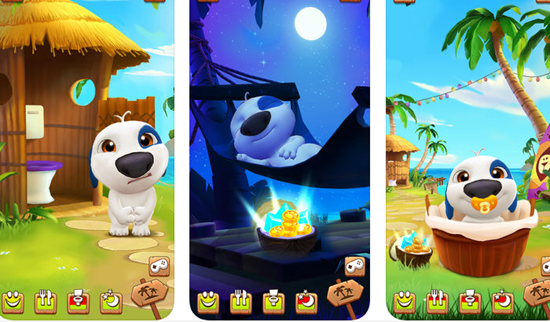 Download: My Talking Hank
8. My Horse
If you love horse and want to own one, my horse is a virtual pet game you must have a try of. You can breed your own horse and care for it to keep it happy and healthy. You can also train your horse so that it will be your best partner in a series of challenging competitions. The built-in camera allows you to capture wonderful moments of your horse. This game has social function. You are able to help your friends look after their horse and vice verse.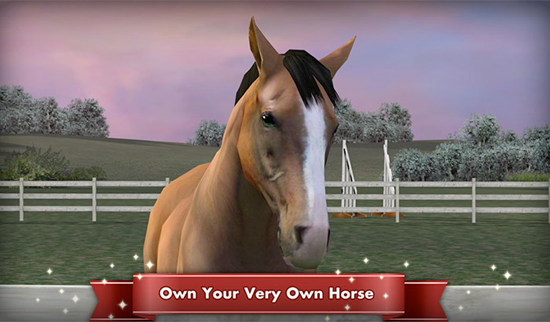 Download: My Horse
9. My Newborn Kitty
The virtual pet app named My Newborn Kitty requires your love and patience to take the mommy cats being pregnant. You are their companion in their journey to be a mother and you can use ultrasound to check how many kittens are in the mommy cat's belly. After the birth of kittens, you need to care for them with lots of love, feeding them, cleaning them, changing diapers and playing with them. In addition, you can dress them up with tons of beautiful clothes and accessories.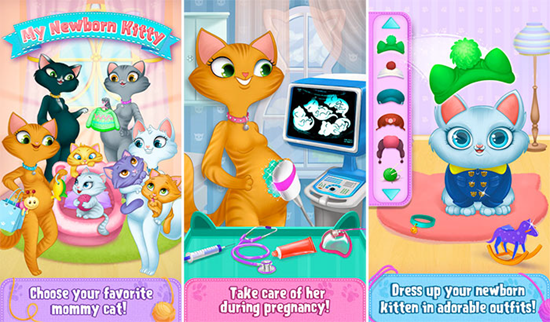 Download: My Newborn Kitty
10. Pet Shop Story
Pet shop Story is great free pet game for your iPhone, iPad and iPod Touch. You can set up your own pet shop in this game and you can keep a lot of animals like dogs, cats, birds and other pets there. You can also mix and match your pets of different species to create absolutely new pets with unique looks. As your pets growing, you need to upgrade your pet shop, which requires you complete goals to win rewards. Besides, Pet Shop Story also provides social function. Visiting neighbors and their pets adds more fun to your game.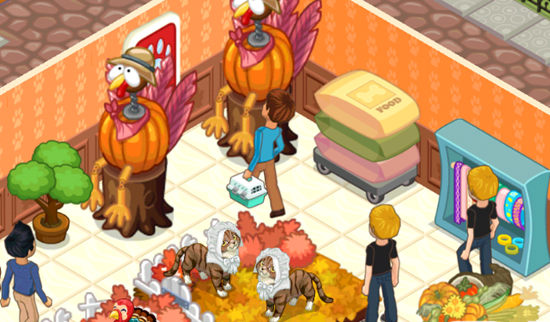 Download: Pet Shop Story
Above all are the 10 best virtual pet games matching My Talking Tom we sort out for iPhone and iPad users. All of them are absolutely free to download. If you are not allowed to keep a pet or you don't want to take care of a pet in reality, these games are for you. What's your idea about the best virtual pet apps in iOS device that can match My Talking Tom? Please tell us in the comment section.