Top 3 Hurricane Tracker Apps for iPhone and iPad in 2019
Hurricanes are tropical cyclones that occurs in the Atlantic Ocean and are generally prevalent in the Americas, which can bring a huge amount of destruction. In 2005, Hurricane Katrina alone did damage of $125 billion dollars and killed approximately 1,836 people in USA. Therefore, it is extremely important to know when to leave your house and evacuate your area in advance of such disaster. Luckily, tracking a hurricane is not as difficult as it was before for the general mass today. On our little iPhone, now we have plenty of hurricane tracker apps that provide every necessary detail of a coming hurricane along with guides for precaution and real-time tracking. For your convenience, we have packed up some of the best ones in this article.
Tips: If you accidentally deleted text messages from iPhone, you can always use Jihosoft iPhone Data Recovery to recover deleted texts even without backup easily.
3 Best iOS Apps to Track a Hurricane on iPhone
There are many iPhone apps that can help you track a hurricane, provide essential information on the live situation, and help you plan an evacuation with your general preparedness as well. We have listed some of the best hurricane tracker apps for iPhone that are worth trying.
1. NOAA Weather Radar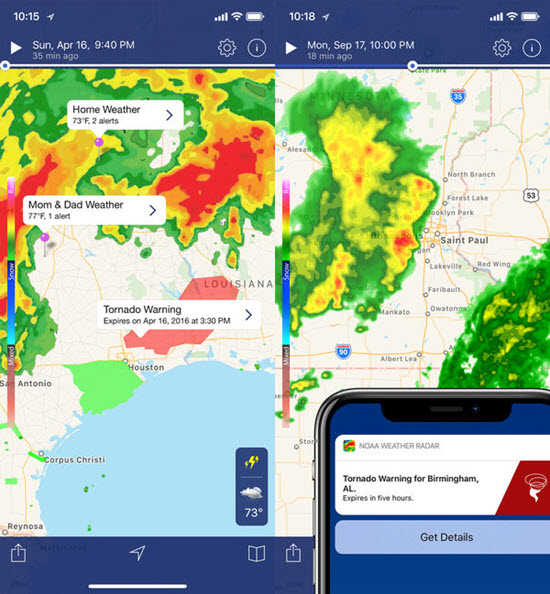 Just like most hurricane apps, NOAA Weather Radar tracks where a hurricane it goes. With real-time hurricane information coming to you, this app is a must-have for hurricane preparedness. You can check on rain, radar and so forth while tracking a hurricane. This gives you more information on what is going on within the storm.
This app has another special feature of offline using. Supposed that you do not have an internet connection currently, you can still access the app and check the most recently downloaded information on this hurricane tracker app.
Further, NOAA Weather Radar has the option of adding people you know on the app map so that you can check whether they are in the path of a hurricane or not. The app is available in both iOS and Android. The app offers a free trial of 7 days, but it is a subscription-based service.
Download: NOAA Weather Radar
2. Storm Rader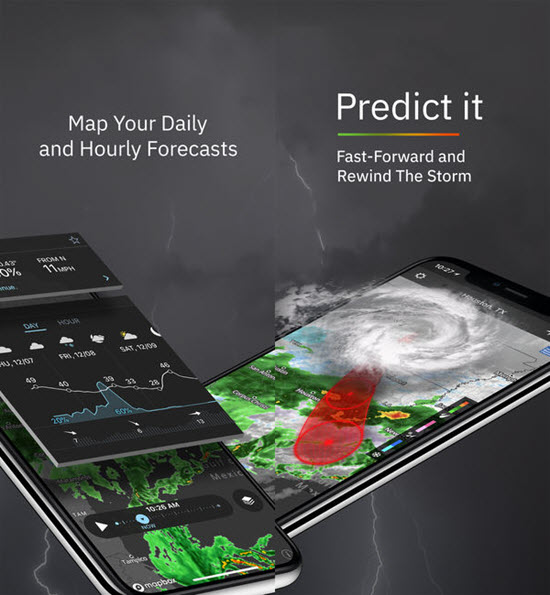 Storm Rader is an iPhone app from The Weather Channel, which is able to efficiently tracks hurricanes. It packs up a lot of information in various levels, making it easy for you to predict where the hurricane will move next, the possible impact points, etc.
Even if you lack an iPhone, you can access the services of this app online through The Weather Channel web app.
A lot of information is revealed with a variety of map overlays co-existing together. One useful feature, animation based on prediction, is available; it visualizes the possibilities of storm so as to help you take necessary actions.
You can customize the application using three map styles; you can also view weather conditions of any particular place by tapping and holding that place on the map in the app.
The app runs on ads, but you can remove ads with one-dollar-per-month subscription. The application is available on iOS, Android and PC browser.
Download: Storm Rader
3. Hurricane By American Red Cross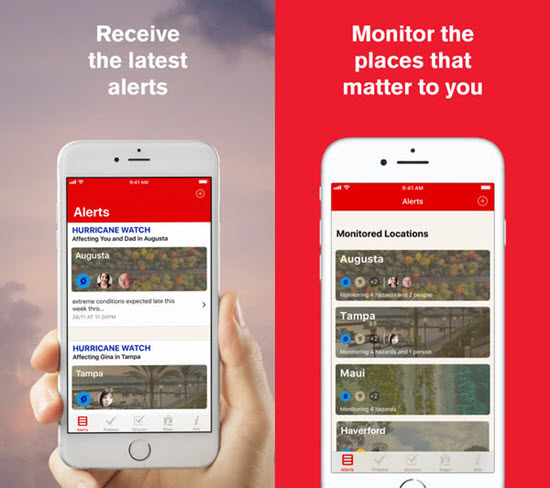 When a hurricane threatening the lives of the people you care about, the first and foremost thing to do is to know if they are safe; and that's essentially what Hurricane by American Red Cross app allows you to do.
Hurricane by American Red Cross tracks hurricanes. The app constantly provides guiding information that will help you to prepare for the storm. But this app is not only for tracking dangerous storms; it also shows you when someone in your contact is in danger due to a storm.
People from your contact list can be added to related locations in the map provided by the app; this enables you to see whether anyone from your contact list is at risk for hurricane. The app has real-time tracking of hurricanes. As the hurricane moves, you can see who in your contact list could be at risk of being near the storm. The "I'm Safe" feature helps your family members or loved ones to know that you are safe in case of a hurricane.
This app can prepare you for a hurricane even without an internet connection as it has offline hurricane information. It also has accurate predictions on where the storm will go. It also supports Spanish. The application is completely free on both the iOS and Android platforms.
Download: Hurricane American Red Cross
Conclusion
It's recommended to get a useful hurricane tracker app on your iPhone to get updating news in case such monster strikes your home. Most hurricane tracking applications can caution you when the hurricane is moving toward any area that you select, and you can see the point-by-point tracking with respect to when the hurricane will hit.
There are a lot of other hurricane tracking applications you can get on your iPhone or iPad. And keeping in mind that the majority of them can also follow storms, snow, and different other weather conditions, not exclusively to watch hurricanes only.
These above are the best hurricane trackers for your iPhone. These apps are available in both iOS and Android platforms, and some can even be utilized from an internet browser. Download one now so you can know early when a tropical storm is coming. If you have any question, welcome to leave your comment down.