4 Easy Ways to Recover Deleted Text Messages on iPhone
"I deleted all my text messages on my iPhone 8, but I didn't mean to! Is there any way to recover deleted messages on iPhone even if I have no backup? Thanks!" — Lucy
If you often use your iPhone to send or receive messages, you are likely to encounter the problem that you accidentally deleted the text messages on iPhone and have no backup for them. In fact, apart from accidental deletion, your text messages may also be lost due to iOS update or jailbreak failure, broken device, stolen or lost device, etc. Text messages may be not used as frequently as before, but sometimes they are still crucial. Thus, you would be eager to recover deleted text messages on iPhone without backup when you realized this mistake. Don't worry, this article tells you four ways to retrieve deleted text messages on iPhone 11/11 Pro/Xr/Xs/X/8/7/6 whether you have a backup or not.
Part 1. Recover Deleted iPhone Text Messages without Backup
1. Is deleted iPhone texts recoverable with no backup
Well, it is possible to get back the deleted data on your phone even without backup. iPhone has a built-in database dedicated to storing various data including your text messages. When you accidentally delete some messages, they won't disappear from your device immediately, but stay in some corner of the database, until the newly-generated data overwrites them. This process doesn't take a long time. So you still have the chance to extract and retrieve deleted iPhone texts from the database with some third-party data recovery tools, before they are overwritten.
However, once these text messages are covered, there is nothing can be done even with the best data recovery tool. Thus, we recommend you to turn on the Airplane Mode instantly after deleting the text messages and stop using the iPhone, then use the data recovery software as soon as possible.
2. A reliable tool to Retrieve deleted iPhone texts without backup
You can easily find multifarious third-party apps for data recovery on Google or other browsers. What we mention here is a professional and easy-to-use one called Jihosoft iPhone Data Recovery.
It offers three recovery modes. You can retrieve deleted text messages directly from an iOS device or from an iTunes/iCloud backup. The recovered messages include not only texts but also the details of date, sender and attachments. Besides text messages, the program also helps recover deleted contacts, notes, safari bookmarks, WhatsApp, voice memos, and many more on your iOS devices. If you lost some important text messages on iPhone, you may give it a try.
Here are steps to recover deleted text messages from iPhone without backup:
Step 1: Launch Jihosoft iPhone Data Recovery
Download and install the right version of this program on your PC or Mac, then open it.
Step 2: Scan the device for deleted data
Connect your iPhone to the computer via a USB cable. When your device is detected, click the "Start Scan" button and the program will begin a thorough scan for the lost data.
Step 3: Recover what you want
After the scan, all the recoverable data will be displayed in categories for you to preview. If you find the deleted text messages, check "Messages" & "Messages Attachments" and click "Recover" to extract them to the computer.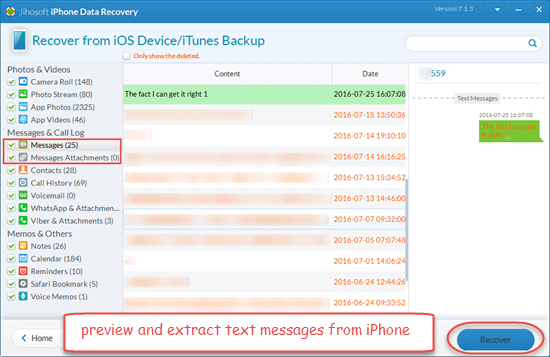 Detailed YouTube Video Tutorial:
If necessary, you can use Jihosoft iPhone Data Recovery to print text messages from iPhone/iPad to PDF file.
Part 2. Retrieve Deleted Text Messages on iPhone from Backup
1. Get Back Deleted iPhone Messages from iTunes Backup
If you have backed up your data with iTunes before, you can recover deleted text messages on iPhone from an old iTunes backup. The official way is to restore your iPhone from the backup. By doing so, the current data on your device will be replaced by backup contents completely. Worse still, you cannot know if the old backup contains the deleted messages you need, which means you may end up losing more data. Luckily, you can use the iPhone Recovery tool to preview and extract your deleted texts from the backup.
See how to retrieve deleted iPhone texts from iTunes backup.
Step 1: Open the iPhone Recovery software on your computer and select "View iTunes Backup". Then you can see a list of available iTunes backup files.
Step 2: Pick out a backup that may contain the messages you need and click the "Start Scan" button to scan the backup.

Step 3: When it finishes scanning, click "Messages" & "Messages Attachments" to preview all the messages inside your backup. If you find the deleted text messages, click the "Recover" button to export them to the computer; if not, go back and repeat the previous two steps to check other backups
The recovered text messages are stored on the computer. You may want these messages to get back to your phone, then you can try restoring the whole backup to the device. To avoid any data loss, here's a tip for you. You can download the free trial of Jihosoft iPhone Recovery to check if the old iTunes backup includes the messages you need beforehand.
2. Restore Deleted iPhone Messages from iCloud Backup
The chances are that you backed up your iPhone to iCloud instead of iTunes. Things will be much easier if so. You can recover deleted text messages on iPhone without a computer and Lighting cable. But similar to retrieving messages from an iTunes backup, you need to wipe the existing iPhone data clean and restore the iCloud backup to your device. Here are the detailed steps.
Open the Settings app on your iPhone and go to General > Reset.
Tap on "Erase All Content and Settings" and choose "Erase Now". Don't tap "Back Then Erase", or your backup will be updated and you won't be able to recover the deleted text messages.
When your device restarts as a new device, follow the onscreen instructions to reach the App & Data page.
On the App & Data screen, select "Restore from iCloud backup", then sign in to iCloud.
Choose a most recent iCloud backup from a list of available backup archives. The backup you choose should predate the deletion of the text messages.
Then wait for the whole process to end.

In this way, your texts together with other data inside the backup will be restored to your iPhone. If you want to know what the iCloud backup contains in advance, try the Jihosoft iPhone Data Recovery for preview. Or you can use it to extract the messages you need from the iCloud backup.
Note: If you use Messages in iCloud activated on your iPhone, the text messages, iMessages as well as MMS will be automatically uploaded to iCloud and included in neither iTunes backup nor iCloud backup. In this case, you cannot retrieve your deleted iPhone text messages even if you have a backup. So keep Messages in iCloud off on your device and only turn it on when necessary. To be on the safe side, you can transfer text messages from iPhone to computer to create a separate backup for them.
Part 3. Ask Phone Service Provider to Recover Deleted iPhone Messages
Sometimes you have no backup available and can't get back the iPhone texts even with a data recovery app. Then you can resort to contact your phone service provider for a try. Usually, they will keep a record of your SMS messages (not including iMessages). However, to protect the privacy of both sides participated in the conversation, the cell phone carrier will offer you these messages only when you obtain a court order. Moreover, some providers only keep the information for a few weeks. Therefore, if you lost important text messages, you'd better contact your cell phone carrier as soon as possible. Although this method is not as easy as you think, it is worth trying.
Final Words
This article is about iPhone text messages recovery, including how to recover deleted text messages on iPhone without backup and how to restore them from iTunes/iCloud backup. Though your text messages can be recovered from the iOS device directly with a third-party data recovery tool, the best way to avoid data loss is always to back up the data regularly. If you have any queries or suggestions, please let us know in the comment section below.