4 Ways to Print Text Messages from iPhone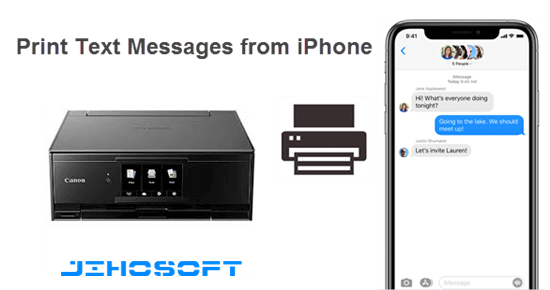 "I have a court case and really need to print some texts on my iPhone. Is this possible? How can I do this?"
This is a typical case where you need to print text messages from iPhone. Although there are numerous messaging apps for iPhone now, still people use the native Messages app to communicate with their family, friends, colleagues, and clients, etc. Some valuable text conversations often need to be backed up and sometimes printed to paper for preservation or as evidence.
However, Apple has added many fun features to the Messages app, but there is no printing. So you need to take some workarounds to print text messages from iPhone. Now read this article to find them out and try them.
Note: When you are printing iPhone messages for a court case or other legal purposes, please consult a legal professional and confirm the specific requirements for printing.
1. Print iPhone Text Messages from Notes App
If you only want to keep the text of your conversations and don't care about the details of the time, date, and sender, you can copy and paste the text into another app that supports printing, and then print it out. Such apps include Notes, Mails, Reminders and so on.
Open a conversation from your Messages app. Tap and hold a message that you want to print until the "Copy/More" menu appears, and then choose "Copy".
Turn to the Notes app on your iPhone and create a new note.
Paste the copied text into the note, tap the Share icon in the upper-right corner, scroll down and tap "Print".

Select a printer and start printing.
This is a simple and convenient approach, but the text printed out using it cannot be used as evidence in court.
2. Print Out Text Message Screenshots from iPhone
To print text messages from iPhone for court, you need to print them in an unequivocal format, along with the date and time, as well as details of the sender and receiver. It is a great option to take a screenshot of your message text and then print it out. Nevertheless, when you have a mass of text messages to print, you'd better consider a different approach.
Step 1: Open the Messages app on your iPhone and locate the conversation you need.
Step 2: Take a screenshot of the texts you want to print.

On iPhone X or later: Press the Side button and the Volume Up button at the same time and then quickly release them.
On iPhone 8 or earlier: Press the Sleep/Wake button and the Home button at the same time and then quickly release them.

Step 3: Tap on the thumbnail in the lower-left corner of your screen.
Step 4: Tap the Share icon in the upper-right corner and select "Print".
Step 5: Select a printer, customize the number of copies you want, and tap "Print" to confirm.

3. Use Third-Party Software to Print iPhone Text Conversations
It's not difficult to print one or two text messages using the previous two methods, but using them to print a large number of text messages is no small challenge. At this point, you need to turn to a tool that can help you export and print your entire text conversations together with the contact, time, date, and other information at once.
Here we will show you a program called Jihosoft iPhone Data Recover. This is a professional software dedicated to iOS data recovery. And it is also an excellent data transfer tool that works perfectly to import your messages from iPhone to the computer as readable formats like TXT and HTML. So that you can print iPhone text messages from the computer in the format you need. The supported iPhone modes range from 4S to the latest 11 series.
Here's how to use Jihosoft iPhone Data Recovery to print iPhone text messages:
Step 1: Download, install and run Jihosoft iPhone Data Recovery on your computer. And then connect your iPhone to the computer.
Step 2: Once your iPhone is detected, click "Start Scan" to let the program scan data on your iPhone.
Step 3: After scanning, you can preview the text messages in the scan result, including contact information as well as the time and date. You can also find deleted messages there. Uncheck other data types and click "Recover" to export only your text messages to the computer.

Step 4: The output text messages will be saved as an HTML file on your computer. Click on the corresponding file and print out your text messages from the computer as PDF.

If you have synced your iPhone with iTunes, Jihosoft iPhone Data Recovery allows you to access and extract text messages from an iTunes backup. You can print SMS messages from iPhone even without the need to connect your iPhone to the computer.
4. Ask Phone Service Provider for a Copy of Text Messages
This method doesn't always work but you can give it a shot. In order to protect the privacy of the sender and receiver of the text message, the phone service provider will generally refuse your request unless you can give a good reason or present a legal document from the court. Thus, you are not recommended to use this method when you just want a backup of your text messages.
Conclusion
The above are four ways to print text messages from iPhone. Which method you choose depends on your purpose of printing the text (for court cases or backups) and the number of messages to print. We hope this article is helpful to you. If you have any other better approach to print iPhone text messages, please share it with us.