How to Get an iPhone Out of Recovery Mode
"I am trying to update my iPhone 5S to the new iOS 8 but unfortunately it went on recovery mode. Now my screen is showing an iTunes logo and plug in charger sign. I just want to get it out. Please help!"
Many iPhone users are asking how to get iPhone out of recovery mode in Apple Forums. It appears to be common problem. Typically, an iPhone can sometimes get stuck in recovery mode if:
– You intentionally put your iPhone in recovery mode to solve an issue but for some reason it stops responding.
– You are trying to jailbreak your iPhone but run into some unexpected errors and leave your device stuck in recovery mode.
– You are trying to update your iPhone to the latest iOS 8 or simply trying to restore a backup.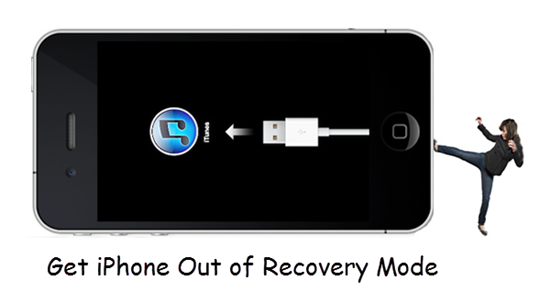 Take It Easy! Fix iPhone Stuck in Recovery Mode with iTunes Restore
The general method of recovery for an iPhone stuck in recovery mode is an iTunes restore. Make sure you have the latest version of iTunes installed. Then follow the steps below to take your iPhone out of recovery mode.
1.Open iTunes. Hold the Home button down on your iPhone and connect it to the computer using a USB cable.
2.An iTunes pop-up message will say that your iPhone is in recovery mode and needs to be restored.
3.Click on your device along the main toolbar in the iTunes window, then go to the Summary tab.
4.Click "Restore iPhone", your iPhone will be restored to the last iTunes backup and exit recovery mode.
How to Recover Deleted/Lost Data from iPhone
Typically, getting iPhone out of recovery mode with iTunes restore, all the data and settings on the iPhone will be erased before restoration. It would be great if you have recently performed an iTunes backup. However, if your last iTunes backup was a while ago, you risk losing any data added to your iPhone since your last iTunes backup. Luckily, there is now a software, Jihosoft iPhone Data Recovery, that claims to recover deleted/lost data directly from iPhone when this happens.
1.Download and install iPhone Data Recovery. Connect your iPhone to the computer using USB cable.
2.Open iPhone Data Recovery and it will recoginze your device. Click "Start Scan" to begin scanning.
3.When the scan is completed, you can preview the found data and click "Recover" to save them on your computer.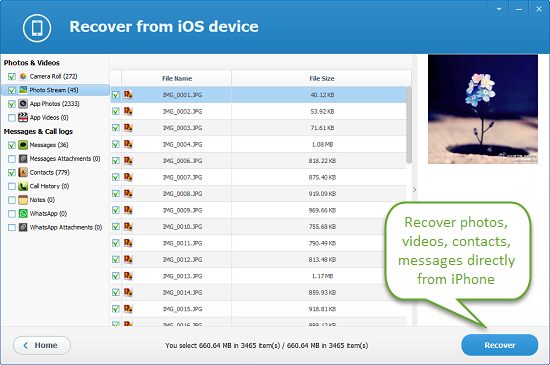 Another Option: Take iPhone Out of Recovery Mode with TinyUmbrella
If you want to get your iPhone out of recovery mode without causing data loss, TinyUmbrella is highly recommended. It backs up your iOS firmware SHSH blobs and can restore them to downgrade your device to an older working firmware.
1.Download the TinyUmbrella. Connect your iPhone to PC using USB cable.
2.Open TinyUmbrella and lets it recognize your iPhone in recovery mode.
3.Click "Exit Recovery" and your iPhone should be booting normally now.