3 Ways to Transfer Music from Computer to iPhone without iTunes 2019
For security, Apple sets many restrictions on their products like iPhone, even in the case when you try to share music with your buddies. There are limitations in iTunes while you trying to add music to your iPhone, for example, when you try to create a new playlist or library, the old one will get deleted from iTunes. iTunes limits the music sharing among just few devices. You even unable to transfer a single song to iPhone, because iTunes requires you to create a playlist before transferring. And most importantly you can only share purchased music from your iPhone yet not all kinds. As one of the massive iPhone users, maybe you face the difficulty in transferring music to iPhone, but don't worry we have got you covered.
Bonus Tips: If you ever lost any important data like voicemails, voice memos, messages, contacts etc, you can always use Jihosoft iPhone Data Recovery to easily retrieve the deleted data back even without backup.
We have found three effective and useful ways to transfer music from your computer to your iPhone without iTunes for you to share your favourite songs freely.
1. Transfer music from Computer to iPhone without iTunes but Dropbox instead
This is an essential and straightforward way to transfer music or any files into your iPhone without the help of iTunes. As Dropbox is a cloud service, you can share files to iPhone the same way you do in other devices. But there are a few flaws about this process.
First, you need to convert the music files to the supported file type of iPhone, or else it will become worthless; Second, the music will not get transferred to your native music player in the iPhone, so you will need to download another music player from the Apple App Store.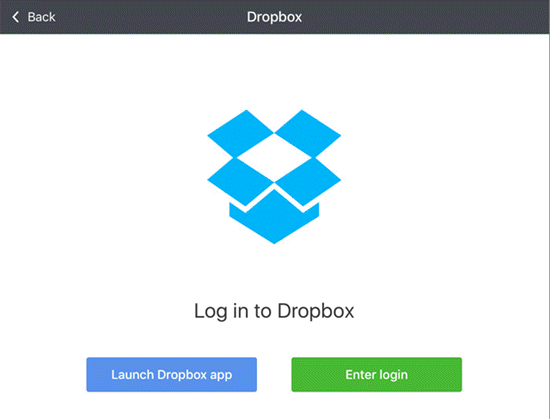 Follow these steps to transfer music files from computer to iPhone using Dropbox:
 Sign in with your Dropbox account in your iPhone.
Upload the music files which you want to transfer from your PC to iPhone.
Launch the Dropbox app in your iPhone and download the uploaded files.
Install another music player app from the Apple App Store, and open the file on Dropbox, then click on Share button and choose the new music play in the list. Later you will see the downloaded music files in that music player.
2. Stream Your Favourite Songs via Music Players on iPhone
There are tons of music streaming services available, by which you can download and store music in your iPhone. Some famous ones of these are Spotify, YouTube Red, etc. But there still are limitations in the process.
These apps mentioned above may charge you for downloading various music, and they must need an active internet connection in downloading songs to your iPhone. However, the downloaded music using these apps will only be available in that particular app, and will not show up in any of other music players on iPhone.
Follow these steps to transfer music by streaming from computer to iPhone:
Choose any music service and download it in your iPhone.
Create an account on that music service to download the songs you want.
Play the downloaded songs within the app and enjoy.
Also Read: Best Music Players for your iPhone
3. Transfer Music to iPhone without iTunes using MediaMonkey:
MediaMonkey is a music player as well as song management program for PC. You can also use MediaMonkey to tweak a few things in the iPhone. The only limitations of this application are that it can just sync the music files and unable to do same with video or images.
Follow these following steps to transfer music files to iPhone without iTunes via MediaMondkey:
Downlaod the MediaMonkey from MediaMonkey and install in your PC.
Make sure you've installed iTunes on your PC (though you don't need to launch it, MediaMonkey needs the driver of iTunes to acess your iOS device).
Also make sure you've ticked on 'Prevenrt iPhones, iPhones from auot-syncing' in the menu Edit > Preferences > Devices of iTunes
Open MediaMonkey while your device is still connected.
Copy and paste the songs you need to the llibrary of MediaMonkey, or just use Tools > Options > Volume Leveling > Automatically analyze volume of unanalyzed files to auomatically adding your music.
Sync the files in your iPhone by just right click on the song and choose Sent to > iPhone.
Enjoy your music on iPhone.

In addition, MediaMonkey supports Auto Sync for your files to iPhone, you can just follow its guide for more help.
Conclusion
These are the effective ways to transfer music from PC to your iPhone without iTunes. Choose the method which suits you best and enjoys music without the bugging of iTunes for your music transferring. We will recommend all the above process to transfer music files to the iPhone. Share this article with your iPhone buddies to give them these aesthetic procedures. If you have any question or other good suggestion, welcome to share with us in the below as comment.