3 Ways to Unbrick Your Bricked iPhone XS/XR/X/8/7 in 2019
Though walking through dozens of update, Apple iPhone still faces problem sometimes. If your iPhone doesn't respond properly or won't turn on, then the device can be termed as bricked. The exact reasons for bricking could be various; sometimes, your iPhone is bricked just because you attempt to upgrade the iOS but accidentally switched it off during the process. It is absolutely essential that you should upgrade to a stable version but not the beta or any unstable one to avoid being bricked. So, by any reason if your iPhone gets bricked, don't panic; you can unbrick your iPhone at your own by using some tricks regarding this problem.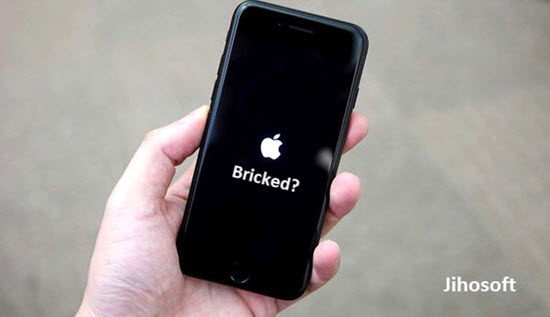 Why iPhone Got Bricked?
Your iPhone may so often become bricked while updating. That's because the baseband bootloader will probably be damaged during the upgrade process, so that the iPhone can easily get bricked. Moreover, if your iPhone is short of storage or suffers a virus/malware attack, then it can also be bricked beyond usage. You can easily identify a bricked iPhone. It will have either a Blue or Red screen of death. Sometimes, you will view a stationary black screen or the static display with Apple logo, which also are the signs of a bricked phone if it is unresponsive. However, if you think that a bricked iPhone can't be fixed, then you are wrong. In this article, we will examine the steps required to unbrick your iPhone XS/XR/X/8/7/6S/SE/6/5S.
Bonus Tips: Accidentally lost/deleted important data like messages or contacts from iPhone? Download and use Jihosoft iPhone Data Recovery to get them back even without backup easily.
3 Ways to Fix a Bricked iPhone (iOS 12 Supported)
You can quickly and safely unbrick your iPhone by either performing hard reset to the device or restoring it with iTunes. It is important to fix your bricked iPhone without data loss, because you can't backup data from an unusable iPhone. We suggest you to backup data regularly to avoid any potential loss.
Hard Reset Your Bricked iPhone without Restore iPhone and Losing Data
Hard reset is the best way to fix a bricked iPhone. It's recommend to force restart your iPhone once it shows sign of getting bricked, by following the steps given below.
Step 1: Press and hold the Sleep/Wake button and the Home buttons together for iPhone 8 and earlier models; For iPhone X and later you have to first press and release the Volume Up, then the Volume Down, and finally press and hold the Power button.
Step 2: The buttons should be pressed for 10 seconds and can be released when you view the Apple logo.
Step 3: After the completion of the process, your iPhone will restart and display the home screen.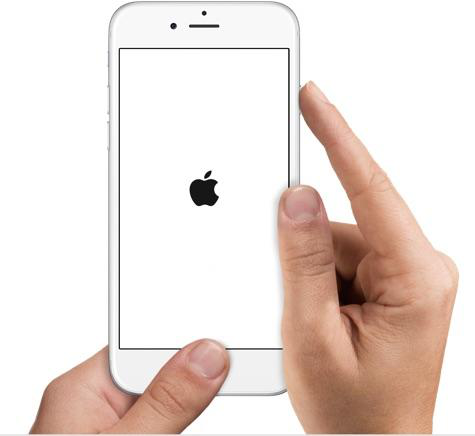 Restore with iTunes to Unbrick Your iPhone
It is also possible to unbrick iPhone via the iTunes restore module. If the iPhone fails to unbrick after n hear reset, you should employ this method.
Step 1: Establish connectivity between your iPhone to your PC via a USB cable
Step 2: Run iTunes on your PC and select the iPhone icon located at the top of the iTunes after it detects your iPhone.
Step 3: Select the Restore iPhone button located on the right side of the display and again confirm it in the pop-up window.

Step 4: Finally, iPhone will automatically restore to factory settings and it will take few minutes to complete.
One thing important to noted, that all data available on the iPhone will be deleted after restoring finished, resulting in an unbrick iPhone in factory settings, so you should use this method carefully.
Fix a Bricked iPhone Using DFU mode
DFU (Device Firmware update) is the most useful way for iPhone users to deal with their malfunctioning iOS devices, like unbricking their iPhone. You just need the steps below to use DFU mode on your iPhone.
Plug your device into MAC or PC and open iTunes.
Shut down your iPhone by going to Settings > General > Shutdown or pressing and holding the power button.
There are different steps to enter DFU mode according to your iPhone model:

For iPhone 7, 8, X, Xs and later: press and hold the Side button for 3 seconds, then press and hold the Volume Down button for another 10 seconds while keeping holding the former; After 10 seconds, release the Side button but keep holding the Volume Down for another 5 seconds.
For iPhone SE, 6S and ealier: press the home button after 3-second power button holding and hold them together for about 10 seconds; then release the power key and hold the home key for another 5 seconds.

If your iPhone screen get on and showing "connect to iTunes" or an Apple logo, then your timings are quite wrong. Instead of showing the logo, it shall remain dark and your PC will notify you that a device has been detected and you can restore it with iTunes.

This method will as well wipe all your data out of the iPhone; if you don't have any backup either on iTunes or iCloud, then you will encounter a loss of data.
Final Words
Above are what we suggest as the best methods to help you fix a bricked iPhone. It's sort of common that iPhone gets bricked because of various reasons, so don't worry when you face this problem.If you know some other tricks to unbrick a bricked iPhone, please let us know in the comments section, and also write down any of your question related.