Exodus Super Unlock – Review and Alternatives of this iCloud Unlocker
Privacy and security are two of the most important subjects in the smartphone world, and Apple is one of the organizations that place their devices in the most astounding need for security. The levels of assurances that Apple provides would ensure that their clients' information is securely monitored.
However, that safeguards can likewise be a two edged sword for clients, especially for those who purchased their iPhone from unauthorized source. In the event that an iPhone is locked by iCloud and the user doesn't know the exact Apple ID, then the device is no more than an unusable waste. However, there are still ways claiming to save people from that dilemma.
Tips: If you want to extract any data like messages, contacts, notes, photos and so from your previous iCloud backups, you can always use Jihosoft iPhone Data Recovery to selectively retrieve files from iOS backups.
Want more good iCloud Acitvation removal tools? Go here!
iPhone iCloud Unlock Tool: Exodus Super Unlock
Exodus Super Unlock is one of such ways that makes unlocking any iPhone very simple. It's so easy to unlock your iPhone that you can use SIM cards from various providers without any problem.
There are numerous reasons why Exodus Super Unlock is famous among iOS users one of which is that you don't need the original Apple id to activate the locked iDevice.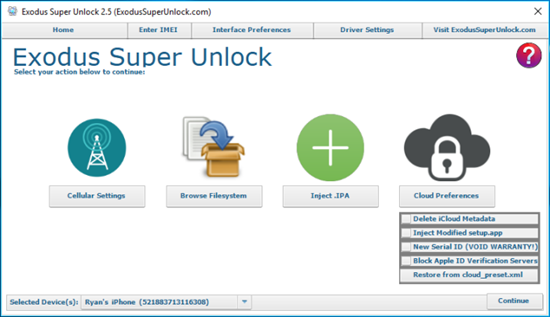 Pros of this software:
Exodus Super Unlock enables you to unlock your iPhone effortlessly and free it from hassle on later SIM card using regardless of carriers.
Once it suceeds in unlocking your iPhone, you can use it countlessly for unlocking even after the change of SIM card.
However, Cons:
This iCloud activation unlocker is hard to locaate for downloading, unless you are willing to take the risk from unofficial sites.
Some cases of failure in unlocking iPhone with this software has been reported by the users. Moreover, it's doubted to be a scam by some users because of its tangled process for payment.
Good Alternatives to Exodus Super Unlock:
Since it has such a unneglectable defect as it's hard to download, here we offer some good alternatives to Exodus Supter Unlock for you to unlock iPhone.
1. Bypass iCloud Activation Tool
The bypass tool is intended to sidestep the Apple ID lock on all iOS devices. This bypass tool so far works on any iPhone and iPad (both GSM and Wi-Fi models).
This tool is somewhat unique with regards to bypassing iCloud activation since it doesn't remove the iCloud account from the gadget; rather it associates straightforwardly with Apple's servers and activates the locked iPhone, enabling you to utilize it without problems.
Bypass iCloud Activation Tool is simple to utilize and can likewise help install Cydia on an iDevice.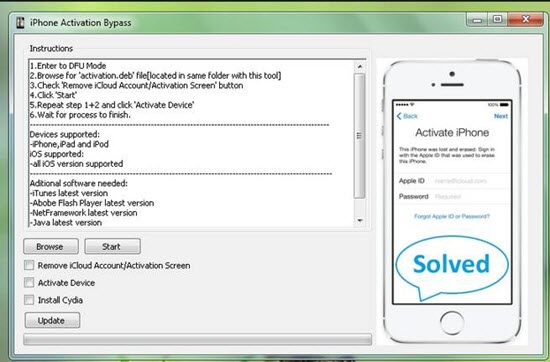 Pros:
The tool is very simple to utilize for individuals who are new to the procedure.
You can utilize Bypass iCloud Activation Tool to install Cydia in your iDevice also.
Cons:
In spite of the fact that the tool is really simple to use, its general interface is a little bit confusing so that it might take you a while to understand.
2. Remove iCloud Activation Lock Tool
This is another successful iCloud activation lock removal tool accessible. Like Bypass iCloud Activation Tool mentioned above, Remove iCloud Activation Lock Tool is very simple to use and works rapidly.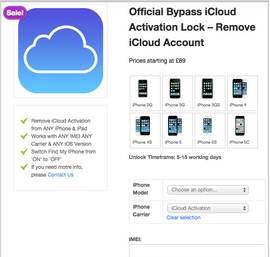 Pros:
It's free of charge and simple to utilize.
It offers beginner guides for people new to iCloud lock removal.
You can access its customer support from the official website easily.
Cons:
You may experience bugs and other UI issues. This is the reason this device does not have an high rating.
Write in the End
All the above given tools are ideal for removing iCloud activation lock from iPhone or iPad. They are simple to use, which will just take a couple of minutes to bypass the previous Apple ID lock for giving you full control over your new iPhone or iPad. We hope they can quickly fix your unlock iPhone issue, and appreciate your question or comment in the below.