How to Find Your Lost iPhone Even If It is Turned Off
As an iPhone user, you may never strongly feel that iPhone has been a necessary part of your life, until it is gone. At this time, you will realize losing the iPhone can bring a lot of inconvenience to life. You need it to work, contact others, pay money and do many other things. Hence, how to find lost iPhone especially a lost iPhone that is turned off or dead has been a hot topic which iPhone users pay close attention to.
Luckily, there is a built-in tool Find My iPhone in iPhone which can help locate the lost iPhone and protect the data. This article covers how to find lost iPhone with this tool, what to do if it is not enabled and an extra tip to help you recover data from lost iPhone.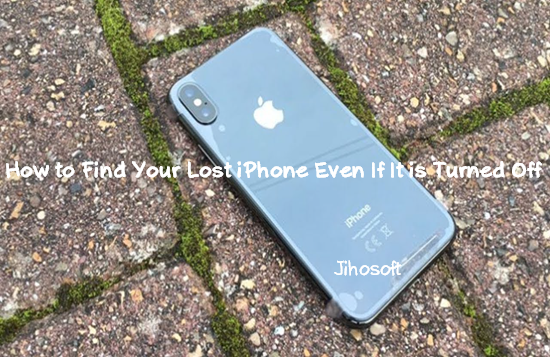 Part 1: How to Enable Find My iPhone Option on your iPhone
Enabling Find My iPhone is of crucial importance for tracking or locating the missing iPhone. It also allows you to lock or erase your lost iPhone. But for getting back a dead iPhone, it is not enough to just enable Find My iPhone. You will also need to enable the Send Last Location, with which iPhone will automatically send its location to Apple when the battery is critically low. So make sure these two options are enabled when you first use the iPhone. Here are the steps to do so:
Open the Settings app on your iPhone and enter the Apple ID page.
Tap on iCloud, then navigate to Find My iPhone, Click it.
Switch the Find My iPhone and Send Last Location toggles on.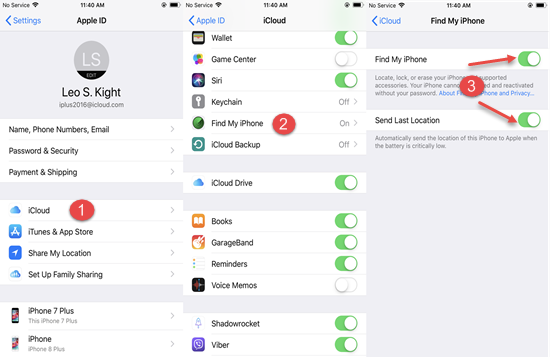 Part 2: How to Find Lost iPhone With Find My iPhone Enabled
It will be easier to find lost iPhone and keep your personal information safe with Find My iPhone enabled. You can use other iOS devices, Mac and PC to locate your iPhone.
Step 1: Open the Find My iPhone app on other iOS devices and sign in using your Apple ID and passcode. Or sign into iCloud.com on a Mac or PC with your Apple ID and password and open Find My iPhone.
Step 2: Select your lost iPhone from the list of all your devices linked with your Apple ID.
Step 3: Your lost iPhone will be located in the map, then you can go find and it.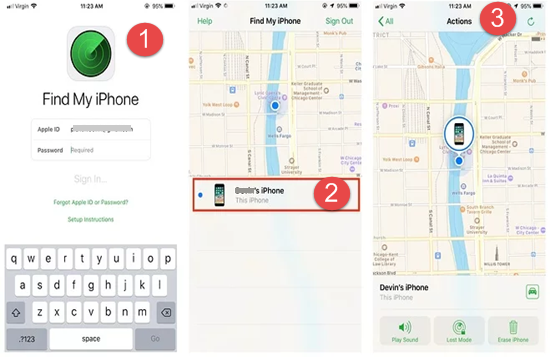 If your family are using Family Sharing, it is easier to find the lost iPhone. With Family Sharing, any of your family member is able to locate your lost iPhone and other iOS devices in Find My iPhone app or iCloud.com. The steps are familiar except you don't need to use your own Apple ID.
Part 3: To Utilize the Lost Mode in Find My iPhone
Lost Mode is a feature supported by Find My iPhone. You can click the Lost Mode option in Find My iPhone app to enable it. At this time, your iPhone will be locked remotely and a custom message will be displayed on the locked iPhone screen. You can input the address and phone number that can reach you. What's more, the function of Apple Pay also will be invalid. If your lost iPhone is turned off or dead, you can still turn on the Lost Mode. Once your iPhone is restarted, it will enter the Lost Mode.
Part 4: What if Find My iPhone Isn't Enabled on iPhone
If Find My iPhone is not enabled on your lost iPhone, it is difficult for you to locate it. At this time, it is better for you to take actions to make sure your personal information stay safe.
1. If your iPhone is stolen by the thief, it is better to report your lost iPhone to local law enforcement. As the thief may have other associates and it will leave yourself in danger if you go and get back the iPhone on your own. The law enforcement may need require the serial numbers of your iPhone.
2. You need to change your Apple ID password. This will prevent your iCloud data from being accessed by strangers. You can change the password in the Settings app on the iPhone of someone you trust.
Open the Settings app, sign in with your Apple ID and passcode and enter the Apple ID page.
Tap on Password&Security and click Change Password.
Input your new password and verify it.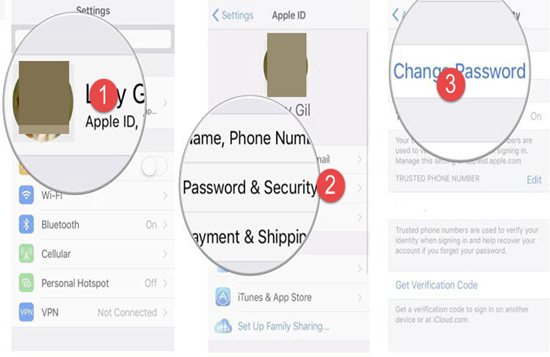 3. It is not enough to just change your Apple ID password. The passwords of your emails accounts, Facebook, Twitter and other accounts should also be changed. Some iPhone users may use the same one for all the accounts and even for the bank account or other financial services.
4. Notify your wireless carrier that your iPhone has been lost and ask them to disable your SIM. So that any stranger will not be allowed to make phone calls, texts or other data use.
Extra Tips: How to Recover Data from Lost iPhone
When your lost iPhone cannot be found, you may be more concerned about the important data in it. Jihosoft iPhone Data Recovery is a useful third-party recovery software which can help you get back your data, such as photos, contacts, messages and so on. You can download the trial version and follow the steps below.
Step 1: Download and launch Jihosoft iPhone Data Recovery on your computer.
Step 2: Connect your iPhone to computer if you do not have backup; Otherwise, select "View iTunes backup" or "View iCloud backup".
Step 3: Click "Start Scan" and the software will star to scan your data in backup thoroughly.
Step 4: When the scanning is over, you can preview the result. Select the data you need and click "Recover" to save them to your computer.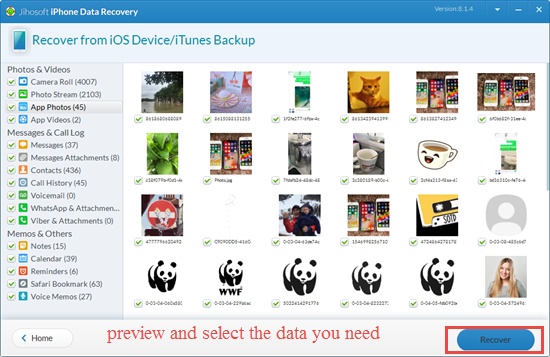 Please note that if you have no iTunes or iCloud backup, the scanning result will be empty. So it is a good habit for iPhone users to backup iPhone data regularly. In addition, the data having been overwritten may never be recovered.
Conclusion:
All in all, it is of great significance for iPhone users to keep "Find My iPhone" and "Send Last Location" enabled. It will be a big help when your iPhone is lost. If you cannot get back the lost iPhone, you need try your best to lower the impact of losing iPhone on you. And you can appeal to a third-party recovery tool for retrieving the important data. These are some advice about how to find your lost iPhone. If you have any other thoughts, please leave them in the comment section.
Related Articles