How to Solve WhatsApp Web Not Working on iPhone/iPad?
It is a convenient experience to use WhatsApp web on PC for work or private chat. But sometimes it happens that WhatsApp wen not working and showing an error to the user. It can bring much inconvenience to user. If you are facing the same issue, please go through this article completely. You will read about why WhatsApp web not working on iPhone/iPad and various simple methods to fix WhatsApp web not working.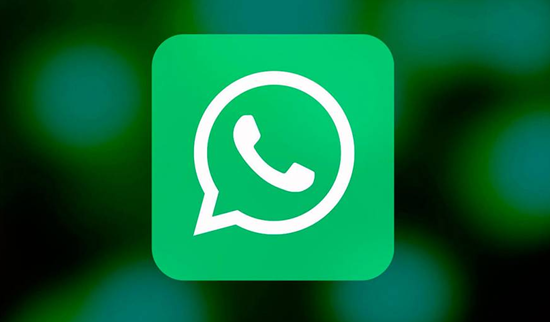 Bonus Tips: Lost or delete WhatsApp messages, photos or other files on iPhone accidentally? Don't be panic. Jihosoft iPhone Data Recovery will give you a chance to find the data back.
Part 1: Common reasons for WhatsApp Web Not Working on iPhone and iPad
There can be many reasons behind this issue. These common reasons are divided into three conditions.
Browser Issues: Browser can affect the working of WhatsApp web in many ways. Corrupted cookies of browser, outdated version and incompatible will cause WhatsApp web issue.
Network Issues: WhatsApp web needs a strong and stable Internet connection. Network issue can also cause its not working.
WhatsApp's Server: If the web server is down, there can be an error with WhatsApp web.
Part 2: Ways to Fix WhatsApp Web Not Working on iPhone/iPad
You have read about the reasons for this error. Now, you can resolve it by going for following options one by one.
Option 1: For Browser
All the steps are given below as per the settings of Chrome browser. You can implement these methods for any of your browser to solve WhatsApp web not working.
1.By Checking Browser Compatibility
When it appears that WhatsApp web not working, the browser compatibility should be taken into account. Some browsers like Internet Explorer and Vivaldi are incompatible with WhatsApp web. So make sure you are using compatible browser such as Chrome, Safari and Firefox before using WhatsApp web.
2. By Clearing Cookies
WhatsApp not working can be caused by cookies in browser. To clear the cookies of the Chrome browser on the PC, follow these simple steps.
Open the Chrome browser. On the right side of the screen, you will find three vertical dots (Menu icon). Click on the Menu icon to open all the options.
Select More Tools> Clear Browsing Data.
You will get the option to clear history, cache, cookies, etc. while creating the browsing data. Make sure to select the "Cookies and other site data" option.
Now, click on "Clear Data".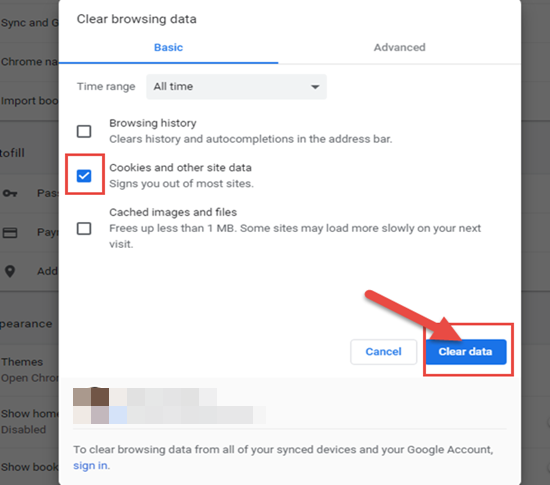 3. By Disabling VPN
VPN service is of great use to use many tools and services on the PC. However, it may create some network connectivity issues when you are using Chrome browser. It can also be one of the reasons behind the WhatsApp web not working issue. You can fix it by disabling VPN on your device. And you're advised to turn off VPN before using WhatsApp web.
4. By Using Browser in Incognito Mode
Many times, people find an error in accessing some websites get easily resolved by using the browser in incognito mode. It is just a trick to access WhatsApp web easily without error. For this, go to the menu button and select "Open New Incognito Window". Or you can get into incognito mode with shortcut keys "Ctrl+Shift+N".
5. By Resetting Browser Settings
This method is similar to clearing the cookies of the browser but more advanced. If your issue is not solved by clearing the cookies then you can go for resetting the browser settings. This will help to troubleshoot other errors in the browser as well. Follow these steps to reset the Chrome browser settings.
Open your browser and click on the "Menu" icon (three dots on the upper-right side).
Now, select Settings and enter reset in the search bar.
From the search result, locate Reset Settings and click on Reset Settings.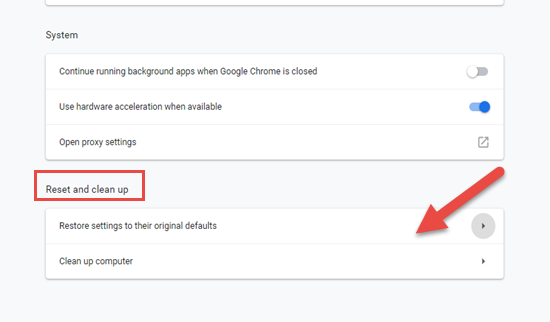 6. By Re-installing Chrome
If this issue is not fixed by above-mentioned methods, then you can uninstall your Chrome browser and re-install it. This will troubleshoot all the issues and errors with the browser and you will get WhatsApp web working smoothly.
Option 2: For iPhone
You can also customize the settings of your iPhone logged in with the same WhatsApp account to fix the WhatsApp web not working issue. Go through these solutions to fix the issue on the iPhone.
1. By Enabling the Airplane Mode
You can check the connection on your iPhone to allow the WhatsApp web to work. For this, turn on the Airplane mode on your iPhone and turn it off to stabilize the network. Follow these steps to do so.
Go to the Settings app.
Locate the Airplane mode and toggle to turn it on. Wait for a few seconds and turn it off.
Or you can also turn the Wi-Fi off and on, try connecting different Wi-Fi hotspots and reboot Wi-Fi router.
2. By Rebooting the iPhone
You can reboot your device to fix the error of the WhatsApp web related to connectivity. You can press the side button and volume up button in iPhone X to get an option to turn off the device. Drag the slider to turn it off.
For other versions of iPhone, press the top button and volume up button to get the slider.
Otherwise, keep pressing the power button of the device until you see an Apple icon on the screen.
3. By Resetting the Network Settings
You can reset the Network Settings of your iPhone to fix the issue. For this, follow these simple steps.
Open the Settings app and tap on the General option.
Select Reset Network Settings> Reset Network Settings.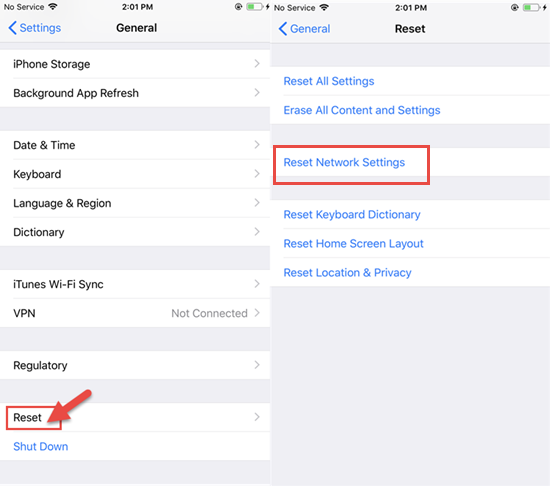 Please note this will delete all your saved Wi-Fi passwords.
4. By Checking iPhone Version
iPhone version will also affect the WhatsApp. Please upgrade or restore your iPhone's operating system to the latest version.
Option 3: For Computer
Using the WhatsApp web needs a strong and stable Internet connection on computer. If your iPhone's internet connection is working, your need to check the PC's connection is active. Generally, there will be a yellow bar at the top of the chat list with an error message "Computer Not Connected" when the Internet connection is not stable. At this time, you can refresh the page first. If the problem still exists, you need log out the WhatsApp web on PC and log back in to reactivate it again as the picture below.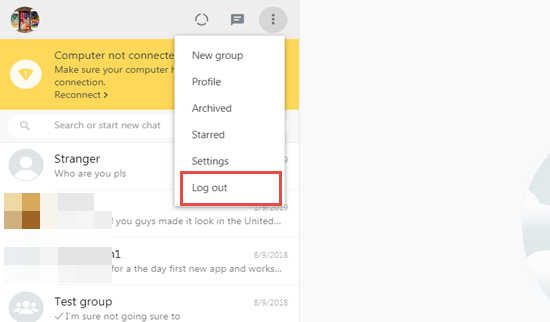 Option 4: For WhatsApp Web Itself
When WhatsApp's server is generally down, the web can be out of work. You can go to the website downdetector.com to have a check. If the WhatsApp server is down, please wait for it to be up.
Bottom Line
You have read about various solutions to fix the WhatsApp web not working issue. These solutions have worked for the majority of iPhone and iPad users facing this issue. If you have any question regarding this article or any other useful solutions, please leave them in the comments section.