How to Fix iPhone/iPad Safari Not Working (iOS 13 Supported)
Safari is the default browser on Apple devices. Though Apple allows other browser apps to be used on iOS devices, Safari is still favored by most iPhone and iPad users because of its powerful built-in privacy features and working seamlessly with all the devices. Nevertheless, this official application from Apple is not always well-behaved, and it acts up sometimes. Many iOS users report that they have encountered Safari not working on the iPhone or iPad, especially after iOS update. What can we do to get Safari to work again? You might as well try the tips in this post which are also suitable for devices with iOS 13 or iPadOS.
Part 1: Symptoms and Causes of iPhone/iPad Safari Not Working
When we say Safari not working on the iPhone or iPad, it can be safari crashes unexpectedly, doesn't respond, runs slowly, or cannot load pages. It's not hard to think about the reasons behind these problems. They can be network error or poor network connection, software bugs and glitches, and excessive cached data in Safari. Maybe some hardware issues can also cause Safari not working on your device, but let's put this cause aside as we are not technical serviceman for Apple devices and cannot fix the hardware issue by ourselves.
Part 2: Ways to Fix Safari Not Working on iPhone/iPad
1. Exit and Reopen Safari App
When an app malfunctions on your iPhone like being stuck on a page, you will exit that app and reopen it. Then, the app usually gets back to normal. This approach may also work for the crashed safari. The iPhone of different models has different ways to exit an on-going app.
Step 1: Prompt the thumbnails of recently used apps. For iPhone X or later or an iPad with iOS 12/13, navigate to the Home screen, then swipe up from the bottom of the screen and pause slightly in the middle of the screen. For iPhone 8 or earlier, press the Home button twice.
Step 2: Swipe those thumbnails to find that of Safari and swipe it to close Safari.
2. Restart Your iPhone
In general, reopening Safari should suffice to rectify the minor error in the app. If the previous method makes no difference, the chances are that some software bugs and glitches result in Safari not working on your iPhone or iPad. For most of the users who are not iPhone experts, it is always an easy and feasible way to remove these bugs and glitches by restarting their iPhone.
To finish this task, the first thing you should do is to initiate the power off slider on your iPhone screen. On iPhone X or later, press and hold the Side button and either Volume button until you see the power off slider. While on iPhone 8 or earlier, keep pressing the Side button until the power off slider appears. Then drag the slider to shut down your iPhone. After the device is completely turned off, press and hold the Side button to turn on it again. You can click here to learn how to restart an iPad.
3. Switch to Another Network
If the Safari remains not responding or loading pages on your iPhone, you'd better take the network issue into account. Make sure your cellular data is working, or the Wi-Fi router is on, and you're within the range. If everything is OK, the chances are that the network your iPhone is connected to is poor. You can connect your iPhone or iPad to another better and more steady network. After that, reopen the Safari app to check if it works again.
4. Reset Network Settings
There is a possibility that the network you are using is normal, but the network settings are messed up on your iPhone or iPad. In this case, you may try to reset the Network Settings on your device. This will reset cellular settings, Wi-Fi networks and passwords, and VPN and APN settings. Some network connection bugs will also be taken away at the same time. Tap Settings > General > Reset > Reset Network Settings, enter your passcode for iPhone if asked, and then flip Reset Network Settings in the pop-up dialog box to confirm that.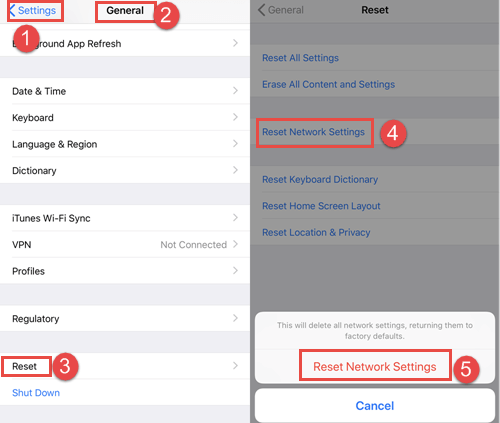 5. Clear Website Data
When you find it takes forever for the Safari to load pages on your iPhone or iPad, a bulk of history, cookies, and other browsing data should be the culprit. Then you need to clear the history and website data from Safari cache to improve its performance. It only takes a few steps. Go to Settings, scroll down to click on Safari, and then tap Clear History and Website Data.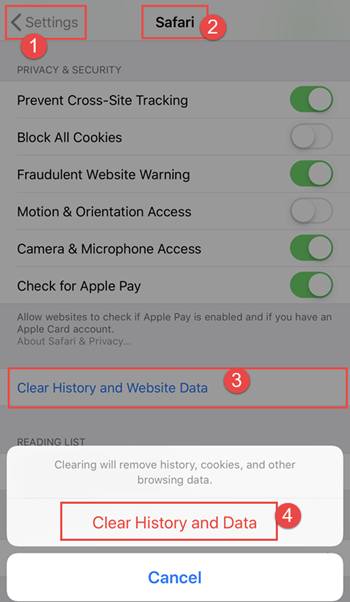 6. Update iOS Version
Updating to the latest iOS version can be a helpful way to deal with Safari not working on the iPad or iPhone. You know, upgrading to the newest version of iOS software comes with the latest features, security updates, as well as bug fixes. Thus, when your Safari is not working on your iPhone or iPad due to some unknown bugs or errors, you can try to update the iOS software. If you have not turned on automatic updates on your device, you can do it manually. There are two ways to finish this task.
One of them is to update your device wirelessly. You need to connect your iOS device to a stable and strong network. Then Go to Settings > General > Software Update, and tap Download and Install. If asked, type in your passcode.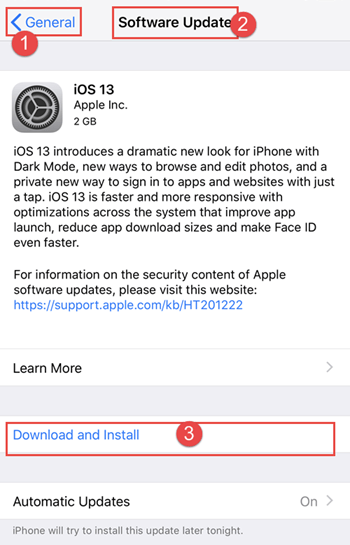 The other one is to upgrade your device using iTunes. Beforehand, you need to make sure your computer is connected to a strong and stable network, and iTunes has been updated to the newest version.
Connect your iPhone or iPad to the computer and launch iTunes.
Click on the device icon, then select the Check for Update button.
Click Download and Update. And if asked, input your passcode.

7. Restore Your iPhone or iPad
Since you come here, it means that all the methods described above are null and the Safari still crashes on your iPhone and iPad. Then you may try this last resort – restoring your device from a backup. Please verify that you have at least one iCloud backup or iTunes backup available. You can use some third-party tools like Jihosoft iPhone Data Recovery to preview your iPhone backups for free. Then let's see how to restore your iPhone or iPad from an iCloud backup or iTunes backup.
From iCloud backup
Step 1: Navigate to Settings > General > Reset and tap on Erase All Contents and Settings.
Step 2: In the pop-up dialog box, if you have backed up your iPhone recently, select Erase Now; if not, tap Finish Uploading Then Erase.
Step 3: If asked, enter your passcode and tap Erase iPhone to confirm.
Step 4: When your device restarts, follow the onscreen setup prompts to reach the App & Data screen.
Step 5: Select Restore from iCloud Backup, then sign in with your iCloud account.
Step 6: Pick the most relevant backup to restore.

From iTunes backup
Step 1: Open iTunes on your Mac or PC and connect your iPhone or iPad to the computer via a USB cable.
Step 2: Click on the device icon when it appears in iTunes, then select the Restore Backup button under Backups.
Step 3: A small window will appear. Select the most relevant backup there and click the Restore button to confirm.

Conclusion
Now you have read through all the things we average users can do when Safari crashes on our iPhone and iPad. We hope these methods in the post will make your Safari revert. If your Safari keeps not working on the device, you may need to contact Apple Support for help or get your iPhone or iPad repaired in a local Apple Authorized Service Provider or Apple Store with a Genius Bar. Have you fixed the Safari not working issue successfully? What have you done? Please tell us in the comment section below.