3 Ways to Transfer iTunes Library to Android Phone
You have been a long-term user of Apple iPhone and have all your media and data stored within iTunes. But what if you switch to an Android phone or tablet? You have probably experienced the frustrations involved in attempting to transfer music, videos and other files in iTunes to Android. Take it easy. It can be a bit of pain to get your data from iTunes to Android, but it's quite possible to make the move. Here we will introduce some ways to sync iTunes to Android phone for you. Hit the break and get started.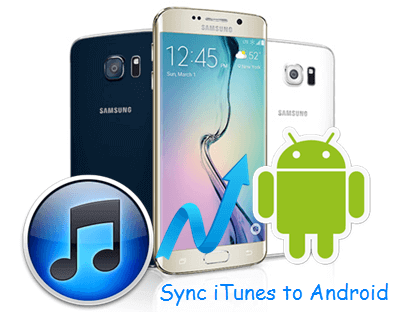 1.Manually Transfer iTunes Music to Android
You can get iTunes medias to your Android phone straightforwardly. All you need is a USB cable to connect your device to the computer, then drag and drop the music files onto the Android phone. You even don't need to launch the iTunes software on your computer.
How to transfer iTunes to Android with a USB cable
Connect your Android phone to the computer via a USB cable.
Open Windows Explorer and navigate to the iTunes folder on your computer.
Select the file you want, then drag and drop it into the music folder of the phone. Then you can see the music in the music player app on your device.

This method may look fairly simple. But when you want to copy individual items instead of entire folder, it can be tedious. Besides, some medias may get lost during the process.
2.Get iTunes on Android with Apple Music
Usually the app developed by Apple doesn't work with the Android device. But Apple Music is an exception. Using Apple Music is a good way to sync iTunes music to an Android phone wirelessly. Apple Music app offers the same features as iTunes which let you stream millions of songs, curated radio and playlists, and music recommendations on your Android device and download music to listen to offline. You'll need an Apple ID to use it.
How to Get Apple Music on Android
Step 1: Get the Apple Music app on Android from Google Play and open it.
Step 2: Sign in with your Apple ID and passcode.
Step 3: If asked, add a valid payment method, then tap Join.
How to sync iTunes to Android phone with Apple Music
It is not enough to just set up Apple Music on your Android device. You also need to turn on Sync Library on your computer.
Step 1: Open iTunes on your PC.
Step 2: From the menu bar at the top of the interface, click Edit > Preference.
Step 3: Click on the General tab and select Sync Library. If you have no Apple Music account, you won't see the option.
Step 4: Click OK.

The music library may not be available in the Apple Music app on your Android immediately if it is large.
Notes:
To use Apple Music, your Android phone or tablet should run with Android 5.0 (Lollipop) or later.
You'll need to pay a monthly subscription fee of $9.9 to sync iTunes music to Android.
3.Sync iTunes Library to iTunes via Google Play Music
If you don't want to subscribe to Apple Music, then you might as well try the Google Play Music. Google Play Music is a music and podcast streaming service as well as an online music locker developed by Google. Users are allowed to upload up to 50,000 songs from your personal library freely, which is enough for you to sync the iTunes to your Android phone. To ensure smooth iTunes transferring, you need to keep your device well Internet-connected. You are also allowed to re-download and listen to your iTunes music offline.
How to Sync iTunes Library to Android via Google Play Music
Download, install and open Google Play Music app on your PC.
During set-up process, select "upload songs to Google Play" and click "next".
Then select "iTunes" and the program will scan your iTunes library for music files.
After that, the iTunes music will be synced to the Google Play Music app on the Android phone.

It is convenient to get iTunes on Android using Google Play Music. But in some countries, the access to it is restricted. And once the Google Play services are temporarily down, this method won't work.
4.Third-party iTunes to Android Apps
Apple Music and Google Play Music are not the only programs to sync iTunes to Android. Some other apps also allow you to transfer iTunes music to your Android directly. Here we list two of them as well as post their video tutorials.
Sync iTunes to android Free is a useful tool that syncs your iTunes to Android from a PC or Mac, including music, podcasts, and video. Even the music videos and album artwork also synced. It can transfer your iTunes playlists to Android keeping the iTunes playlists order. Moreover, Sync iTunes to android Free will filter your tracks and won't transfer the iTunes to Android which are already synced before. So you don't need to worry about iTunes duplicates on your device.
Here is how to use Sync iTunes to Android Free:
iSyncr: iTunes to Android allows you to sync your iTunes in PC or Mac OS 10.5+ to Android phone or tablet. It can get your iTunes music to the internal or SD card storage on your phone over USB or WiFi. The song information like album art, ratings, play count, last skipped and more. You can only transfer 100 songs per playlist and 1 playlist at a time with the free version. You need to purchase unlimited syncing, but it is well worth what you pay for it.
Here is how to use iSyncr: iTunes to Android:
Also Read: Top 6 YouTube Music Download Apps for Android
Final Words
You have many options to sync your iTunes to the Android Phone. It is quite easy to drag and drop the media files from iTunes to Android with a USB cable and you don't need to install any app on your devices. Using Apple Music and Google Play Music allows you to sync iTunes to Android wirelessly. And some third-party apps can offer the features that previous ways don't have besides syncing. Which method do you prefer? Do you have any other way to recommend? Please tell us in the comment section below.