5 Best Android Apps for Wedding Cards Designing
Every occasion needs an invite, especially your marvelous wedding. People used to send invitation cards to their guests to show them the enthusiasm and also as a reminder to come. There is still a trend of physical cards in most of the countries. But the trend of sending e-cards is now gradually catching up. People use different software or even hire a designer to have the best designs sent digitally to all of their friends and family.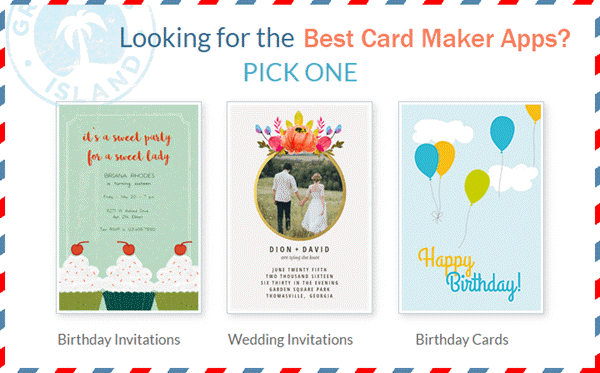 Here are some free Android invitation card maker apps that let you design and create your own wedding cards for invitations.
1. Invitation Maker by Greetings Island
This is a free and highly usable app that lets you create invite cards through instantly. Invitation maker comes with a rather simple and attractive interface. You can not only create cards for weddings but you can also create cards for birthday, showers and almost any other occasions. You can find a list in the app that lets you choose from options of different occasions and start designing creative wedding cards. The app comes with a large collection of themes to select. The best wedding card designs come with preset texts that you can change, remove or add as per your requirements.
Tip: If you aren't satisfied with the texts you added to the invitation card, don't worry, you can still remove the texts and words from it. Moreover, with this Photo Eraser, you are able to remove any unwanted objects from photos without affecting the background.
One of the cons of this app is that it forbids you to add your own image from the gallery and send it as a card. The app, taking about 19 MB of your device memory, is absolutely free and does have a few in-app purchases.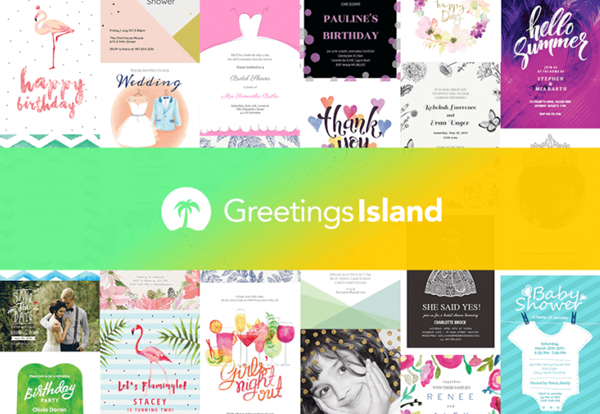 2. Wedding Card Maker
This is another best free wedding card maker app that is very easy to use. The interface is not that catchy or attractive but the app is suitable for traditional card designs. This app is developed in India and targets Indian audience because of the traditional colorful designs of the invitation cards. The size of the app is 11 MB on Play Store. It's totally free but with unnecessary ads showing up every now and then which is guaranteed to tick you off.
In this app, there are no pre-designed default text templates. Thus, you are forced to add text by yourself. Speaking of design, they are neatly categorized with different layouts. You will find square, vertical and horizontal shapes to design your card.
Wedding Card Maker will also let you add images and stickers freely. So that you can even draw your unique pictures with these Android drawing apps and use them in your wedding invitation card.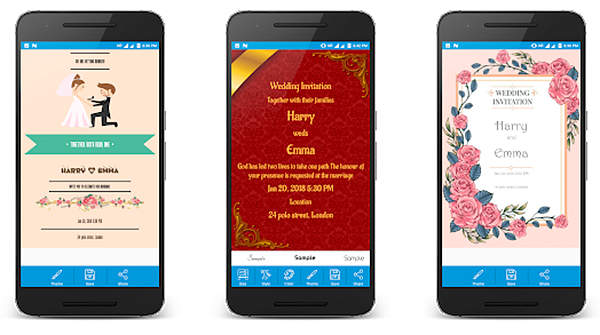 3. Canva: Banner, Card Maker, & Graphic Design
This is supposed to be the best wedding card design app on the Play Store. This app is filled with features you cannot find anywhere else. But for specific features, you will have to shell out money in-app purchase section.
This app require you to create an account. So you will have to sign up for your first-time usage and log in for rest of the times. Keeping your account information, the app lets you save your cards for editing later and lets you access them on the cloud from other platforms.
The app not only lets you create cards for different occasions, but also can be used to create some stunning graphics for social media graphics as well. It comes with a lot of diverse and beautiful themes. The one thing you don't get is a dedicated section for wedding templates. The size of the app on the play store is 30 MB and is free to download.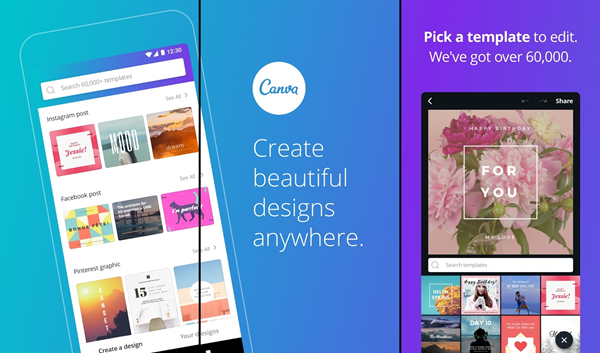 4. Desygner: Free Graphic Design, Photos, Full Editor
Another app with cool and awesome features. It is, by far, the biggest contender of Canva and is loaded with lots of features. The size of the app is 25 MB. It's also a free app with a few available in-app purchases. There are a lot of other cool and useful apps available from this developer.
The app comes with tons of free pre-designed templates and a unique feature of adding backgrounds to your card. The best catch is that it lets you change background opacity as well. You can even add images and layers to the background. Also, this app needs you to create an account to save your project and later access it over cloud anywhere, anytime and over any platform there exist.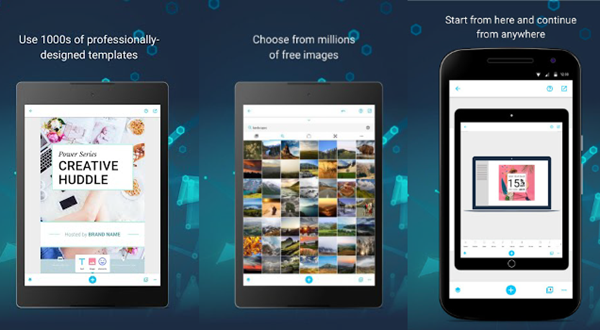 5. Invitations Card Maker (GIF/Video)
This is another decent card maker app on the market at your behest to design flawless invitation cards. The app is loaded with multiple cool features. The app is remarkably user-friendly and easy for designing. But you will not find a lot of templates and themes for designing.
Out of them, the most alluring is that it gives you the option to create GIF and video invitations! The app is free to download but the free version only lets you create GIFs and videos of low quality. To get HD result, you will have to purchase a premium plan with all the awesome features which make this app captivating with the free version.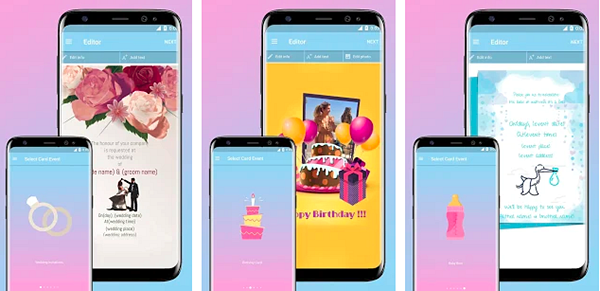 Conclusion
The best wedding card maker apps for Android listed above are the finest ones you can use to create your own wedding invitations. They have been chosen after a thorough research and review. You don't have to download them all, just stick to one that is satisfying your needs of purpose and you can get your best wedding card design ready in no time. Try e-card invitations for your next occasion.