How to Make GIFs from Video and Photos on Android
We all love GIFs, don't we? Small funny moments or expressions, captured in the form of a GIF, can be an amazing way to communicate. And no doubt they are so popular around the world, especially among the youth.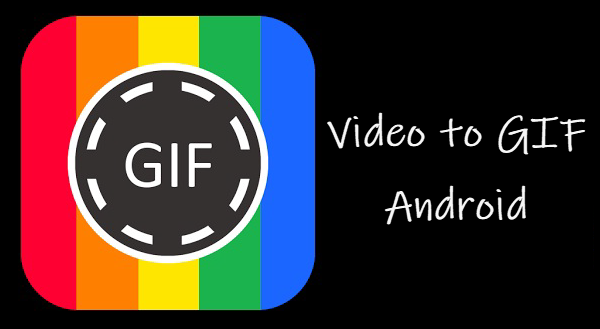 Their popularity can be understood from the fact that both the popular mobile operating systems of the world, iOS and Android, provide native ways to search and send GIFs. While Apple provides this feature in its iMessage app, Google has baked this functionality into its Gboard keyboard app, which is available both on Android as well as iOS.
Apart from this, there are also many online GIF repositories like GIPHY which have a huge collection of amazing GIF photos. They even provide native apps for your smartphone to search and download these GIFs.
Although we have the options to search for GIFs online, many times we think of having the ability to create our own GIFs. After all, the existing ones must have been created by someone as well.
If you too have such thoughts, and are looking for ways to create your unique GIFs, then you have reached the right place. In this article, we will tell you how you can create your own GIFs from photos as well as how you can convert a video to GIF very easily on your Android smartphone.
Part 1. What is a GIF?
Before we dive deeper into how we can make our own GIFs on Android smartphones, let us first understand what a GIF is. GIF is basically an image format, just like JPEG and PNG. The only difference between this format and the others is the fact that a GIF contains many images playing like a video, but in a loop.
In Simpler terms, a GIF is basically an animated image. There are multiple images that play through. It's like a small video but on a continuous loop.
With the explanation of GIF out of the way, here are a few ways you can create your own GIFs.
Part 2. How to Make a GIF on Android?
Option 1. Create GIFs from Images
Since a GIF is basically a group of photos playing in a loop, you can create a gif from your own photos. However, to create a GIF from photos, you need multiple images of an event.
Suppose you have taken multiple images of an event using the burst shot feature found in the smartphone cameras. Every image will be differing from the previous one slightly. Such images are perfect for creating a GIF.
Tip: You can capture the perfect photos with the Best Face Filter Camera for Android.
There are many Android apps found in the Play Store which allow users to make GIFs from images easily. All the user has to do is to select the images he/she wants to feature in the GIF and then click on create button found in the app, and it's done. It is that easy to create a GIF from your own images using your Android device.
Option 2. Create GIFs from Videos
We all know that GIFs are basically a form of video only, so videos can also be used to create a GIF. There are multiple apps in the Android Play Store that offer this functionality. Basically these apps extract frames from the video and then use them as images to create the final GIF. The rest of the process is similar to how a GIF is created using photos. So you can make a custom GIF by using a Youtube video or a video recorded by yourself.
Part 3. The Best "Video to GIF" Maker Apps for Android
The Android Play Store has numerous apps that allow the creation of GIFs from both images and videos. Here, we list down some of the best apps, and our personal favorites, for this purpose.
1. GIF Maker – GIF Editor
It is one of the most popular and highly rated GIF maker apps on the Play Store. It is very feature packed. It allows you to make GIFs from photos as well as video. You can add up to 200 photos to create a GIF. You also have the option to add text, stickers, smileys etc.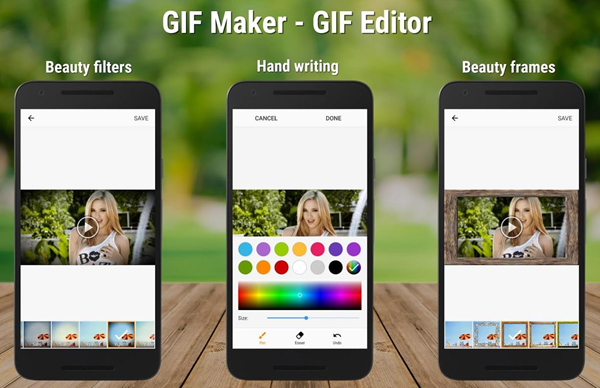 Once created, it offers you various sharing options. You can either share to your gallery or social media like Facebook, Twitter etc. You can also share it to the free online GIF repositories like GIPHY.
2. GIF Maker, GIF Editor, Video Maker, Video to GIF
This is one of the best GIF making apps you can find on the Android Play store. Its super high ratings are a witness to this fact.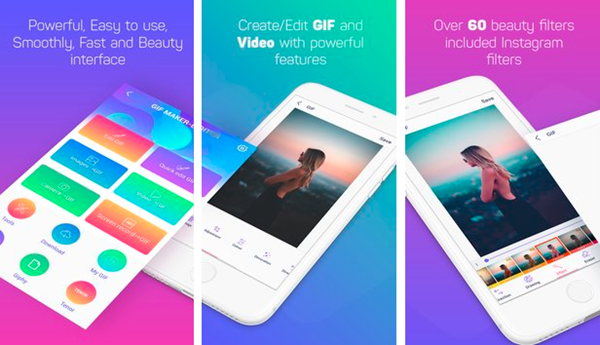 It is an all in one free GIF application. You can use it to make/edit Free, Clear, Easy, Fast, Smooth, no watermark Animated GIFs.
It has an easy to use and beautiful interface but it doesn't mean that it skimps on any features. It provides a ton of powerful features like – video to GIF, images to GIF, GIF editor, GIF camera, Compress GIF, rotate GIF, resize GIF, crop GIF, trim video to make GIF, trim GIF, beauty filter, beauty frame, over one hundred sticker, etc.
Definitely it is one of the best options available on Android for creating GIFs.
3. DU GIF Maker: GIF Maker, Video to GIF & GIF Editor
The last GIF creation app in our list is the DU GIF maker. DU GIF Maker is a free GIF maker and editor for Android. Using this app, you can easily create clear, smooth animated GIFs with small file sizes. D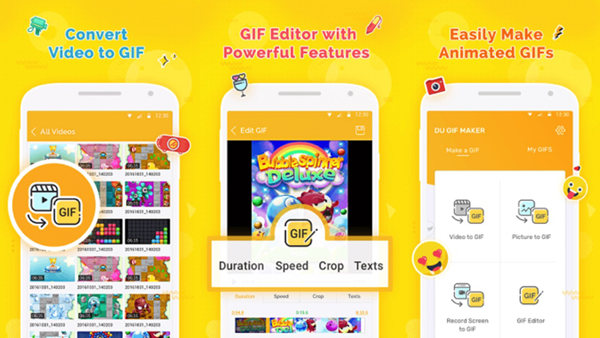 U GIF Maker is easy to use but packs powerful features like – video to GIF, images to GIF, GIF editor, GIF keyboard, GIF camera, GIF recorder, and more. You can make all kinds of GIFs using this app, such as animated emojis, reaction GIFs, and funny GIFs.
There are a ton of sharing options as well. In addition to saving in the gallery, you can directly share on your social media or messenger apps like whatsapp and facebook messenger.
Final Thoughts
Thanks to the smartphones and the amazing and powerful smartphone apps, GIF creation has become very easy. All you need is a video or set of images and you can easily make your own GIF. And we hope our list of Android GIF maker apps will be helpful to you in creating awesome GIFs.
And if you have captured something really funny and shareworthy, your GIF might just go viral amongst everyone in the world.