How to Make A Photo Album with Song on Android Phone?
We all love taking amazing photos on our smartphones these days, thanks to the awesomely improved image quality of smartphone cameras. Be it regular day to day memories or family trips, we click so many images to capture amazing moments.
But going through all these images one by one is not an easy task. Even when sharing these images on social media, sharing all the images individually is a tedious task. Even for those who will be viewing these images, its not easy to go through your complete album of 100's of photos.
Tip: Want to make your photo album but only to find the important photos are missing? Act fast now to recover the deleted photos from Android!
Hence, it is much better to create a slideshow of images, using some background music of your choice. This makes it easy to share many images at a time.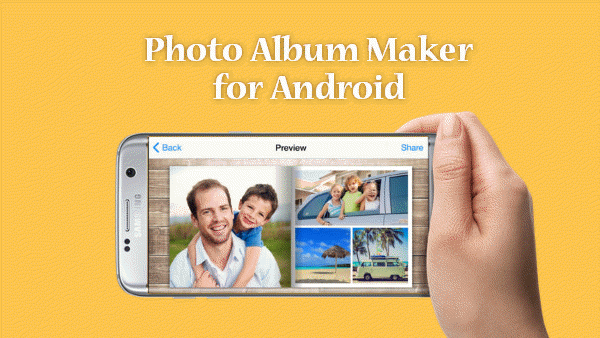 What is Photo Album Maker?
Photo Album Maker is a kind of album making toolkit that help users make photo albums in slideshow mode. With the various transition effects and fantastic preset album themes, users can create wedding photo album, family album, holiday image slideshow and graduation photo album in an unique well-designed way with their favourite photos and background music, and easily share the album to friends and families via Internet.
Which is The Best Photo Album Maker for Android?
However, from the huge selection of app in the Android Play Store, it is very difficult to find the right Android photo album maker with song to create such slideshows. The app needs to be able to create good quality photo album on Android with minimum effort.
In this article we will help you find the right app for your needs. We have gone through many apps and will list down some of our personal favourite, which will help you find your perfect app.
So let's get started.
1. Google Photos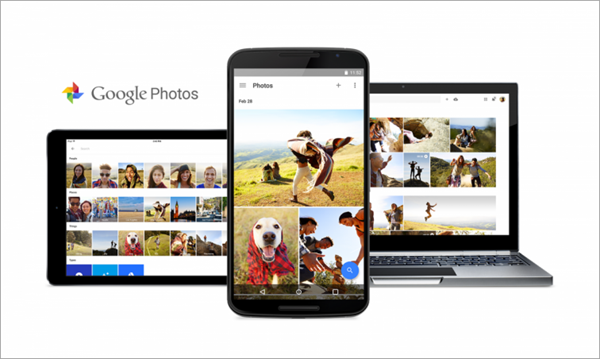 Google Photos was launched as a standalone cloud photo storage service but it has shaped up to be a very versatile app as well. Not only does it function like a standalone photo gallery app, both on Android and iOS, it's built-in photo editor performs great as well.
And if that's not enough, the app has a built-in features to create movie or slideshow, complete with built-in preset music or custom music, using your own photos, videos or both.
All you need to do is select all the photos you want to feature in your slideshow and then click the plus button at the top. You get many options like create album, create shared album, movie, slideshow etc. Just choose the option you want and the app will automatically create the slideshow with Ken burns effects, transition effects with every pan, cut and zoom matching to the beats of the music selected.
This is one of the easiest to use app for this functionality and can be used by everyone.
2. Scoompa Video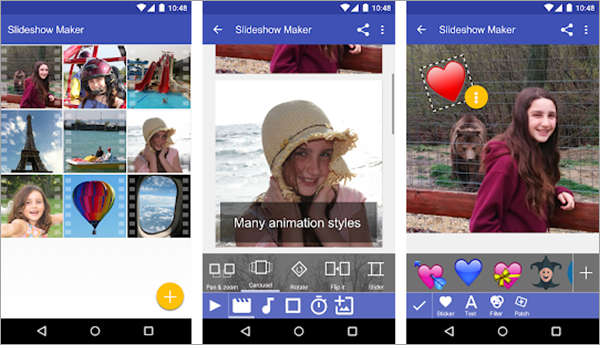 This app is another popular slideshow maker app as well as a video editor app on Android that allows users to create photo album with music right on their smartphones. It has an easy to use interface and anyone can easily operate it.
But don't let that last line fool you. Despite being easy to use, it is very powerful and has plenty of features that provide a lot of flexibility and creative freedom to the user when creating a photo album.
The app have many video styles to choose from, there are many filters to use for the photos and videos and you also have the option to add Text as well as stickers to specific photos or videos.
With so much flexibility and ease of use, the app is free to use on Android. Definitely one of the best photo album makers you can find on the Android Play Store.
3. MoShow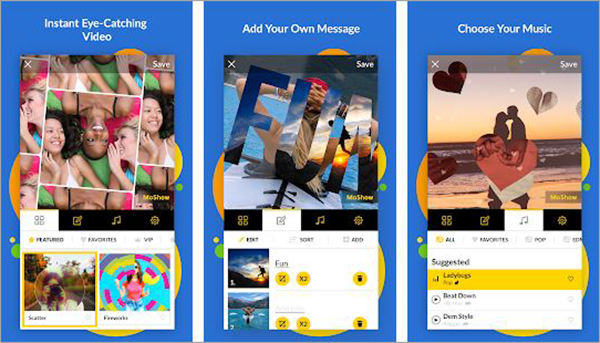 The last app in our list is the MoShow app. It has amazing ratings on the play store. It instantly turns your photos into fun, attention-grabbing videos/slideshows that are perfect for sharing on social media. You can add all your favorite photos and create stunning video stories, with background music, that stand out from the crowd.
There are plenty of preset styles and filters to choose from. There is also option to add text wherever required. There is also an option to create gifs using some photos if you want.
Final Verdict:
We hope this list would be useful to you in finding the right photo slideshow maker for your needs. There are many more options in the ever expanding Android play store but these three are our personal picks for the best album creator apps. And the best part is that all 3 are free to download and use.
However, if we had to choose our personal favorite app among these three, we would go with the Google Photos. Its powerful, versatile and yet very easy to use with a friendly UI. Do you have any other recommended Photo Album Maker for Android phones? Share with us in the comment section below.